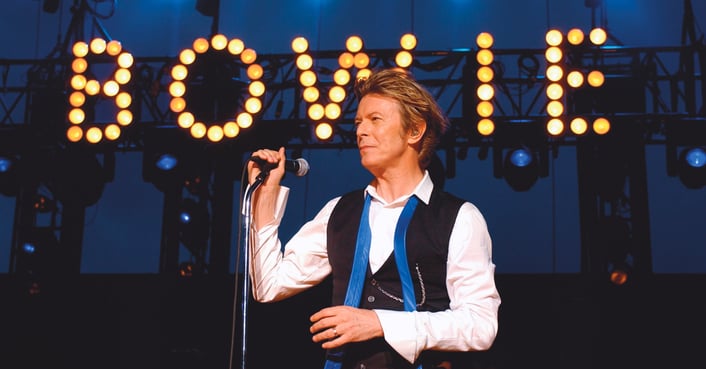 After the sad passing of David Bowie yesterday (11.01.16), there was some inevitable Bowie music-playing going on at Flame Tree. However, whilst we stuck on a playlist of his tracks, the question arose, which one was his best? So, I quickly took a survey of our staff's top picks and whittled it down to a top 5.
These are some of our favourites, but what are yours? Let us know by leaving a comment at the bottom of this post.
The iconic single and title track from the album, Heroes, this track is Bowie at his most inspiring and accessible. Whilst not a huge success at the time of release, the track had steadily grown in popularity over time. Now it is one of Bowie's most widely known tracks, cropping up in pop culture in various guises such as in the movie The Perks of Being a Wallflower (from the final scene, so fair spoiler warning).
This time, rather than being a title track for an album this track was recorded for the movie, Cat People. Bowie ensured the track paired with it's source material well by lower his voice and layering in some 'goth rock' influences. That said, like many of Bowie's best, the track is still packed with energy and can get even the most casual David Bowie fan's heart pumping.
That opening rift. Surely one of the most instantly recognisable of Bowie's tunes. Apparently his most-covered track it's no wonder this glam rock anthem is a favourite among many pop music lovers.
With lyrics tipping a hat to Bowies famously androgynous character Ziggy Stardust, one can't help but feel the track is also somewhat tied to Bowie's own bisexuality. After receiving wide fan support following his announcement of this, Bowie felt enabled to write more adventurous songs about his lifestyle choices, helping craft and shape his unique persona.
From the album Hunky Dory, this surreal track struck a chord with many listeners when it was released in 1973. Bowie's lyrics challenge the idea of originality in art, embellishing themes of rebellion. Hoping to shine a light on what he considers to be art imitating art imitating art, Bowie speaks directly to his audience, hoping that he can spur the masses into a cultural revolution that destroys the banal culture of the time.
This 1983 single (from the album Let's Dance), is up there among Bowie's more energetic releases. Many have compared it to the similarly sounding I'm Still Standing by Elton John, though neither party accused the other of theft. The result was two awesome songs, with Bowie's being this writer's personal favourite. Yet despite the dance-rock vibes Bowie said that his song was actually about searching for solace in love and religion. Classic Bowie, tricking us into deeper thinking with catchy tunes.

For even more David Bowie, take a look at our book. It's full of information about the legendary artists's life, all set alongside fantastic images.