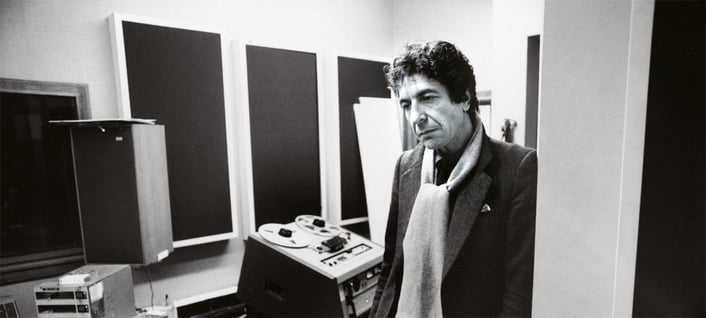 The sad news of the death of Leonard Cohen has prompted many to mourn the loss of the folk rock icon, whose most recent album – You Want it Darker – was produced by his son Adam and released just a few weeks ago. Covering such topics as politics, religion and love, his unusual and intelligent songs have always possessed a strangely addictive, dwelling aura, the words threaded with subtle power and wrapped in an unconventional singing voice. The acclaimed Canadian songwriter's influence can be felt in the works of many other music stars, including the likes of Bob Dylan, Joni Mitchell, Van Morrison, Philip Glass, Tom Waits, Rufus Wainwright and U2, and his most famous works – including Hallelujah (1984), Bird on the Wire (1969), Suzanne (1967) and So Long, Marianne (1967) – will no doubt continue to capture the imagination of their listeners. As tributes continue to pour in for the great poet and musician, we take a look back over the early life of this captivating figure, whose beautifully enigmatic songs betray his early days as a cult author and poet.
Poetic Leanings
Leonard Norman Cohen was born in Canada in 1934. His upbringing was Jewish, and at just nine years old he suffered the death of his father. During his teenage years, he was already attracted to the counter-culture, spending a lot of time wandering the streets of Montreal, absorbing the atmosphere of the nightlife and feeding his rich imagination with the stories he heard and witnessed. He displayed early musical interest, playing piano, then clarinet and classical guitar, although he did not at first envisage a career for himself in the music industry, following instead the path of a poet and writer. His initial poems demonstrated an already very lyrical approach, the tonality of his chosen words, rhymes and rhythms hanging in the air and reverberating with the same raw feeling that is not only heard but felt in his songs too. He would go on to write the popular hits 'So Long, Marianne', 'Hallelujah', and 'Suzanne', which all exhibit his ruminative signature style, the ideas expressed with deliberation and care, contemplation so often ringing out with a sense of longing and loss.
Leonard cited his poetic heroes as W.B. Yeats and Federico García Lorca, and their influence can certainly be felt in his own writings, which similarly embraced a style that was at once simple and complex – a depth of meaning delicately held in an otherwise minimalist structure and sound. His first published poems appeared in the 1950s literary magazine CIV/n while he was studying English at McGill University in Montreal, putting his expert articulation and wordplay skills to use in the university's debating society. During these years he met the poet Irving Layton, who became a great mentor and friend, helping in the publication of Leonard's first poetry book (Let Us Compare Mythologies). The collection was well received, helping to fulfill his intent to become a writer. After university, Leonard published his next poetry collection The Spice-Box of Earth and undertook a number of travels, most notably to the Greek island of Hydra. It was there that he met and became enraptured by Marianne Ihlen, who was at the time in a difficult marriage. After her divorce she and her son lived with Leonard in Canada, and Leonard's song 'So long, Marianne' and his third volume of poetry Flowers for Hitler were dedicated to her.
The Transition to Songwriting
It was when his second novel Beautiful Losers (1966) sold poorly (and caused controversy) that Cohen decided to pursue a musical career. At the time he was over 30 years old and relatively untrained as a musician, yet a meeting with Judy Collins set his career on track. The already hugely successful Collins listened to his first songs and was immediately moved, drawn by both the 'ethereal and earthy' qualities of his voice and persona. She recorded two of his revered songs – 'Dress Rehearsal Rag' and 'Suzanne' – for her 1966 album In My Life. This secured his reputation as a songwriter, and with Collins's keen support (she continued to eagerly record songs that he wrote, including 'Bird on the Wire'), he gained momentum in the music industry, producing his own first album in 1967, entitled Songs of Leonard Cohen.
The temptation can be for his songs to be perceived as gloomy, conjuring up an image of a tortured poet, drinking and smoking into the early hours and squeezing out despair into a written form. The deep emotion can be felt, but that is not to say his lyrics are overwhelmingly pessimistic:
---
'My voice just happens to be monotonous and I'm somewhat whiney so they are called sad songs. But you could sing them joyfully too. It's a complete biological accident that my songs sound melancholy when I sing them.'
– Leonard Cohen
---
Nevertheless, his works do seem to carry that undercurrent of melancholia, but while the subject of his poems is often sombre and haunting, the expression of them is laced with a dark wit. They are also philosophical, spiritual (he later spent five years as a Buddhist monk). Alike in their lyricism, his poems and songs display a tantalizing delicacy of thought, at times mournful, maudlin, but poignantly so. It is not only Leonard's husky voice that has become so identifiable, it is also the realness of his words and delivery that still continues to resonate with chilling rawness – consuming, unique and immensely evocative.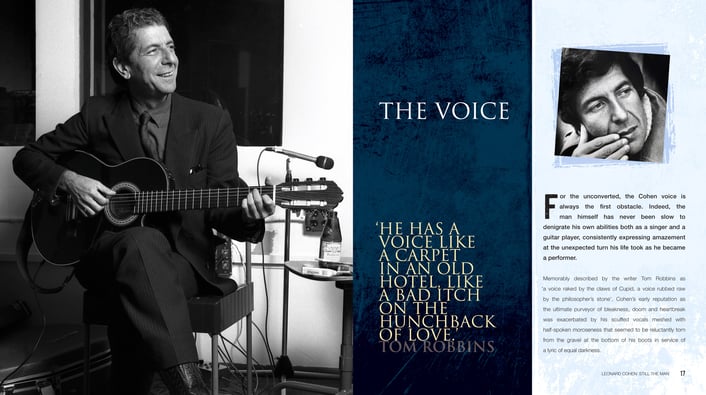 Links
This blog is an updated form of a previous post.