A little known legend died on 28 June 2016. Well, not as well known as he should have been, considering his place in the birth of rock guitar as we know and love it. We were honoured back in 2006 to have Scotty Moore (b. 1931) write the foreword to our labour of love, The Definitive Illustrated Encyclopedia of Rock – an apt beginning to a book that told the complex and many-faceted story of rock.


A Young Start
The original rock'n'roll lead guitarist, Scotty Moore was born near Gadsden, Tennessee. Moore began playing guitar at the age of eight, largely self-taught. Although he aspired to playing jazz like Barney Kessel and Tal Farlow, he was also influenced by country guitarists like Merle Travis and, in particular, Chet Atkins.

Moore, Black and Presley
After Navy service, Moore formed a hillbilly group, the Starlite Wranglers, in 1952, with Bill Black on upright bass. After Moore struck up a rapport with Sam Phillips, the proprietor of Sun Records, Phillips suggested that Moore and Black accompany his protégé, Elvis Presley. Initially, the sessions were unproductive, until the trio began playing 'That's All Right (Mama)', which captured the chemistry between them and became Presley's first single in 1954.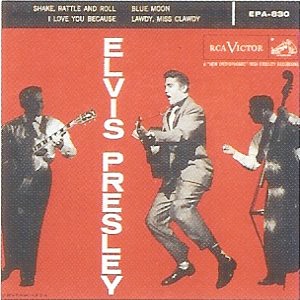 Moore and Black, along with drummer D.J. Fontana, backed Elvis on his greatest records. Before Chuck Berry and Bo Diddley, Moore fused various strands of American music to create the language of rock'n'roll lead guitar, establishing it as the main instrument and inspiring countless guitarists. His style was clean, simple and economical, primarily at the insistence of Sam Phillips. Moore favoured Gibson guitars, using the semi-acoustic ES-295 on early Sun recordings with Presley, and switching in 1955 to an L5 and later to a Super 400 CES.

Production and Solo Work
Moore continued to back Elvis until 1958. He made his only solo album, the all-instrumental The Guitar That Changed The World (1964), and worked with Presley again during the 1960s, appearing with the singer for the last time in the ''68 Comeback Special' television performance. Afterwards, Scotty virtually retired from playing for 23 years, founding his own recording studio in Memphis and concentrating on engineering records and television productions. He was reunited with D.J. Fontana on All The King's Men (1997), an all-star celebration of Elvis's music.

Moore spent the last 10 years of his life performing tribute shows with disciples such as Eric Clapton and Mark Knopfler, and accepting awards for his legendary contribution to rock'n'roll. He was inducted into the Rock and Roll Hall of Fame in 2000 and, in 2015, into the Memphis Music Hall of Fame.

A Humble Man
What stands out from the foreword Scotty wrote for us is his humility:

'Some people say my second solo on "Hound Dog" is the first rock'n'roll guitar solo, or one of the greatest, or whatever, but that was a bit of an accident too! We'd done it and done it and done it. I don't know how many takes. And Elvis said, "let's do one more". I was as mad as heck, and I thought, to hell with it. There was no beating around the bush with that one! I always tried to do something different on the solos, to keep an improvized feel.'
As biographer Dickerson told the Associated Press, 'He was a class act as a human being. […] Besides being one of the best guitarists that ever lived and most inventive, he was a great person – and you don't always find that in the music industry.'

He will be sadly missed.

Essential Recordings
1956
Elvis Presley: Elvis Presley
1956
Elvis Presley: Elvis
1964
Solo: The Guitar That Changed The World
1976
Elvis Presley: The Sun Sessions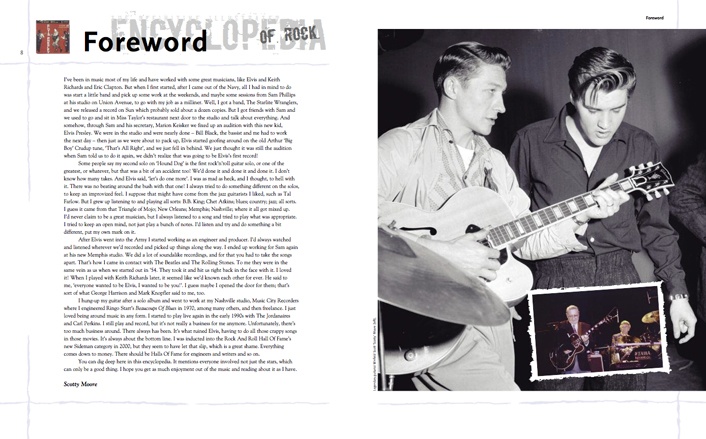 The main text in this blog is based on the entry for Scotty Moore in our Illustrated Encyclopedia Of Guitar Heroes. The text from that book and The Definitive Illustrated Encyclopedia of Rock and much more of our authoritative, curated content will become available online soon at our new Flame Tree Pro site. Watch this space!
Links