Starting this week, we're moving on from guitars to the musicians who make them sing, and what better way to start than with the melodious songs of blues? Starting off our Top 10 Blues Guitarists is B.B. King.
Ambassador of Blues
The bluesman who took the blues into the mainstream, B.B. King (1925–2015) is also its ambassador to the world. His solid, seasoned style is heard around the world. His style draws on the Mississippi blues of Elmore James and Muddy Waters, the Chicago blues of Buddy Guy and Magic Sam, and the West-Coast blues of T-Bone Walker and Lowell Fulsom, all filtered through his distinctive vibrato and the phrases that flow out of his beloved Gibson ES-355, forever named Lucille. His feel for the blues is consummate and instinctive, his licks coming seamlessly out of vocal lines or horn riffs, always with room to breathe within the song.
Humble Beginnings
Born in Itta Bena, Mississippi, King was raised in a farming family and found his voice in a gospel choir. He started playing the guitar in his teens and moved to Memphis in his early twenties, securing a sponsored radio spot. Recruiting a band, he embarked on the 'chitlin' touring circuit around the American South, honing his style and arrangements.
A String of Hits
King scored a No. 1 rhythm and blues record with 'Three O'Clock Blues' in 1951 and followed it with a string of hits: 'You Know I Love You' (1952), 'Please Love Me' (1953), 'You Upset Me Baby' (1954), 'Sweet Little Angel' (1956) and 'Sweet Sixteen' (1960). In the Sixties, as his blues waned in favour of soul and Motown, King signed to major label MCA to broaden his audience. Live At The Regal (1964) failed in that respect, although it has been acclaimed as one of the greatest blues albums ever recorded. But later in the Sixties he found an appreciative audience in the rock scene, scoring a Top 20 hit with 'The Thrill Is Gone' in 1970.
Hitting the Spotlight
In subsequent decades, King regularly toured the world, taking on the ambassadorial role that enabled him to survive passing fashions and occasionally hitting the spotlight, as with his collaboration with U2 in 1988 on 'When Love Comes To Town'. In 2006 he undertook a farewell world tour but following this, the performances, and awards and accolades, mounted. In 2006, President George W. Bush awarded King the Presidential Medal of Freedom. In 2007, King was awarded an honorary doctorate in music by Brown University. In 2009, Time named B.B. King number three on its list of the 10 best electric guitarists of all-time. His name still remains legendary even after his death in May of 2015.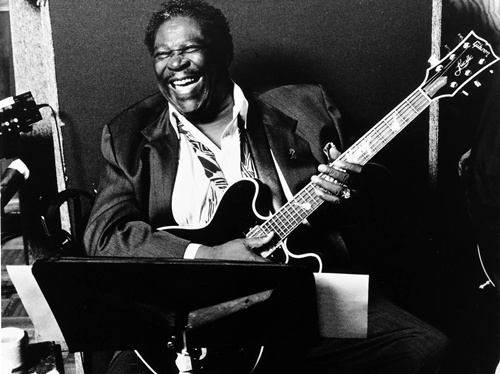 Images courtesy bbking.com.
Check out our book Pick up & Play: Classic Riffs available here to learn how to play the classic sounds of your favourite genres, including blues; for more about the history of rock music in relation to blues, you can read our book Rock: An Illustrated History of Artists and Sounds, available here.
Links