Heading back to the Chicago blues classics, this week we take a look at George 'Buddy' Guy (b. 1936) who is known best for his influence on guitarists such as Jimmy Page (b. 1944), Keith Richards (b. 1943) and Stevie Ray Vaughan (1954–90).
Legend of Live
One of the young gunslingers that invigorated the blues in the Sixties, Buddy Guy wowed audiences with high-octane guitar histrionics and energy that were matched by a tortured vocal manner. He was a master of dynamics, allowing a song to drift towards oblivion before suddenly bringing it back to a crescendo of intensity. Jimi Hendrix (1942–70), Eric Clapton (b. 1945) and Jeff Beck (b. 1944) were all notable fans. Guy was essentially a live performer who found it hard to channel his unpredictable virtuosity into the confines of a recording studio.

Early Years
George Guy was born into a sharecropping family in Lettsworth, Louisiana, and started playing in and around Baton Rouge in his teens. It wasn't until 1957 that he moved north to Chicago, where he was encouraged by his idol, Muddy Waters (1913–83), and developed his own style, a mixture of the showmanship of Guitar Slim (1926–59) and the rapid-fire phrasing of B.B. King (1925–2015).

Striving Sixties
He signed with Chess, Chicago's premier label, in 1960, and his first session produced the harrowing 'First Time I Met The Blues'. He scored a rhythm and blues hit with 'Stone Crazy' in 1962, but most of his own recordings remained unreleased (possibly due to internecine politics), although he appeared on countless records by Muddy Waters, Willie Dixon (1915–92), Little Walter (1930–68), Sonny Boy Williamson II (1912–65) and Koko Taylor (1928–2009). His first British visit in 1965 with the American Folk Blues Festival launched his prestigious fan club. He also started a long-lasting and fruitful relationship with harmonica player and singer Junior Wells (1934–98). The duo played together on Hoodoo Man Blues (1965), It's My Life Baby! (1966), Play The Blues (1972) and Drinkin' TNT 'n' Smokin' Dynamite (1982), recorded at the 1974 Montreux Festival.
Scoring Hits
The Seventies and Eighties were a lean period for Buddy Guy recordings and it wasn't until Damn Right I've Got The Blues (1991), which featured Clapton, Beck and Mark Knopfler (b. 1949), followed by Grammy winning Feels Like Rain (1993) and Slippin' In (1995) that he started achieving commercial success. In 2003, Guy was awarded the National Medal of Arts. He was inducted into the Rock and Roll Hall of Fame in 2005 and was still touring the world well into 2010.

Guy has had a long relationship with Fender, preferring to play a Stratocaster through a Fender Tweed Bassman (4 x 10).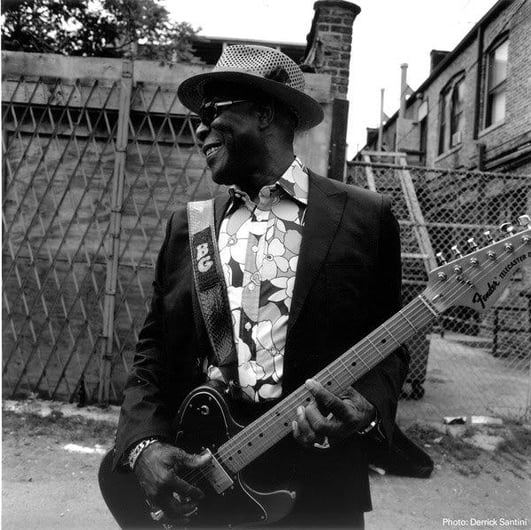 Images courtesy of buddy guy.net
Tackle the basics of guitar playing with The Definitive Guitar Handbook – it covers simple chords and finger-picking, right through to more complex power chords, slurs, bends and slides. Or, if you're more in the mood to chill and write some songs, pick up our Gibson Les Paul Guitar Foiled Journal to scribble them down.
Links