After a brief mention of Vampire Weekend in our last entry to our essential listens list, someone questioned why Vampire Weekend hasn't made the cut. It was an interesting suggestion and the more I thought about it and listened to the album (and their subsequent work) the more sensible an addition to the list it seemed. So without further ado...
The Naivety of a First Album
As it materialises, an accidental theme on our list of essential listens seems to be first albums. It's not a hard and fast rule but maybe there is something important to be said about what a first album is doing. It should be said that the wording of a "first" album is quite important here. We're not just talking about musical debuts but also introductions to a wider audience or even, in the case of some (like an Elton John or David Bowie), a new era of their own music style. Vampire Weekend (2008) was the title of the band's debut album and listening to lead singer Ezra Koenig talk about the tracks we see something that links these debuts quite concretely; naivety. There is a freshness and rawness to someone discovering a new tone or a new sound and the self-titled Vampire Weekend is a perfect case study for exploring this idea.
Formation
The band members met while they were at university together. Ezra had been playing in a band called Dirty Projectors when he formed a rap group with Chris Tomson. Looking for a different sound, they took some of the world music tones of Dirty Projectors and the technical writing of their rap group and started playing music with a four-piece band. After playing several shows, the group, made up of Ezra Koenig, Rostam Batmanglij, drummer Chris Tomson, and bassist Chris Baio, would settle on the name "Vampire Weekend", the title of a short-lived film idea that Ezra had.
While the film never flowered, the band's music flourished and their popularity grew. They rode a wave of popularity and internet hype to self-producing an album that was full of experimental musicality and their now trademark lyricism. Between working their full-time jobs, the band managed to put together an album with recording locations in DIY settings. They would mostly record at their houses and only rented studio time when absolutely necessary. Once the album was complete, they didn't bother to send it round to label execs but to "tastemakers" instead. On the decision to avoid sending it out to labels, Koenig said in an interview "That seemed ultimately fruitless. These people don't want to listen to some random thing they don't have any context for." The idea worked and soon labels were looking to sign the band because of their existing popularity, but it wasn't all plain sailing.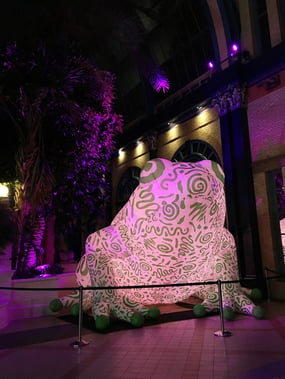 Image Issues
When the band debuted they were met with two major criticisms; "it sounds like a rip-off of Graceland by Paul Simon" and opinions like "who are these privileged elite ivy school kids stealing from world music". Paul Simon would later offer comment on the band saying that he didn't feel that they had copied his music whatsoever, and that, at most, you could argue they were drawing from similar inspirations to his own. He was clear that you can't get angry at someone also enjoying world music and the way it seeps into their own compositions, he didn't own it anyway. He said that he made sure to tell the band this when he saw them live in the early part of their career.
The other criticism left a slightly more bitter taste in the band's mouth. After one review labelled the band "the whitest band in the world", and many labelled them "WASP-y" (an American term standing for white anglo Saxon Protestants), the band hit out with Koenig pointing out that all four members of the band had made it into their Ivy League schools on scholarships and still used student loans. Other critics noted the unfair statements made about the band given their heritages ranging from Persian, Hungarian, Italian and Ukrainian backgrounds.
A recent article said that "In Koenig and company, some people heard the end of a long gentrification process that turned indie rock from a scraggly, combustible, underground, ostensibly low-budget enterprise into a clean-cut lifestyle product for the bourgeoisie." The problem is that this image was a little off. Their album was made after their success gigging and in the most low budget way possible. It was pretentious at times but had grown popular in what could be argued to be the then new underground of online buzz. The image the band had tried to cultivate as preppy kids, had largely been intended as a joke but it wasn't seen as such. Many people had an image of them as privileged kids doing indie music and were quickly turned off.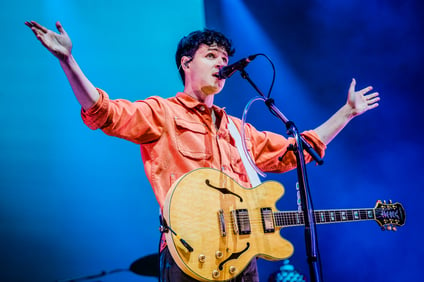 Undeniable Energy
The thing that made the band's music thrive, and, in turn, lead to their explosion in popularity, would be the energy that shone through in their music. While this is immediately evident on tracks like A-Punk, and later hits like Cousins, it can also be seen in songs like Cape Cod Kwassa Kwassa and Oxford Comma. There was a freshness to their sound and an interesting, referential quality, to their musicality. Vampire Weekend, both the band and album, showed that on a shoestring budget they could make something cool and interesting that arguably elevated the then current state of the genre.
Drawing on diverse influences, ranging from classic indie guitar bands to African rhythms, Vampire Weekend really highlights the benefit that naivety can have on an album. From the introduction of an artist's sound, to the highs and lows that can come from a debut, the band's first offering remains an interesting piece of work both musically and culturally; A group of kids making music they enjoyed for the people they thought would enjoy it too. You get the sense that if their band hadn't taken off, all of them would still be doing music somewhere in their lives.
With their fourth album being released this year there has been a renewed discussion about which of their albums is the best (so far). I have no doubt that each one will represent a different era and then mindset for both the band's members and its listeners. They are all incredibly engaging and all filled with both interesting and surprising musical turns, but there is a certain feeling of rawness that makes their self titled debut rather enigmatic. Hooks like that of A-Punk and M79 have remained catchy and ever popular and have endured far longer than people expected from what could have been a flash in the pan preppy indie band. I highly recommend going back and listening to Vampire Weekend, you might just like it more than you did the first time round making a great addition to this essential listens list .
---

If you enjoyed this blog post then head over to Flame Tree Pro! It has thousands of articles about anything and everything music related all written by experts in the field.
---
Links:
---
Photo images courtesy of Shutterstock and album cover from Rolling Stone magazine.