We've got two more of Gibson's iconic guitars in this week's Top 10 Guitars blog: the ever popular ES-335, played by the likes of B.B. King and Eric Clapton; and the SG, a guitar which has become synonymous with rock'n'roll.
Gibson ES-335
In 1958, Gibson unveiled another innovation – the ES-335 TD. In continuous production since its introduction, the ES-335 has proven one of Gibson's most enduring designs.
A Neat Hybrid
In the late 1950s, solid-body electrics were becoming increasingly popular as they offered sustaining tone and resistance to feedback. Hollow-body electrics, on the other hand, possessed
 a certain tonal warmth. So Gibson created a neat hybrid; the ES-335 was built from a laminated, 16-in (40-cm) wide, 13⁄4-in (4-cm) thick hollow maple body with a solid maple block in its centre.
Construction
The guitar's semi-solid, double-cutaway construction allowed its mahogany neck (with rosewood fingerboard) to be 
joined to the body at the 19th fret, which permitted access to the uppermost registers. Two humbuckers, controlled by a three-way switch, afforded a number of timbral possibilities. The ES-335 had the best of both worlds – the warmth of a hollow-body with the sustain and feedback resistance of a solid-body.
Guitar Specs
Pickups: Two

Controls: Three-way selector, two volume, two tone
Characteristics: Versatile, hollow-body warmth with solid-body sustain

Played by: B.B. King, Eric Clapton, Larry Carlton
Image of Gibson ES-335 TD courtesy Gibson.com
Gibson SG
By 1960, sales of the now iconic Les Paul Standard had become sluggish. So in 1961, Gibson gave the instrument a thorough redesign.
Construction
With its double-cutaway, light, thin mahogany body, long-looking mahogany neck, twin humbuckers, vibrato unit and deep cherry finish, the new Les Paul was at first known as the new Standard. 
It was renamed the SG (solid guitar) in 1963, when Paul's contract with Gibson expired.
A Rock'n'roll Icon
Paul was not impressed with his new namesake guitar; he called Gibson and
 had his name removed from the instrument. Despite his disapproval, the SG has remained in continuous production since 1961.
 The guitar is now a rock'n'roll icon.
 Its pointy, devil-horned silhouette
 and raw sound have proved indispensable for heavy acts such 
as AC/DC and Black Sabbath. A 
comfortable, versatile instrument, 
the SG has also been employed 
to excellent effect by slide
 guitarists such as Duane
 Allman and Derek Trucks.
Guitar Spec
Pickups: Two

Controls: Three-way switch, two volume, two tone
Characteristics: Lightweight and versatile, powerful, honking sound
Played by: Duane Allman, George Harrison, Tony Iommi, Derek Trucks, Angus Young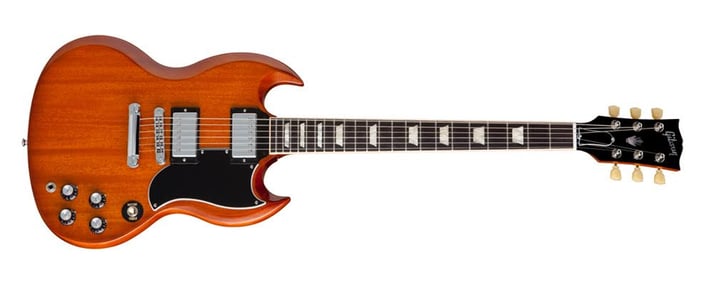 Image of Gibson SG Standard courtesy Gibson.com
If you love Gibson's style, we have a couple of amazing foiled notebooks featuring a Gibson Les Paul on the cover, one with a sleek black design, available here; and another with a bright sunburst finish, available here. If you're a guitar player, our book How to Play Guitar (Pick Up & Play) contains expert advice on chords, scales, notes and techniques, and is available here.
Links