This week brings a bonus blog to our series on top guitars. We couldn't not include the Gibson L-5 and D'Angelico New Yorker, whose elegance, fine design and rich sound put them in a whole category of their own. So here they are, earning their place alongside our top 10.

Gibson L-5
In 1922, Gibson introduced the 'Master Line Guitar L-5 Professional Grand Concert Model'. Priced at $275, this elegant, top-of-the-line model was by far Gibson's most expensive guitar, and its revolutionary design represented the birth of the f-hole archtop jazz box.
Construction
Finished in a Cremona brown sunburst, the debut L-5 had a 16 1⁄4-in (41-cm) wide, 3 1⁄2-in (9-cm) deep body with an arched spruce top and birch back (replaced by maple in 1924); a maple neck with an ebony fingerboard; and a metal tailpiece, which added sustain.
The First F-hole Guitar
The L-5 was the first guitar to feature violinstyle f-holes – as opposed to an oval soundhole – which provided a unique tonal response. With its huge, well-balanced sound, the L-5 was essentially America's first orchestra guitar.
Then and Now
The L-5 has gone through numerous alterations – both cosmetic and structural – throughout the years, and remains one of the most revered jazz guitars.
Guitar Specs
Construction: Arched spruce top, maple back and neck, ebony fingerboard
Characteristics: Classic jazz sound, pristine tone and excellent projection
Played by: Eddie Lang, Russell Malone, Wes Montgomery
Image of Gibson L-5 courtesy Gibson.com
D'Angelico New Yorker
In 1932 John D'Angelico set up shop in New York City, repairing stringed instruments. He also began building archtops that were patterned after Gibson's L-5 before developing his own design.
Iconic Design
D'Angelico became a pre-eminent jazz-guitar luthier, known for his craftsmanship; he hand-built more than 1,100 guitars. D'Angelico's most identifiable design, the New Yorker, was introduced in the late 1930s.
Handmade Detail
When Gibson unveiled its top-of-the-line Super 400 in 1934, D'Angelico followed suit with his New Yorker, an archtop with a body of the same spec, X-pattern bracing, and split-block fretboard inlays. D'Angelico's handcrafted New Yorker received the sort of attention to detail unobtainable by a large manufacturer such as Gibson.
Aesthetic Excellence
D'Angelico's guitars were breathtaking, both as musical instruments and as works of art. With its ornate, gold stairstep tailpiece, Art-Deco style inlay and fancy binding, the New Yorker ranks among the most beautiful guitars ever created.
Guitar Specs
Construction: 18-in (45.7-cm) wide maple/spruce body, maple neck with ebony fretboard
Characteristics: Ornate, breathtaking design, big, refined sound
Played by: Freddie Green, Bucky Pizzarelli, Russell Malone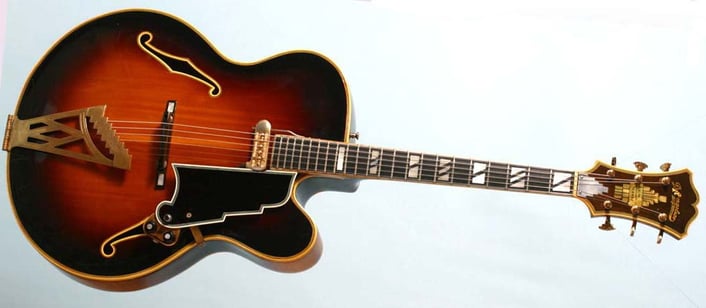 Image of D'Angelico New Yorker courtesy guitars.com
If these beautiful guitars have inspired you to learn to play, take a look at our book How to Play Guitar (Pick Up & Play), available here. We also have some great foiled journals that feature similarly eye-catching guitars – such as these Gibson Les Paul designs in black or sunburst finish.
Links