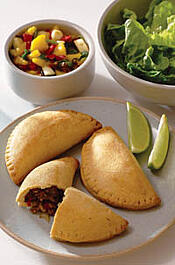 Picture ivory-white sandy beaches, palm trees dipping their fronds into crystalline turquoise waters and sailboats lazily drifting to shore….yes, you've just conjured up a Caribbean paradise. To wish yourself even closer to this idyllic scene, cook up some authentic Caribbean cuisine. The sight, aroma and heady taste sensations are sure to give you an experience of the local flavour that makes this region so special.
The empanada is a stuffed bread or pastry, and has many different variants around the world. The Caribbean version is traditionally filled with ground beef, but modern alternatives now include chicken, fish, ackee and mixed vegetable fillings.
The recipe featured here is a slight variation on the traditional ground beef empanada, with a bit of tasty pork and Caribbean seasonings thrown in. It's a delicious and sure-fire way to recreate authentic island flavours at home!
Caribbean Empanadas
Serves 4–6
Ingredients



175 g/6 oz lean fresh beef mince

175 g/6 oz lean fresh pork mince

1 onion, peeled and finely chopped

1 Scotch bonnet chilli, deseeded and finely chopped

1 small red pepper, deseeded and finely chopped

½ tsp ground cloves

1 tsp ground cinnamon

½ tsp ground allspice

1 tsp sugar

1 tbsp tomato purée

6 tbsp water

700 g/1 ½ lb prepared shortcrust pastry

vegetable oil, for deep-frying

fresh herbs, to garnish

ready-made or shop-bought sweet mango chutney

Method
1. Place the mince in a nonstick frying pan and cook, stirring, for 5–8 minutes, or until sealed. Break up any lumps with a wooden spoon. Add the onion, chilli and red pepper together with the spices and cook, stirring, for 10 minutes, or until the onion has softened. Sprinkle in the sugar.
2. Blend the tomato purée with the water and stir into the meat. Bring to the boil, then reduce the heat and simmer gently for 10 minutes. Allow to cool.
3. Roll the shortcrust pastry out on a lightly floured surface and cut into 10 cm/4 inch rounds. Place a spoonful of the meat mixture onto the centre of each pastry round and brush the edges with water. Fold over, encasing the filling to form small pasties.
4. Heat the oil to a temperature of 180˚C/350˚F and deep-fry the empanadas in batches, about three or four at a time, for 3–4 minutes, or until golden. Drain on absorbent kitchen paper. Garnish and serve with the mango chutney.
If you want to eat like a Jamaican, serve the empanadas with some fresh bread and enjoy as a full meal. Alternatively, if you want to offer the empanadas as snacks at a party, why not make them smaller so they are presented as irresistible bite-sized pieces?!
This great recipe proves that cooking food from a round the world doesn't have to be complicated. For more tempting simple recipes which will take you from your kitchen to far flung corners of the earth, stay tuned for next week's installment!
Links
Wish yourself away with these sickeningly gorgeous photos of the Caribbean's best beaches

Find out more about the Caribbean's regional food specialities here

Follow these great tips to make your Caribbean cooking healthy as well as delicious!