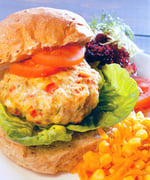 I'm really sorry, but we have to talk about it.
Summer is over.
We enjoyed the sun whilst we could but it's already starting to get cold. Annoyingly, it's only going to get colder. For many, this is far from ideal news. However, here at Flame Tree we're putting on our bravest faces and trying to embrace the colder seasons.
For instance: with colder weather comes comfy jumpers! Reading books by the fire! AND cooking yummy, hearty food!
So, we're biting the bullet and kicking things off today with a recipe for Cheesy Chicken Burgers. They're really easy to put together and the white meat means that you don't have to quite admit your giving in to winter just yet! (though we'll have plenty of red meat recipes coming through the rest of the year, plus some veggie options too) So pop down to the supermarket, grab your ingredients and enjoy this quick and simple recipe.
Serves 6
1 small onion, peeled and chopped
1 garlic clove, peeled and crushed
1/2 red pepper, deseeded and finely chopped
450 g/1 lb fresh chicken mince
2 tbsp 0%-fat Greek yoghurt
50 g/2 oz brown breadcrumbs
1 tbsp freshly chopped herbs, such as parsley or tarragon
50 g/2 oz Cheshire cheese
Crumbled salt and freshly ground black pepper
Wholemeal or granary rolls; lettuce; sliced tomatoes; mixed salad leaves, to serve
For the relish:
200 g can sweetcorn, drained
1 carrot, peeled and grated
1/2 green chilli, deseeded and finely chopped
2 tsp cider vinegar
2 tsp light soft brown sugar
Once everything is prepared, just follow these simple instructions:
Preheat the grill. Heat 1 tablespoon sunflower oil in a frying pan and gently cook the onion and garlic for 5 minutes. Add the red pepper and cook for 5 minutes. Transfer into a mixing bowl and reserve.
Add the chicken, yoghurt, breadcrumbs, herbs and cheese and season to taste with salt and pepper. Mix well. Divide the mixture equally into 6 and shape into burgers. Cover and chill in the refrigerator for at least 20 minutes.
To make the sweetcorn and carrot relish, put all the ingredients in a small saucepan with 1 tablespoon of water and heat gently, stirring occasionally, until all the sugar has dissolved. Cover and cook over a low heat for 2 minutes, then uncover and cook for a further minute, or until the relish is thick.
Place the burgers on a lightly oiled grill pan and grill under a medium heat for 8–10 minutes on each side, or until browned and completely cooked through.
Warm the rolls if liked, then split in half and fill with the burgers, lettuce, sliced tomatoes and the prepared relish. Serve immediately with the salad leaves.
This is just one tasty recipe from our popular title Meat Eats. Packed with loads of tasty recipes that aren't too tricky to pull together. Take a closer look at the title by clicking here. To view it Amazon, click here.