If you went for the classic turkey recipe on Christmas day you're probably looking for something to do with the leftovers right about now. Well, look no further. Below is a really tasty and easy turkey stir fry recipe that's light, full of flavour and can be served with lots of vegetables, to balance out all the chocolate just a little bit!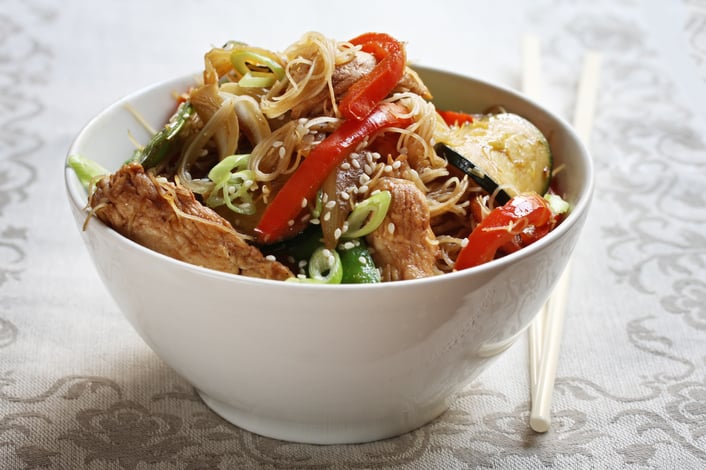 Christmas Recipe – Lime & Sesame Turkey Recipe
Serves 4
Ingredients
450 g/1 lb turkey breast, skinned and cut into strips

2 lemon grass stalks (outer leaves discarded), finely sliced

grated zest of 1 lime

4 garlic cloves, peeled and crushed

6 shallots, peeled and finely sliced

2 tbsp Thai fish sauce

2 tsp soft brown sugar
1 small red chilli, deseeded and finely sliced

3 tbsp sunflower oil

1 tbsp sesame oil

225 g/8 oz stir-fry rice noodles

1 tbsp sesame seeds

shredded spring onions, to garnish

freshly stir-fried vegetables, to serve

Method
Place the turkey strips in a shallow dish. Mix together the lemon grass stalks, lime zest, garlic, shallots, Thai fish sauce, sugar and chilli with 2 tablespoons of the sunflower oil and the sesame oil. Pour over the turkey. Cover and leave to marinate in the refrigerator for 2–3 hours, spooning the marinade over the turkey occasionally.

Soak the noodles in warm water for 5 minutes. Drain through a sieve or colander, then plunge immediately into cold water. Drain again and reserve until ready to use.

Heat the wok until very hot and add the sesame seeds. Dry-fry for 1–2 minutes, or until toasted in colour. Remove from the wok and reserve. Wipe the wok to remove any dust left from the seeds.

Heat the wok again and add the remaining sunflower oil. When hot, drain the turkey from the marinade and stir-fry for 3–4 minutes, or until golden brown and cooked through (you may need to do this in 2 batches). When all the turkey has been cooked, add the noodles to the wok and cook, stirring, for 1–2 minutes, or until heated through thoroughly. Garnish with the shredded spring onions and toasted sesame seeds and serve immediately with freshly stir-fried vegetables of your choice.
This turkey recipe can be found in our book Meat Eats which includes lots of delicious meat-based recipes. We also have two great new baking books: Baking and Baking for Beginners, both of which have lots of festive recipes to try throughout the holiday season!
Links