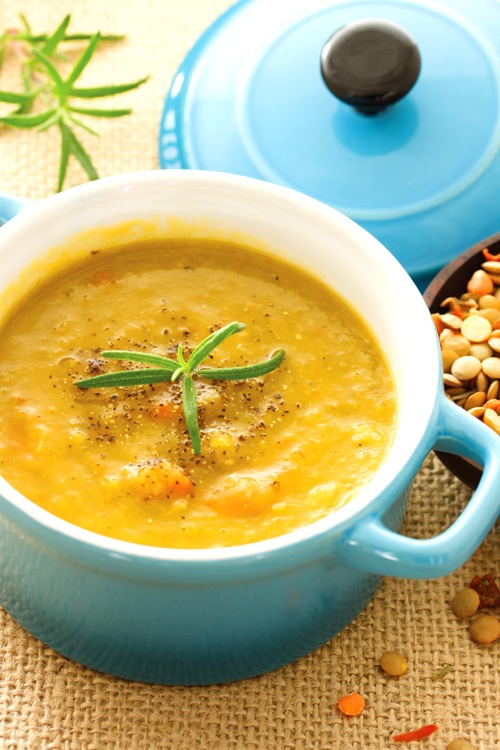 Autumn always passes by in a blur of walking home through drizzly streets, standing in your hot shower just a little bit longer and lots and lots of comfort food to keep the chills out.

A personal favourite of ours, especially if you're trying to keep away the colds everyone keeps passing around, is a hearty soup. There's nothing better than something warming, healthy and delicious too. There has been an explosion of new soup recipes lately, with some of the more outlandish recipes including a Beer and Cheese Soup. While beer and cheese are great separately, we're not sure about that one! If you're looking for a classic healthy soup with lots of tasty, nutritious vegetables, then look no further. Here's a great Lentil and Rosemary Soup recipe for you.
Serves 4
2 tbsp olive oil
2 garlic cloves, peeled and crushed
1 medium onion, peeled and finely chopped
2 large carrots, peeled and thinly sliced or chopped
3 celery stalks, trimmed and thinly sliced
350 g/12 oz potatoes, peeled and chopped
175 g/6 oz red split lentils
1.1 litres/2 pints vegetable stock
2 rosemary sprigs, plus extra to garnish
200 ml/7 fl oz milk
salt and freshly ground black pepper

Method
Heat the oil in a large, heavy-based saucepan, add the garlic, onion and carrots and cook for 5–8 minutes until the onion has started to soften.
Add the celery with the potatoes and cook for a further 5 minutes, stirring occasionally to prevent the vegetables sticking to the bottom of the pan. Add the lentils with the stock and rosemary sprigs. Bring to the boil, then reduce the heat and cover with a lid.
Cook for 20–25 minutes until the vegetables and lentils are tender. Discard the rosemary, then leave to cool for 5 minutes before whizzing in a food processor with 150 ml/1/4 pint of the milk until smooth.
Return to a clean pan, adding the remaining milk if it's too thick. Season to taste, then reheat until piping hot. Garnish with fresh rosemary and serve.
Cook's Tips: If liked, a little chopped bacon can be used. Simply fry for 2 minutes, then add with the vegetables. There are many types of lentils available, so take care when buying to check the packet instructions, as some need overnight soaking and some a longer time to cook.
This is just one recipe from our popular book Soups which is full of tasty, healthy and hearty soup recipes that are really easy to whip up. Take a closer look at the book here. Or view it on Amazon here.