At home, on the streets, and in rock and roll history, Eminem started off as the outsider: the kid on welfare who moved from home to home; the victim of bullying who survived a brain haemorrhage; the white rapper trying to make it as a legitimate hip-hop act when there had been no precedent. The odds were stacked wholly against him, and yet he made it through a sheer force of will and the power of his unique artistic vision.
The outsider became the insider as Eminem turned a lifetime's worth of pain and anger into great art. His monstrous side became the cheeky alter-ego 'Slim Shady', his lyrics reflected on the tumult of his life in a style that some called Shakespearean. In fact, he changed the face of pop music (and music video) in the process. Through his decade-plus career, he has gone from being the exception to the rule to tearing up the rulebook completely.
The illustrated ebook, Eminem, Survivor tells his compelling, utterly unique tale; how he threaded all his issues into his boundary-pushing music; through his increasingly inventive music videos, his deeply autobiographical (and acclaimed) performance in 8 Mile, along with his lyrics which poked a much-needed finger of fun at the world of celebrity. The book provides an enthralling overview of his career via bite-sized chunks of text and career-defining pictures. 'Will the real Slim Shady please stand up?' Eminem once asked rhetorically. Well, you'll find him here in the pages of this book.
'Slim Shady is just the evil thoughts that come into my head. Things I shouldn't be thinking about. A lot of my songs are funny. I got a warped sense of humour I guess.'
Eminem
Inside Pages
Eminem: Survivor, a celebration of the skill and grit of one man, is packed with stunning photographs and design. Here are a couple of examples of how it looks on an iPad: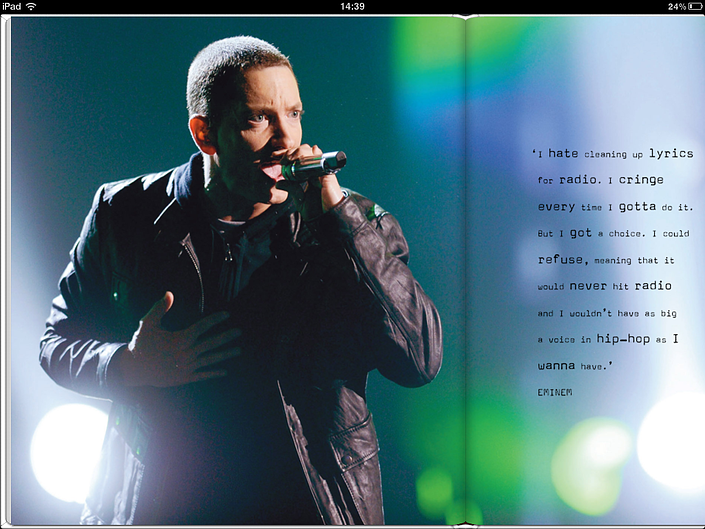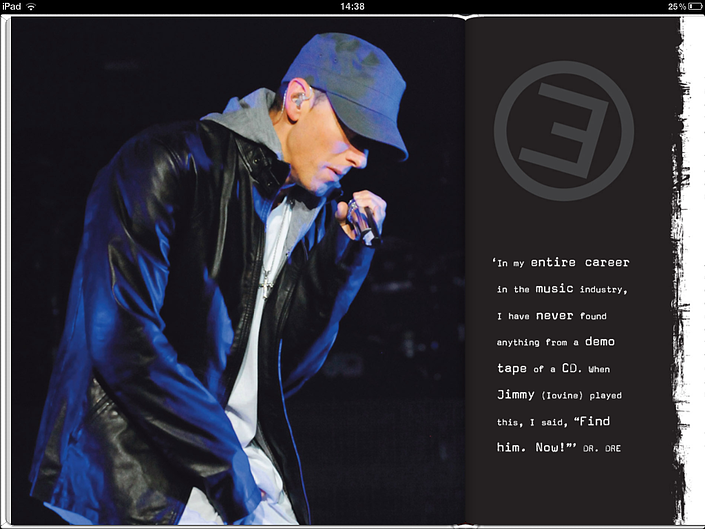 Eminem Videos
Here's a cool Eminem Video playlist from Youtube:
Links