With over 8,000 individual sound files Flame Tree Music operates a unique musical experience, online, in print and on the move, for the guitarist, keyboard player and musician.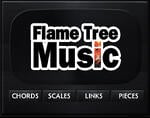 Offering a comprehensive resource of chords and scales, every element is designed to give you what you need, quickly and easily. The website can be used entirely on its own, or as a complement to the series of Made Easy print books. Using a smartphone, you can scan the QR code on each page and go straight to the appropriate section on the website, then hear the chord or scale. And you can swiftly move from chords to scales, experiment with the sounds, hear them on the piano, on the guitar, strummed, and as individual notes. Fantastic for every style of play, from rock, pop, jazz, blues, flamenco and folk.
Flame Tree Music: What is it?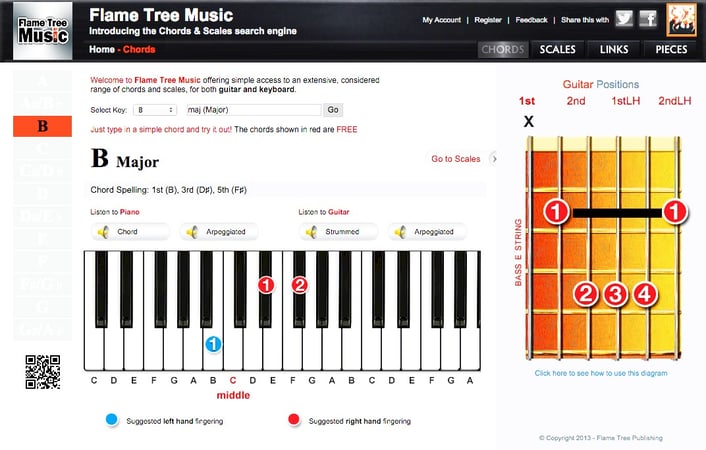 The Flame Tree Music website is designed to make searching for chords and scales very easy. It complements our range of print publications and offers easy access online and on the move, through tablets, smartphones, desktop computers and books:
Access to chord diagrams and finger positions for both the guitar and the piano/keyboard, presenting a wide range of sound options to help develop good listening technique, and to assist you in identifying the chord and each note within it.
12 free chords per key, those most commonly used in a band setting or in songwriting.

A subscription is available for those who would like access to the full range of chords, 50 for each key.

For the guitar, chords are shown with first and second positions.
For the keyboard, left- and right-hand positions are shown. The keyboard also sounds each note.
Choose the key, then the chord name from the drop down menu. Note that the red chords are available free (12 for each key). Those in blue can be accessed with a subscription.
Once you've selected the chord, press GO and the details will be shown, with chord spellings, keyboard and guitar fingerings.
Initially, the first position for the guitar is shown. The second position can be selected by clicking the text above the chord diagram.
Left hand guitarists' positions can also be selected for each chord.
Sounds are provided in four easy-to-understand methods: piano as a chord, then as notes sounded separately, a strummed guitar and notes played as an arpeggio on the guitar.
Scales & Other Resources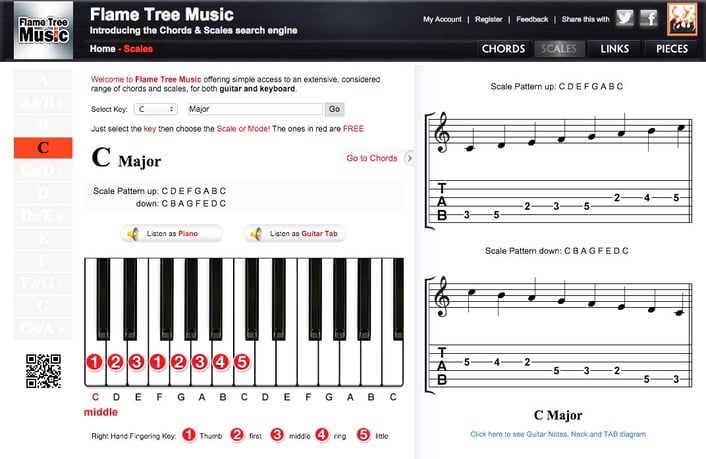 Flame Tree Music also features a number of other resources:
20 core scales are provided for each key. Again you can hear the notes played on the guitar and the piano.
The Flame Tree Red Book offers over 100 pages of popular tunes and examples for the piano. It can be viewed online using a desktop computer, on a tablet such as an iPad, or on a smartphone such as an iPhone or Galaxy. Other books offering different selections of pieces for the piano and a variety of wind instruments and are being developed over the next few months.
Other resources on the site include links and book recommendations to extend your knowledge. There are a great many excellent publications available from a wide range of publishers, both in print and increasingly online.
Books: See it! Hear it!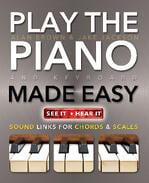 The Made Easy books are designed to work with flametreemusic.com to bring you that essential element for learning how to play: sound! We've planned the website alongside the books so that you can hear the chord and scales on a range of digital devices.
Of course, you'll need a camera-enabled smartphone or tablet. The best result is achieved using a WIFI connection, but 3G and 4G mobile networks should work.
The books use simple QR codes to make a direct connection with the pages online:
Download any free QR code reader. An app store search will reveal a great many of these, so its best to go with the ones with the best reviews; don't be afraid to try a few before you settle on the one that works best for you. Tapmedia's QR Reader app is good, or ATT Scanner or QR Media.
In the Guitar Chords or Piano Chords book, find the chord you want to play, look at the diagram, then check out the QR code at the base of the page.
On your smartphone, open the QR reader app and scan the QR code at the base of any particular chord page.
The QR reader app will take you to a browser, then the specific chord will be displayed on the flametreemusic.com website.
Using the usual pinch and zoom techniques, you can focus on four sound options.
Click the sounds! Both piano and guitar audio is provided.
Remember, the QR codes give you direct access to all the chords. Although only the essential 12 per key are free, that's more than enough to play most rock and pop songs. You can access a much wider range of chords if you register and subscribe.
The books have been created as a companion to other titles in the Made Easy series of books. The Chords and Scales titles are locked in directly but the other books, including Reading Music and Play the Piano & Keyboard launch the C Major chord web page.
Links
The link to Flame Tree Music is here
We have occasional videos to demonstrate basic techniques for the guitar, here.
And of course, all of our books are available on Amazon, all good book and instrument shops and though our trading website: flametreepublishing.com
Our Music Books

The Music Made Easy series: (See it and Hear it!), 256 pages with comprehensive sound links are directly linked to the website: Guitar Chords Made Easy, Piano and Keyboard Chords Made Easy, Scales and Modes Made Easy, Reading Music Made Easy, Play The Piano Made Easy, Play The Guitar Made Easy, Left Hand Guitar Chords, Songwriter's Rhyming Dictionary Made Easy.
The Spiral, Easy-to-Use, Easy-to-Carry series has 384 pages of information and although not directly linked is complemented by flametreemusic.com: Advanced Guitar Chords; Advanced Piano Chords; Guitar Chords; Piano & Keyboard Chords; Chords for Kids; Play Flamenco; How to Play Guitar; How to Play Bass Guitar; How to Play Classic Riffs; Songwriter's Rhyming Dictionary; How to Become a Star; How to Read Music; How to Write Great Songs; How to Play Rhythm, Riffs & Lead Rock; How to Play Hard, Metal & Nu Rock; How to Make Music on the Web; My First Recorder Music; Piano Sheet Music; Brass & Wind Sheet Music; Scales & Modes; Beginners' Guide to Reading Music.