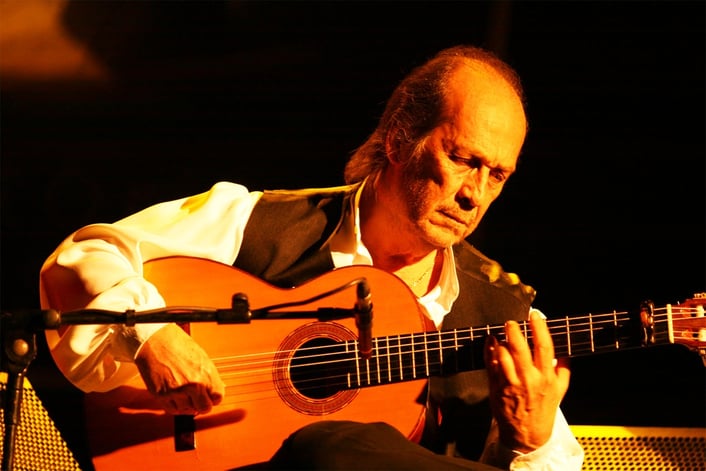 Paco de Lucia, 'the master' to many, passed away yesterday, 26 February 2014. He was a gifted inspiration to many traditions and performed his salsa/jazz flavoured flamenco with immense style and grace. Even more accomplished than Jimi Hendrix, with greater passion than John McLaughlin and an excellence of technique rarely seen Paco de Lucia was probably the greatest guitar playing musician of the modern era. He was featured in our Illustrated Encyclopedia of Guitar Heroes (Flame Tree Publishing, 2008), with a version of the following entry:
Paco de Lucia: Flamenco Flair
Spanish composer and guitarist Paco de Lucía (b. 1947 d. 2014), born Francisco Sánchez Gómez, was a proponent of the modern flamenco style and one of the very few flamenco guitarists who successfully crossed over into other genres of music, including jazz, funk, classical and world music. The son of Gypsy flamenco guitarist Antonio Sánchez, he adopted the stage name Paco de Lucía in honour of his Portuguese gypsy mother, Lucía Gomes.
In 1958, at the age of 11, de Lucía made his first public appearance on Radio Algeciras, and a year later he was awarded a special prize in the Jerez flamenco competition. In 1961, he toured with the flamenco troupe of dancer José Greco. In 1964 de Lucía met Madrilenian guitarist Ricardo Modrego, with whom he recorded Dos Guitarras Flamencas (1965) and Doce Canciones De Federico García Lorca Para Guitarra (1965). Between 1968 and 1977, he enjoyed a fruitful collaboration with fellow new-flamenco innovator Camarón de la Isla, with whom he recorded 10 albums.
On the World Stage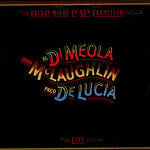 In 1979, de Lucía, John McLaughlin and Larry Coryell formed the Guitar Trio and made a brief tour of Europe. They released a video recorded at London's Royal Albert Hall entitled 'Meeting Of Spirits'. Coryell was later replaced by Al Di Meola, and the trio recorded three albums, Friday Night In San Francisco (1981), Passion Grace and Fire (1983) and The Guitar Trio (1996), with that line-up. His own band, the Paco De Lucía Sextet (which includes his brothers Ramón and Pepe) released the first of their three albums in the year of the San Francisco concert. De Lucia released several albums encompassing both traditional and modern flamenco styles. He introduced instruments, techniques and variations that shocked flamenco purists yet became accepted elements of the modern musical form.
Classic Recordings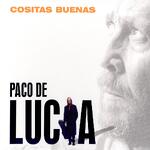 De Lucia's work has led to a new understanding of flamenco and has advanced the technical and musical boundaries of his instrument. De Lucia's Antologia, volumes 1 and 2, are good starting points to explore the master's range, expressed in tracks such as 'Almoraima', 'Cancion De Amor' and 'Gloria Al Nino Ricardo'. Other important albums include Almoraima (1976), Siroco (1988) and Luzia (1998) and Cositas Buenas (2004).
Links
For some links on how to begin playing in the flamenco style, start here.

For more on Paco de Lucia, his own website is here.

And here's Paco de lucia playlist on Youtube.