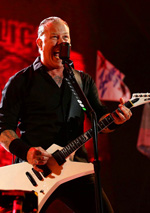 Glastonbury 2014 was a success. It has an excellent reputation for consistently delivering a great event despite its significant (and growing) size. Though, if any year was going to be the undoing of the popular festival, 2014 was in with a shout. Last minute bookings seem to be somewhat inevitable, but the announcements of acts like Dolly Parton and Metallica certainly raised a few eyebrows. Rumours of desperation circulated the event's build-up, and though we may never know how truly pressed the event's organisers were to secure some big acts for the main stages, their choices, ultimately, seem to have been inspired. Yesterday we looked at Dolly Parton's performance: a favourite for many attendees who were initially unsure of what to expect, but who were ultimately thrilled with Parton's sheer warbling weirdness. However, today we're going to look at Metallica - the real champions of Glastonbury 2014.
Glastallica
The affectionate moniker for last weekend's event should be a signifier for just how popular Metallica turned out to be. Bristling with sweat, and tailored in popping veins and inumerous taut forearm muscles, the Californian quartet blared out an impressive and overwhelming set of loud, thrilling, quintessentially 'metal' music.
Perhaps Ulrich and Co. were motivated by the initial backlash to their Glastonbury appointment. After Glasto faithful piped up wondering if metal music really had a place at the pop-central festival, criticisms were compounded after Metallica co-founder Lars Ulrich was exposed as a hunting fan. Whether this socio-political debate is really relevant when discussing a music festival is perhaps a separate matter, but it does demonstrate how, like any good performers, Metallica can unleash their talent even when pressed up against the wall by a wave of criticism. They let their powerful vocals and wailing guitars do all the talking for them (even if a tongue-in-cheek video about hunting preluded their set).
Having promised to deliver a 'heavier type of music' for this year's festival, the band certainly delivered. Performing an array of popular hits, Metallica served loyal fans that had made the trip down to Worthy Farm with well-oiled renditions of their pulse-raising anthems. With the most-recent track being 'Cyanide' from their 2008 album, other tracks included 'Master of Puppets', 'One', Wherever I May Roam' and 'Fade to Black'.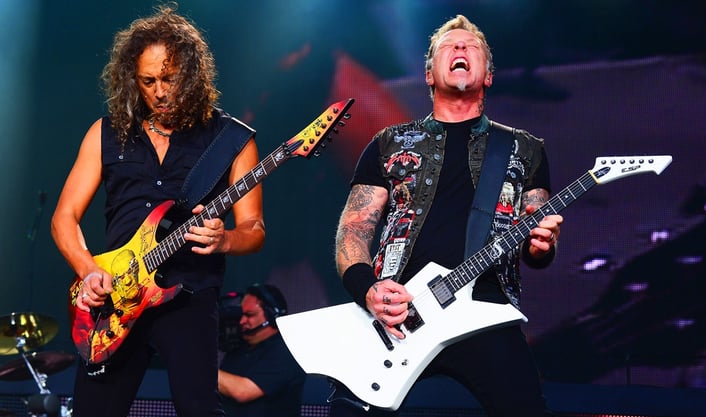 Creating a Legacy
Since their inception in California 1981, the Danish Lars Ulrich and the American James Hetfield found themselves at the bottom of a path that stretched beyond the sights of even their wildest ambitions. After the the release of their first album, Kill 'Em All, it was their second EP Master of Puppets that sent Metallica into the stratosphere. Metallica's success induced other bands to flesh out their musical niche, leading to the creation of now well-known bands, such as Slayer, Anthrax and Megadeath. By 1991 their self-titled album sold 15 million copies worldwide and featured five hit singles such as 'Enter Sandman' and 'Nothing Else Matters'. Putting out one album every year in 1996, 1997 and 1998, the band's popularity and credibility kept on surpassing itself.
Since the new millennium, multiple albums, many pop culture appearances and hundreds of news stories have meant that the Metallica men have never stepped out of ear-shot. Now, with this year's performance having possibly opened the door for more metal acts in the future, it's more than fair to say that Metallica are one of the the most important and influential metal music bands of all time.
Read more about Metallica and other classic rock bands in our upcoming title 'Rock Guitar Heroes'. Check it out here.
Links
You can watch the whole performance on BBC iplayer here.

Haven't got that much time? Just watch the video Metallica played before they went on stage here.

Have you seen heard James Hetfields cover of 'In My Life'? Listen to it here.