Jimi Hendrix (1942–70) remains the most innovative and influential rock guitarist in the world. He changed the way the guitar was played, transforming its possibilities and its image. Other guitarists had toyed with feedback and distortion but Hendrix turned these and other effects into a controlled, personalized sound that generations of guitarists since have emulated and embellished.
He was left-handed and played his favourite guitar, a right-handed Fender Stratocaster, upside down and re-strung, giving him a different perspective on the Fender's tremolo arm and enabling him to bend notes and chords without the strings going out of tune. He continually looked for ways to get new sounds out of the guitar, from electronic gadgets to experimental techniques.
A New Experience
Hendrix was born in Seattle in 1942 and moved to England in 1966 after being spotted in a New York club by Chas Chandler, bassist with the recently disbanded Animals. Arriving in England, Hendrix formed the Jimi Hendrix Experience with bassist Noel Redding and drummer Mitch Mitchell. He recorded a version of 'Hey Joe', creating a buzz that launched his career. His second single, 'Purple Haze', early in 1967, galvanized the music scene. Are You Experienced (1967) was an audacious debut album, drawing on a range of styles and opening up a new world of sounds that included flanging, double-tracking and variable recording speeds.
Hendrix returned to America in summer 1967 to play the Monterey Pop Festival. Before he returned to England he recorded 'Burning Of The Midnight Lamp', which showcased the recently introduced wah-wah pedal. Barely six months after his first album, Axis Bold As Love (1967) pushed the sonic innovations, particularly the phasing technique, still further and fused his rhythm-and-blues influences with the music he had heard in England. An instant hit in the UK, the album also spent a year on the American charts.
A Rising Star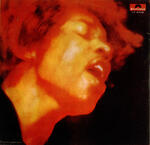 Electric Ladyland (1968) was his most ambitious and successful record, ranging from the futuristic funk of 'Crosstown Traffic' to the emblematic style of 'Voodoo Child (Slight Return)'. But if Hendrix's music was peaking, tensions were growing within his band. As Hendrix jammed with a widening circle of musicians in the studio, Redding in particular became irritated. In June 1969 Hendrix disbanded the Experience and formed a new band called Gypsy Sun And Rainbow. They made a tentative debut at the Woodstock Festival in August, notable for Hendrix's unaccompanied rendition of 'The Star Spangled Banner', performed against a sustained wall of feedback.
Within a month the band had disintegrated and little was heard from Hendrix until the end of 1969, when he played two nights at New York's Fillmore East with a new trio called the Band Of Gypsys. Band Of Gypsys (1970) was the last Hendrix album released before he died.

The Band Of Gypsys lasted no longer than Gypsy Sun And Rainbow, and Hendrix reverted to the Experience. The first half of 1970 was divided between recording and touring, and the next album was largely complete when Hendrix died of an overdose of sleeping tablets in London in August 1970 after playing a European tour that included a headlining appearance at the Isle Of Wight Festival.
In the aftermath of his death, unreleased studio recordings were hurriedly released, bearing no relation to the album he had been planning. It wasn't until 1997 that First Rays Of The New Rising Sun, roughly corresponding to a suggested track-listing Hendrix had scrawled on a tape box, was released. It is a tribute to Hendrix's genius that his status as the ultimate guitar hero remains undiminished.
The image at the head of this blog is © Gunter Zint/K & K Ulf Krugher OHG/Redferns/Getty Images.