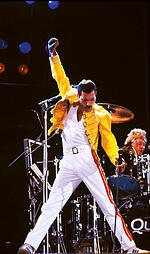 This July will mark 30 years from Queen's legendary Live Aid performance, which stole the show and was one of their finest moments. We've already blogged about Queen's talented guitarist Brian May, and in today's blog we'll be taking a look at the front-man of the ground-breaking group. A true entertainer with an incredible voice, Freddie Mercury has become a rock'n'roll icon. His theatrical and charismatic persona onstage is infamous, and his impressive vocal range is almost unmatched in the history of rock'n'roll. Queen came together in 1971, and the energetic band has its ups and downs but produced a great number of best-selling hits and transformed the face of 70s music. Freddie wrote many of the most well-known Queen songs – 'Killer Queen', 'Bohemian Rhapsody', 'Somebody to Love', 'Don't Stop Me Now', 'Crazy Little Thing Called Love', 'We Are the Champions' – many of which are instantly recognisable and remain much-loved. Mercury had an affinity with musicality and rhythm that set him apart, with his expressive performances and daring, confident and inventive work – such as combining opera with rock music – making him as much an intriguing character as a great musician.
Formation of Queen
Freddie Mercury was born as Farrokh Bulsara on 5 September 1946 in Zanzibar (now part of Tanzania). His parents were Parsee Indians and he went to a boarding school near Bombay (Mumbai), where he was nicknamed Freddie. He received piano training there up to the age of nine. In 1964, with growing civil unrest in Zanzibar, the family migrated to England, settling in Feltham (less than a mile away from where Brian May lived). Freddie's colonial education made the transition easy for him and in 1966 he started a graphic illustration course at Ealing College of Art where he met fellow student Tim Staffell.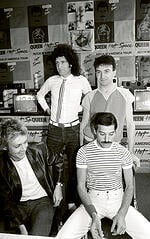 Staffell taught Freddie some guitar chords and took him to some Smile gigs, a band made up of Staffell, Brian May and Roger Taylor. Inspired, in 1969 Freddie joined Liverpool trio Ibex who'd moved down to London. That didn't work out, and neither did spells with Sour Sea Milk and Wreckage. However, Freddie had discovered that he was a natural front man and was adopting the persona of Freddie Mercury, who was determined to be a star.
Tim Staffell quit Smile, leaving May and Taylor flummoxed and unsure whether to continue. It was Mercury who reinvigorated them with a stream of ideas about their music and presentation. The three of them decided to give it a go and Freddie came up with the new name, Queen. Throughout 1970 they wrote and rehearsed together, playing a few gigs with a handful of temporary bass players. They found a permanent bassist in the form of John Deacon, who was introduced to them in 1971.
Style
Having received a diploma in Art and Graphic Design, Freddie was also running a stall in Kensington Market selling Victorian clothes to fund his persona, before the formation of Queen. His memorable outfits during his performances demonstrated his love of performing in front of the crowds: 'I have fun with my clothes onstage. It's not a concert you're seeing, it's a fashion show.'Performing live was where Mercury really came into his element – he referred to concerts as 'theatrical events' and stretched his flamboyance to diva-esque extremes when onstage. When Queen took their increasingly grandiose show across North America, they had a two-ton lighting rig in the shape of a crown that rose up behind the stage above a sea of dry ice. Mercury would toast the audience with champagne, toss them flowers, strutting the stage in tight satin shorts and a kimono, proclaiming 'I'm into the ballet thing'. He once said: 'I like people to go away from a Queen show feeling fully entertained, having had a good time.'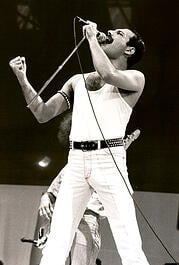 Freddie also claimed that he hated 'doing the same thing again and again and again', and this is clear from the songs he wrote, which incorporated a dramatic range of genres and techniques. Disco rhythms had been a divisive factor within the group, with some feeling they were departing too much from their rock origins, but it was the combination of styles that made their songs varied and attention-grabbing. Each member of the band was a multi-instrumentalist, setting Queen apart from all other major rock groups, and their music tested extremes – Freddie once said 'We've gone overboard on every Queen album. But that's Queen.'
Personal Life
A notable woman in Freddie's life was Mary Austin, with whom he had a five year relationship until he had an affair with a man and told her about his sexuality. She remained a very close friend to him right until his death, and he was openly loving and trusting of her. Having had relationships with both men and women throughout his life, Freddie's final long-term relationship was with a hairdresser named Jim Hutton, who stayed with him and nursed him till his death.
The cause of Freddie's death is well-known, as he was the first major rock star to die of AIDS at a time when there was still much stigma associated with the disease. He tested positive for AIDS in the spring of 1987. Media speculation was intense but Mercury flatly denied the rumours and the questions. A very private man off-stage, and famous for his lack of interviews, Freddie kept the truth of his fatal condition secret except from his close friends. The recording of Innuendo (1991) was split between the calm serenity of Montreux and London, where Mercury could receive medical treatment but where he was also stalked by the paparazzi trying to catch him on a bad day. Mercury would not discuss his condition; he dealt with it in his own way. This left the rest of the band in an uncomfortable position, constantly denying that Freddie had AIDS while having to find excuses for his no-shows at interviews and promotional appearances. It was not until the day before his death, in November 1991, aged 45, that Freddie released a public statement confirming that he had AIDS, adding that the reason for not disclosing the information earlier was: 'to protect the privacy of those around me'. The tabloid media, which had been wrong-footed by his final statement, frantically fished for salacious details before realising that they had misjudged the public mood. There was overwhelming affection, sympathy and respect for Freddie, and he was posthumously awarded the Brit Award for Outstanding Contribution to British Music.

If you're a fan of Queen's charismatic front-man and the band's rousing anthems, then you can read more about them in our book Queen: A Rhapsody, by Hugh Fielder (ISBN: 978-1-78361-306-9), which is now available through our website, or here on Amazon. You can also find the ebook here.
Links
Like her son, Freddie Mercury's mother was a private person. She throws light on Freddie's off-stage character and home-life in this exclusive interview.
Adam Lambert has recently been taken on as a front-man for live performances of Queen's hits. His voice and style have been praised and likened to Freddie's by the remaining members of the band. Read more about their collaboration here.