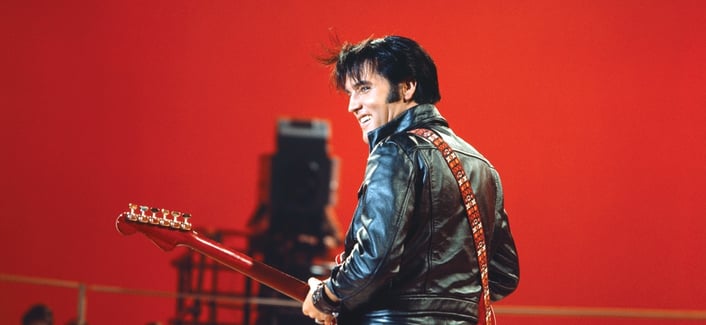 This Monday marked what would have been Elvis Presley's 81st birthday. However, the passing of pop hero David Bowie slightly overshadowed the date this year. But now the dust has settled from that sad news, we thought it timely to give due attention to Presley, one of America's all-time cultural icons. Starting Young Elvis received his first guitar aged 11. Already a member of several church choirs in his hometown Tupelo, Mississippi, Presley found some of his earliest musical influences via his gospel singeing sister, Rosetta Tharpe. In fact it was Tharpe who originally wrote and performed 'Hound Dog'. The song performed in the Elvis Presley way (a very different sort of performance altogether), would of course later become one of his biggest hits of all time.
Listening to the country hits played on the radio with his family also had a discernible influence on the young Elvis Presley. Artists he admired included Jimmie Rodgers, Roy Acuff and Bob Wills, while pop crooners like Dean Martin, the Blackwood Brothers Quartet and Mario Lanza were also among the first artists heard and admired by Elvis.
Music Beyond Race
Before his fans saw pictures of Presley, many of the young people listening to his early records assumed that he was black. Possessing a great vocal range and described as either a tenor or baritone, according to critic Henry Pleasants, Elvis was able to 'duplicate the open, hoarse, ecstatic, screaming, shouting, wailing, reckless sound of the black rhythm and blues and gospel singers'.
---
'I was training to be an electrician. I suppose I got wired the wrong way round somewhere along the line.'
- Elvis Presley
---
Whilst his impact on the perception of race is perhaps fairly subtle, Presley without a doubt significantly affected the youth culture in America. Appearing on the scene during what is now seen as a pivotal time for United States youth, young people had begun asserting their consumer power and were keen to move away from the conformist ideologies dominating American culture. By the mid-1950s, radio and television had begun to change the cultural landscape. Presley's free-swinging music, his electrifying dance moves and general persona are all accredited to contributing to the first youth movement in the United States of America.
The Original Rebel Rocker
Though Presley is somewhat known for spending time in military service – generally seen a decent act, before this he was actually seen as a bit of a 'bad-boy'. With his athletic, 6 ft. tall frame, sensual looks, sexualized dance moves and Southern swagger, Elvis Presley's arrival onto the music scene during the ultra-conservative, conformist 1950s severely divided public opinion.
With the help of radio and television, Elvis's early performances, raw as they were, transformed the musical scene. The youth of America were discovering the power of music as an acceptable weapon with which they could confront the conformity of America. Young people became more open about their passions and sexuality. Though Elvis was generous of spirit and very polite in public appearances, his sexualized swagger and suggestive dance moves meant that he was considered a bad influence, particularly by the older generation. His dance routines, considered 'animalistic' by some, prompted comments such as this from Frank Sinatra: 'His kind of music is deplorable, a rancid-smelling aphrodisiac… It fosters almost totally negative and destructive reactions in young people.'

That's where we will wrap it up today, but there's far more to the life of this iconic musician. From a prescription drug addiction to a stint in the movies, his life was certainly not a dull one. If you would like to learn more, pick up our book Elvis. It's packed full of information about the artist, all set alongside stunning photography of the legend that is, Elvis Presley. Take a look at the title by clicking here.