No best blues guitarist lineup would be complete without a mention of Stevie Ray Vaughan (1954–90). Exploding on to a generally lethargic blues scene in 1983 with his Texas Flood album, Stevie Ray Vaughan administered a high-voltage charge that revitalized the blues with his stunning playing and imagination.
Playing Style
In bringing the blues to a new generation, Vaughan took his influences from the most stylish of his idols – Jimi Hendrix (1942–70), Buddy Guy (b. 1936), Howlin' Wolf (1910–76), Albert King (1923–92)– but it was the wild style of Fifties blues rocker Lonnie Mack (1941–2016) that gave him his aggressive swagger. He generally played Fender Stratocasters, and his favourite, made in 1962 with parts from 1959, had a Brazilian rosewood fingerboard and a left-handed tremolo that gave him a specialized sound quality. Fender has released two tribute models, the Stevie Ray Vaughan Signature Stratocaster in 1992 and in 2007 the Lenny, an exact replica of the 1962 Strat given to him by his wife Lenora. He also played a Hamiltone Custom guitar and a semi-hollow Groove Master.
To accommodate his large hands and thick fingers, Vaughan used heavy duty guitar strings that he tuned down a semitone. This contributed to his distinctive style that included playing simultaneous lead and rhythm parts. He also used his index finger as a pick, which gave him greater tone control.
Early Years
Vaughan was born in Dallas, Texas, in 1954, and it was his older brother Jimmie (b. 1951) who introduced him to the guitar and the blues. When Jimmie left home to form the Fabulous Thunderbirds in 1972, Stevie quit school and followed him to Austin, where he spent the next three years playing in various bar bands. In 1975 he co-founded Triple Threat with singer Lou Ann Barton (b. 1954), and when the band broke up three years later Vaughan took over the vocals and brought in bassist Tommy Shannon (b. 1946) to join drummer Chris Layton (b. 1955), renaming the trio Double Trouble.
Blossoming Success
The band's reputation gradually spread, and in 1982 they played the Montreux Festival in Switzerland, attracting the attention of David Bowie (1947–2016), who recruited Vaughan to play on Let's Dance (1983), and Jackson Browne (b. 1948), who offered his studio for recording. Texas Flood (1983), recorded in three days, revelled in Vaughan's influences, such as Buddy Guy ('Mary Had a Little Lamb'), Lightnin' Hopkins (1912–82) ('Rude Mood') and Jimi Hendrix ('Lenny'), while spotlighting Vaughan's own powerful 'Pride and Joy' and the slow, intense 'Dirty Pool'.
Couldn't Stand the Weather (1984) confirmed Vaughan's promise. His playing grew in authority with an inspired revival of Hendrix's 'Voodoo Chile'. His blues ranged from the aggressive 'The Things I Used to Do' to the emotionally charged 'Tin Pan Alley'. The title track, featuring Vaughan's brother Jimmie, added a rock beat and a funky feel to his blues. For Soul to Soul (1985) Vaughan added keyboard player Reese Wynans (b. 1947) to the band, fattening up the sound. Wynans' Hammond organ swirled around Vaughan's solid riffs on 'Change It', and he complemented Vaughan's jazzy touch on 'Gone Home'. Vaughan covered Hank Ballard's (1927–2003) 'Look at Little Sister' and Willie Dixon's (1915–92) 'You'll Be Mine'. But 'Ain't Gone 'n' Give Up On Love' proved that he could write his own tortured blues.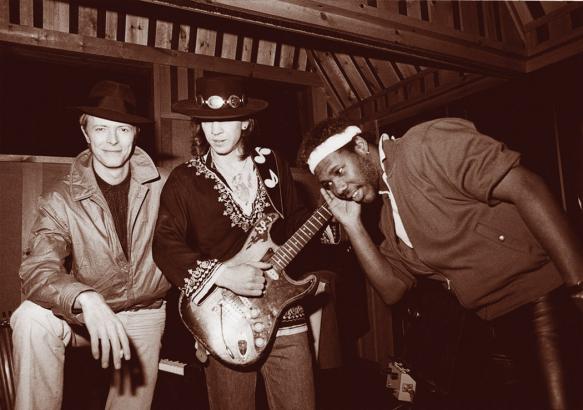 A Global Blues Star
Vaughan was also collaborating with other artists, recording with Albert King on In Session (1983), Johnny Copeland (1937–97) on Texas Twister (1984) and Lonnie Mack on Strike Like Lightning (1985). But Vaughan's health was suffering because of his drug abuse, and in 1986 he collapsed during a European tour. He checked into a rehabilitation centre for treatment and resumed touring in 1988. In Step (1989) showed renewed vigour and commitment with Vaughan's impassioned takes on Buddy Guy's 'Leave My Girl Alone', Howlin' Wolf's 'Love Me Darlin'' and Willie Dixon's 'Let Me Love You Baby', plus Vaughan's own hard-rocking 'Scratch 'n' Sniff' and the slow, personal 'Wall Of Denial' and 'Tightrope'. The album won a Grammy for Best Contemporary Blues Album.
In 1990 Vaughan recorded another Grammy-winning album with his brother Jimmie, Family Style, but before its release he was killed in a helicopter crash returning from a concert in Wisconsin that had finished with a jam featuring Vaughan, Eric Clapton (b. 1945), Buddy Guy, Robert Cray (b. 1953) and Jimmie playing 'Sweet Home Chicago'. He was 35 years old. In 1991 Jimmie compiled another Grammy winning album of unreleased material, The Sky Is Crying, featuring Elmore James's (1918–63) title track, Lonnie Mack's 'Wham', jazz guitarist Kenny Burrell's (b/ 1931) 'Chitlins Con Carne', and an extended version of Hendrix's 'Little Wing'. Since then Vaughan's legacy has continued to grow. In 2000, he was inducted into the Blues Hall of Fame.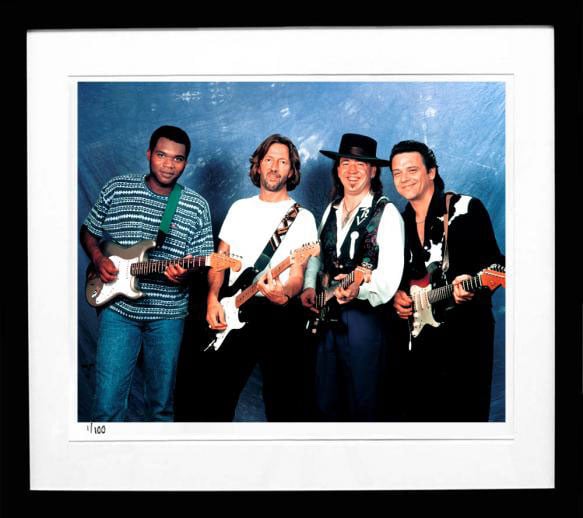 Images courtesy of srvofficial.com
If this has inspired you to take up the guitar yourself, try out a few typical riff styles from our Classic Riffs book, or play around and experiment with different chord structures with our new Guitar Chords Card Pack.
Links