Joseph Maurice Ravel (1875–1937) was born in the town of Ciboure in France. His father was a very successful engineer and inventor and he and his mother greatly encouraged his musical interests. They sent him to study in Paris at the age of seven and by the age of fourteen he had performed his first public piano recital. From the very beginning his career was remarkable.
Impeccable Technique
Part of the reason that Ravel's parents were so encouraging about his music was because of Ravel's distinctive compositional voice and impeccable technique that were recognized as true talent from such a young child. As he continued to study his fluid, shimmering, piano works, such as the groundbreaking Jeux d'eau (1901) began to gain interest far beyond the Paris Conservatoire. Throughout his career, Ravel bewildered and antagonized critics, who were unable to categorize his compositional style.
Impressionist
Ravel is often described (like Debussy, but still more misleadingly) as an Impressionist, but Ravel's music is in fact precisely and delicately crafted, subtly perfect in its artifice (in the best sense of the word). Influenced by Alexis-Emmanuel Chabrier (1841–94), Satie and his close friend Stravinsky, attracted to Spain temperamentally (he never visited the country, but his mother came from the Basque region), he absorbed all these factors – and jazz – to produce a style that was entirely his own. Each of his works, even those in the same form, is unique: for example, the sprightly comic opera L'heure espagnole ('The Spanish Hour', 1907) is very different from the touching childlike fantasy of L'enfant et les sortilèges ('The Child and the Spells', 1925). Ravel wrote very little that was second-rate. His ballet Daphnis et Chloé (1912), his orchestral Rapsodie espagnole (1907) and Le tombeau de Couperin ('The Grave of Couperin', 1917), his String Quartet (1903) and the late sonatas are among his major works, but none of his songs and very few of his orchestral miniatures or short piano pieces can be called 'minor'.
Recognition
By the 1920s Ravel was perhaps the most internationally celebrated of French composers. He made a successful four-month concert tour to Canada and the USA in 1928. (An abiding anxiety on the trip was maintaining a decent supply of French cigarettes). He met George Gershwin in New York and was delighted by his melodic abilities. When the 29-year-old composer asked Ravel for lessons he responded to his fellow artist with characteristic modesty and generosity: 'Why become a second-rate Ravel when you're already a first-rate Gershwin?'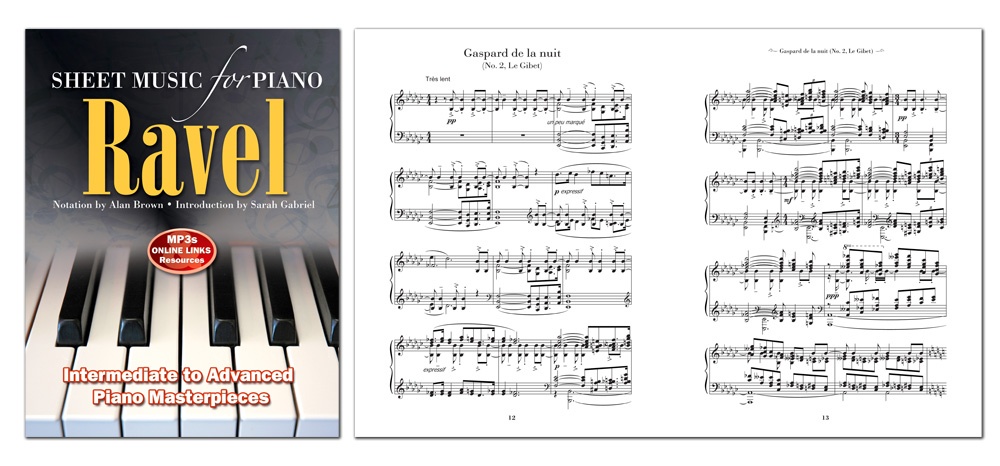 If you want to try your hand at some of Ravel's compositions, our excellent book is a great place to start. With a helpful wiro binding, this is a convinient and clear collection of Ravel's beautiful music for piano. Take a closer look here.
Links
You can learn about the life of Erik Satie by clicking here
Discover the skills and accolades behind Vladimir Ashkenazy by clicking here