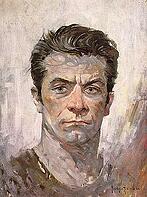 If you're a fantasy art fan, am I wrong in assuming that you find thrill in blood, sweat, triumph and glory? You're in awe of rippling muscles, masculine grit, death and dynamism and kinetic carnage? Look no further than the works of legendary fantasy and science fiction artist Frank Frazetta.
Foundations and the Wonderful World of Comics
Frazetta, born on 9 February 1928, was raised in Brooklyn, New York. His close relationship with his grandmother may be the earliest trace of his legacy's beginnings, as she encouraged him to delve into the world of fantasy from age two. At age eight, Frazetta began his artistic studies under award-winning Italian artist, Michele Falanga, in the Brooklyn Academy of Fine Arts. While Frazetta claimed that he was 'less than enamored with fine art' (a lover of comic doodles from birth) he admits to having learned much technique from the discipline of 'proper' painting.
Frazetta's renowned comic book career took flight at age sixteen, as he dipped his toes into drawings for fantasy, mystery, history, animal and western comics. Beginning in the 1950s, numerous comic giants including EC Comics, National Comics and Avon employed Frazetta, cherishing his ability to capture the fantastic and bizarre.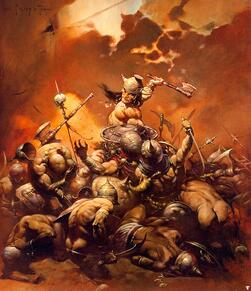 Famous American cartoonist, Al Capp, recognized Frazetta's talent through his work on the Buck Rogers covers, and Capp and Frazetta began to work in tandem on Capp's notorious Li'l Abner strip. Frazetta later produced a strip of his own, Johnny Comet, and assisted comic artist, Dan Barry on the Flash Gordon daily strip. After nine successful years of strip comic work with Capp, Frazetta returned to his work with comic books, designing cover paintings and black and white stories for Warren Publishing's Creepy, Eerie, Blazing Combat and Vampirella.
Media as a Canvas
A 1964 painting of Beatle Ringo Starr, featured in a Mad magazine ad parody, took Frazetta's artwork down a previously unfamiliar path. As the work caught the attention of United Artist studios, they commissioned Frazetta to design a movie poster for their 1965 film, What's New Pussycat? Frazetta's artistic repertoire continued to expand, as he produced paintings for paperback editions of adventure books. The legendary cover featured on Robert E. Howard's sword-and-sorcery collection, Conan the Adventurer, had people purchasing the book for its cover alone. Classic Edgar Rice Burroughs books, including Tarzan of the Apes and Barsoom (John Carter of Mars), featured Frazetta's works on their covers, as well as many pen and ink illustrations within their pages. Work for Frazetta became commercial from this point on, as he worked with oil, watercolour, ink and pencil on paintings and illustrations for movie posters, book jackets and calendars.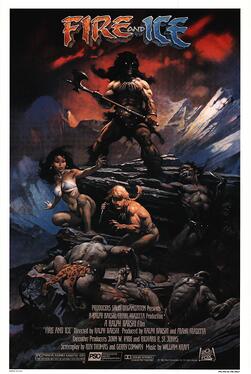 After he had established a name for himself, movie studios lured Frazetta to work on their animated productions. In the 1980s, Frazetta teamed up with producer Ralph Bakshi to produce feature film Fire and Ice, its animation containing many echoes of the realism in Frazetta's artwork. While his artwork penetrated the film industry, it simultaneously made its way into the music industry. Heavy Metal band Molly Hatchet featured The Death Dealer, Dark Kingdom and Berserker on the covers of their first three albums while 70s American hard rock band, Dust, featured Snow Giants on the cover of Hard Attack. Wolfmother, Nazareth and The Dead Elvi also used Frazetta's works on the covers of their albums.
Though the world lost Frazetta in May 2010, his legacy continues. Pennsylvania gallery Frazetta's Fantasy Corner houses an art museum and gallery that display Frazetta's work, as well as the work of similar artists. 2003 feature documentary, Frank Frazetta: Painting With Fire, gives audiences a look into his life and career. In 1995, Frazetta was inducted into the Will Eisner Comic Book Hall of Fame, as well as the Jack Kirby Hall of Fame in 1999.
Fun Facts
Frank's last name, 'Frazetta' was originally spelled 'Frazzetta', with two z's. Early on his career, he removed one of the z's in an attempt to remove 'clumsiness' from his own title.

During his animal comic days, Frazetta rejected numerous job offers from giants such as Walt Disney.

Work on the What's New Pussycat? poster earned Frazetta the equivalent of his previous yearly salary in one afternoon.

Hollywood personalities Clint Eastwood and George Lucas were close friends and fans of Frazetta. They commissioned his works for many of their movie projects. Covers for Buck Rogers comics are said to have influenced George Lucas' vision for Star Wars.

The U.S. Army III Corps adopted Frazetta's Death Dealer as its mascot.
Links