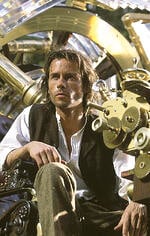 There's something very steampunky about cinema itself. The medium was invented in the Victorian era, and early projectors and cameras were intricate, archaic devices with hundreds of moving parts. This ethos of incricate moving parts laced with a strong emphasis on style is what makes steampunk appeal to so many people worldwide, and why too it has capured the imaginationof Hollywood filmakers.
Early Days
A wealth of Jules Verne adaptations in the 1950s and 60s reimagined the author's works with grand steampunk machines. 20,000 Leagues Under the Sea's (1954) submarine, the Nautilus, beautifully combines organic, aquatic shapes with industrial design, and Five Weeks in a Balloon's (1962) titular dirigible basket takes the form of a steam-powered unicorn. Adaptations of H.G. Wells' The Time Machine in movie-form, such as in 1960 and 2002, feature very steampunky aesthetics in the form of the machine itself. Chitty Chitty Bang Bang (1968) – based on a novel by Bond scribe Ian Fleming – features a flying car which was the epitome of retrofitted early-1900s technology and cemented a certain vision of the Edwardian era and its imaginary hijinks.
Get Surreal
Before coming to prevalence as a director, Terry Gilliam was responsible for the surreal animations in TV series Monty Python's Flying Circus (1969–74), which themselves exhibited some steampunk qualities. The Adventures of Baron Munchausen (1988) continued his love of the weird and wonderful with Munchausen's tall tales of escaping in a hot air balloon made of women's underwear, and bumping into the Roman God Vulcan. It's Gilliam at his most deranged and unrestrained, and it's helped along amicably by Dante Feretti's retro production design.
1.21 Gigawatts
The joy of the Back to the Future films (1985–90) lies in their combination of mind-bending time travel with 1980s coming-of-age comedy. In the final part of the trilogy, Christopher Lloyd's Dr Emmett 'Doc' Brown is stranded in 1885, but he lacks the series' time-travelling DeLorean. How will he get back to the future? By building a very steampunk train with all the necessary equipment to jump forward one hundred years, where he introduces his two sons – knowingly named Jules and Verne. If that's not enough, the train can also fly.
No Ordinary Boys
Based on Alan Moore's comic of the same name, The League of Extraordinary Gentlemen (2003) was a critical and commercial flop – but its rich world has ensured a lasting legacy among Steampunk fans. It pitches Sir Henry Rider Haggard's hero, Allan Quatermain (Sean Connery), alongside other fictional Victorian heroes, including Twenty Thousand Leagues Under the Sea's Captain Nemo, Dracula's Mina Harker and Robert Louis Stevenson's Dr Jekyll, as they fight a mysterious, and similarly fictional, villain. While juggling so many great characters may have led to its downfall, the Nemo's retooled Nautilus is a fabulous steampunk invention.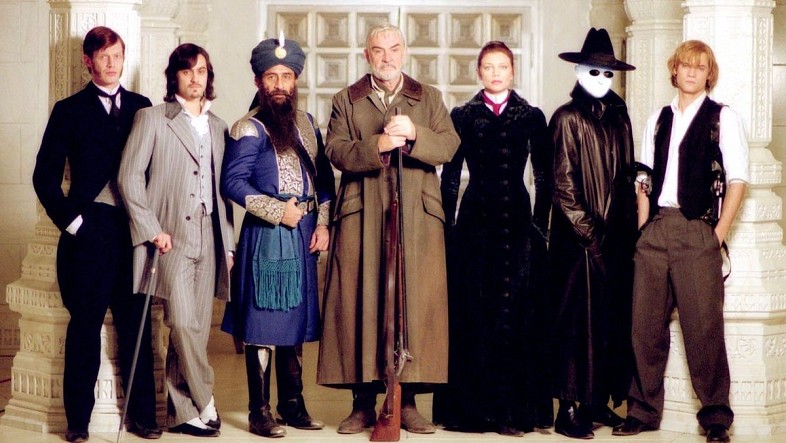 Steam … Everything
Steamboy (2004), Katsuhiro Otomo's follow-up to legendary cyberpunk adventure Akira (1988), takes place in an alternative version of 1863 Europe where just about everything has 'steam' in its title. Anna Paquin voices Ray Steam, who receives a Steam Ball which is an engine capable of immense power. However, Ray's disfigured father has other plans for the incredible forces contained within the ball, and wishes to use it to control his Steam Castle. As with Akira, Steamboy is a visual feast set in an exotic re-imagining of the real world, and one which frequently highlights the parallels between British and Japanese life and culture.
Sophie's Choice
Like Steamboy, Howl's Moving Castle (2004) provides a Japanese perspective on Western society of yore – in this case, it's an adaptation of Diana Wynne Jones' book set in Wales. It follows 18-year-old heroine Sophie as she tracks down Howl, a wizard who has turned her into a 90-year-old woman. His moving castle is a brilliant steampunk invention, a floating city in stark contrast to the bucolic countryside, spewing smoke wherever it goes. Director Hayao Miyazaki has dabbled in steampunk before with Laputa: Castle in the Sky (1986) and Princess Mononoke (1997), both of which are highly recommended.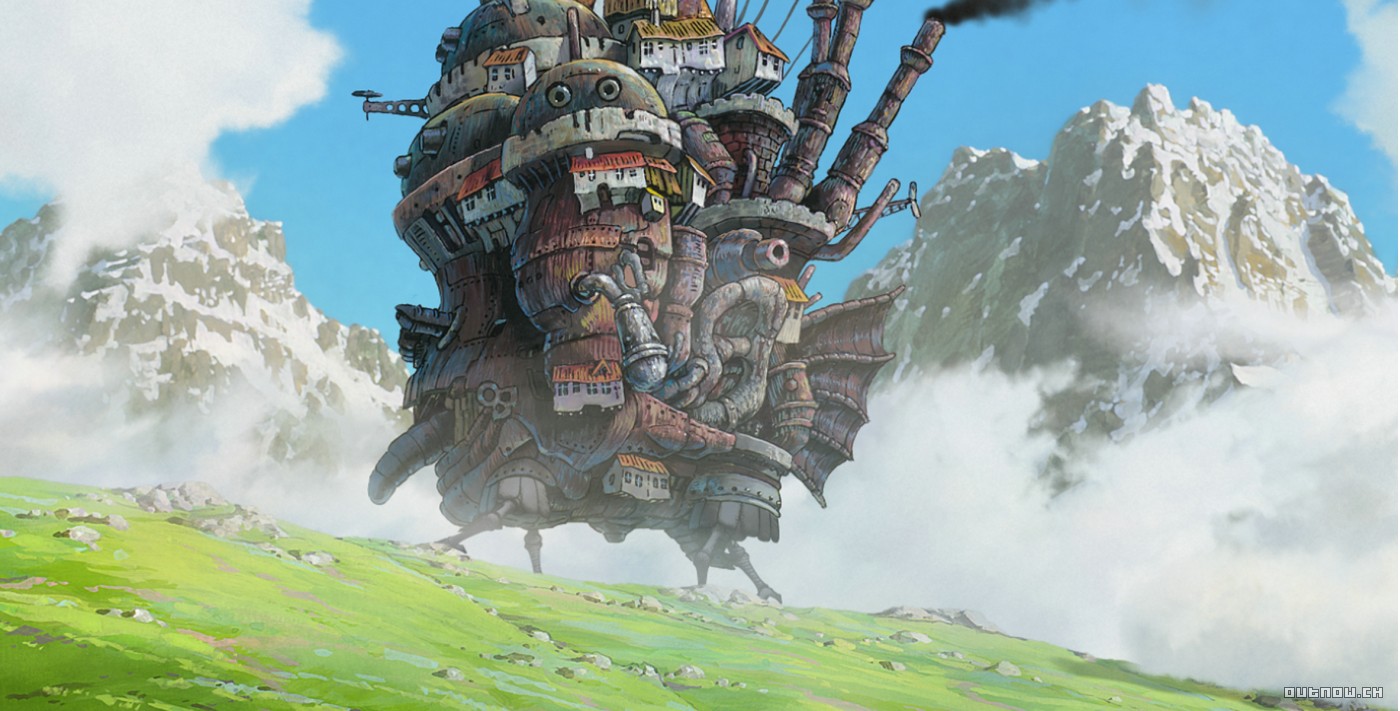 Straight To Hell
A seven-foot-tall adolescent demon may not be your ideal blockbuster movie protagonist, but Guillermo del Toro's adaptations of Mike Mignola's comic books handle the big red 'un with enough chutzpah that you end up forgetting how ridiculous the entire scenario is. Despite Hellboy's (2004) twenty-first century setting, there are loads of imaginative Steampunk designs on display. Nazi antagonist Kroenen, who met with an unfortunate accident during the Second World War, has a clockwork heart, while its sequel Hellboy II: The Golden Army (2008) adds Johann Kraus to the mix, a disembodied ectoplasmic spirit who resides in an otherworldly steam-powered suit.
The Stakes Are High
Dracula's nemesis receives a comic book-style reinterpretation in Steven Sommers' action movie Van Helsing (2004). Hugh Jackman makes a nice change from the more mature Van Helsings of yore, and he's joined by Kate Beckinsale in spectacular arse-kicking mode.
The film is at its most steampunk in the gadget-laden crypt beneath the church, where Carl (David Wenham) kits out Van Helsing with a variety of vampire and lycan-busting weapons, including a gas-powered crossbow-cum-machinegun. As the film references classic Universal horrors of the 1930s and 40s, Frankenstein's monster makes a rather gruesome appearance, too.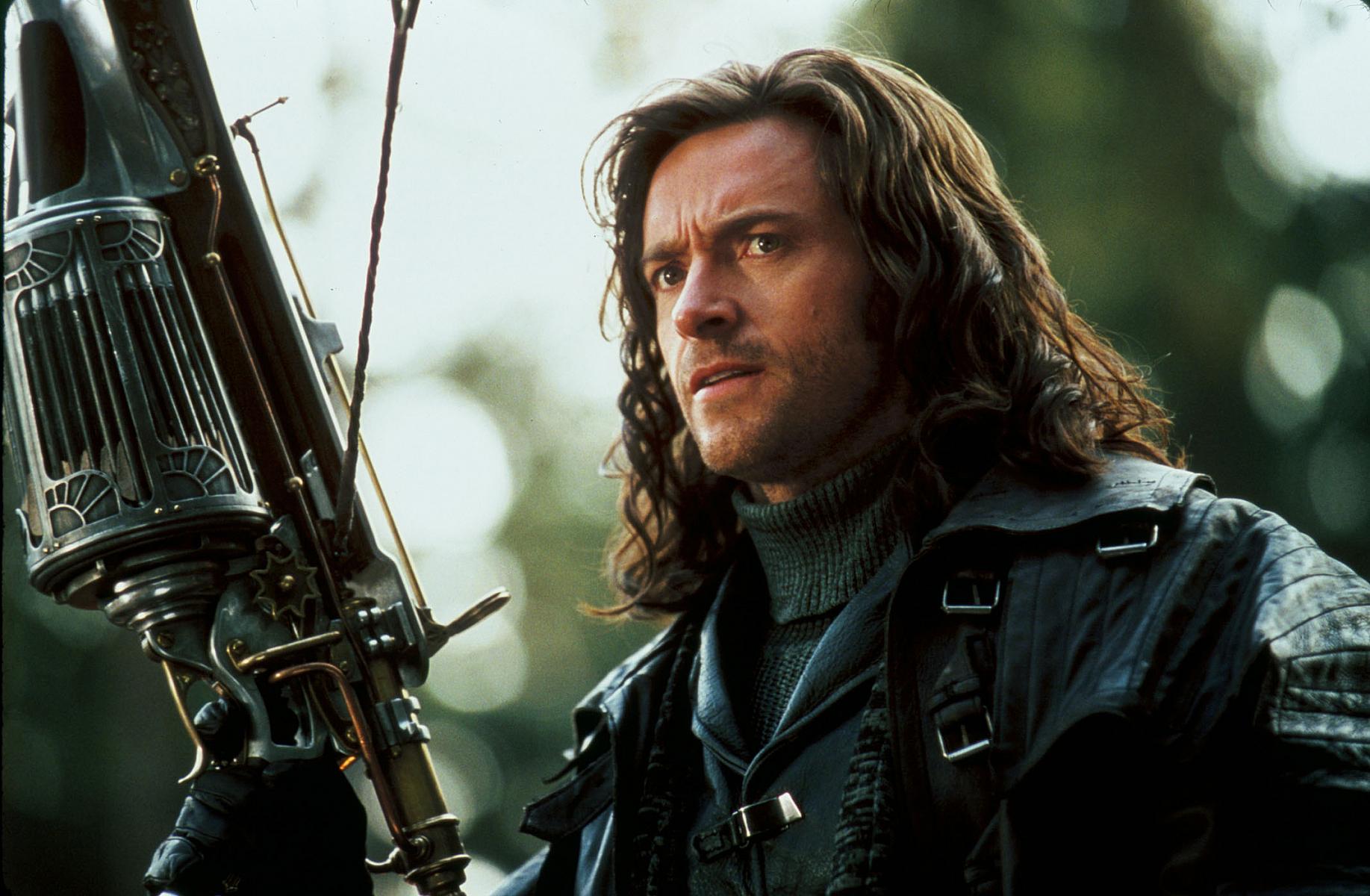 Uncharted Territory
Despite its marketing as a fantasy film, The Golden Compass (2007) is steampunk through-and-through: even the titular navigational device is an intricately-designed collection of cogs and dials. The film deals with orphan Lyra Belacqua (Dakota Blue Richards) and her attempts to keep the powerful compass out of the hands of evil. In her journey she encounters airships, archaic cars and armoured polar bears. As with the best steampunk, it deals with corruption in the highest places, and even criticizes religion – although this element was toned down from Philip Pullman's source novel.
Cabret Act
Hugo (2011) marked Martin Scorsese's first foray into 3D filmmaking, and it was critically acclaimed and became a box-office success. Set in the 1930s, it concerns Hugo Cabret (Asa Butterfield), a 12-year-old boy who lives in Paris's Gare Montparnasse railway station and who wishes to complete his father's work on an automaton. Méliès' A Trip to the Moon plays a key role in the film, as well as other mechanical and steam-powered inventions, such as Pierre Jaquet-Droz's original writing automaton and the huge trains which revolutionized life in France. It was also Scorsese's touching love letter to cinema's first age.
Looking Ahead
The world seems to want more steampunk and what at first seemed like a niche market, has developed and left the major market craving more steampunk style. With growing technical capabilities, films like the imbalanced, though incredible sexy, Suckerpunch can be expected to represent a minimal visual threshold, instead of being singled out as the extra-ordinary.
This post is based on an extract from our bestselling book, Steampunk by Henry Winchester (ISBN: 9781783611225) – where you can find more on the above and further information about steampunk culture and design. Available as an illustrated ebook see our blog post for more info here.

Links

Have a look at 10 steampunk films for the whole family here.

Be dazzled by 45 pieces of steampunk art here.

Still a little unsure what steampunk is? Read Huffington Post's comprehensive explanation here.