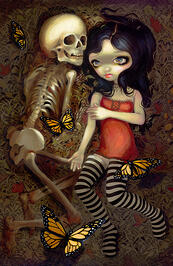 Stepping out of reality and into a world full of mischievous fairies, fantastic backdrops and spooky settings, Jasmine Beckett-Griffith's art transports her viewers into a world where anything is possible.
Characterized by dramatic eyes and sweeps of bright colour, Becket-Griffith's work has found its own niche in the gothic art world. Lately she's been finding her name rising in popularity as her unique style is capturing imaginations from all over.
Artistic Methods
Becket-Griffith works almost exclusively with acrylic paint, either on canvas or wood, layering colours from dark to light to give her paintings a deep, eerie feel. Her style and technique has grown over the years, matching the power of her imagination. She loosely models her characters on her own face and places them into a fantastical setting. As an Art History minor in college, more historical references have been popping up into her recent works, as well as different cultural influences she picks up as she travels the world.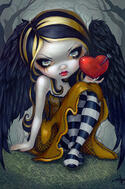 Her art primarily comprises of portraits of her fairies in all kinds of settings. Her use of colour and dramatisation of the eyes immediately captures the viewer's attention. The combinations of intricate settings and attention to detail never bores the eye, always having something new to offer in multiple viewings. Her fairies are draped and costumed in all sorts of styles, from Gothic Lolita to high Renaissance fashion.
Finding a World of Whimsy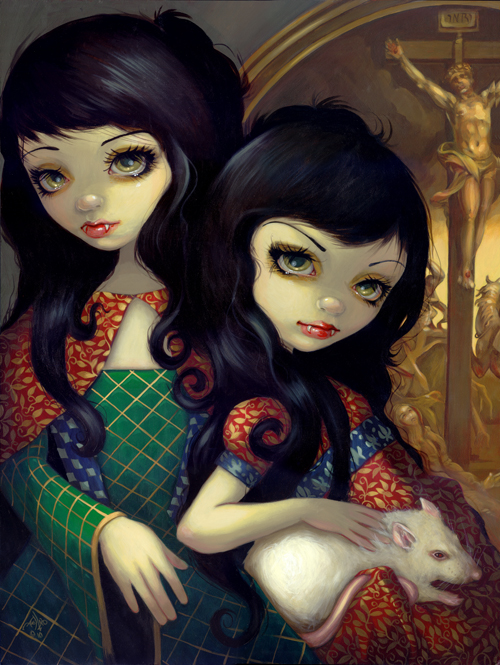 'Why paint a boring lady when you could make her into a mermaid instead? Most interior, still life paintings could be spruced up with a few dinosaurs prowling about. No landscape is complete without a dragon.' (Jasmine Becket-Griffith)
In her younger years, Becket-Griffith was greatly influenced by the work of Lewis Carroll. She was drawn to the endless world of possibilities in Wonderland and you can see this in any number of her paintings, even in the whimsical style of her paintings itself. Another important factor to her style is the city of New Orleans and voodoo culture. A native Floridian, she's always been attracted to a swampy environment and the lushness of the South. New Orleans lends itself as endless source material for inspiration and setting, allowing Becket-Griffith to draw in her own interests. She claims Brian Froud and Larry Elmore as huge artistic influences, the latter of whom she's now close friends with. More recently, Becket-Griffith has found herself happily in a deal with Disney, re-imagining beloved characters in her unique vision and she enjoys being able to play around in that magical world.
Mischievous Fairies
Becket-Griffith loves depicting the fantasy world for all of its limitless possibilities; she doesn't believe in being satisfied with stark reality in her paintings. She finds beauty in everyday things and puts them into a better, more wonderful reality. She's been drawn to the mythologies and fairytales of the world, finding them the best part of humanity. Her art attempts to work in the deeper truths behind these myths and legends, the truths most people don't stop to wonder at. She finds that these tales will always be timeless and important, not to mention a great supply of source material for her imagination to run wild in!
Jasmine has several works in our book 'Gothic Art'
(ISBN: 9780857759948). You can view it on Amazon here.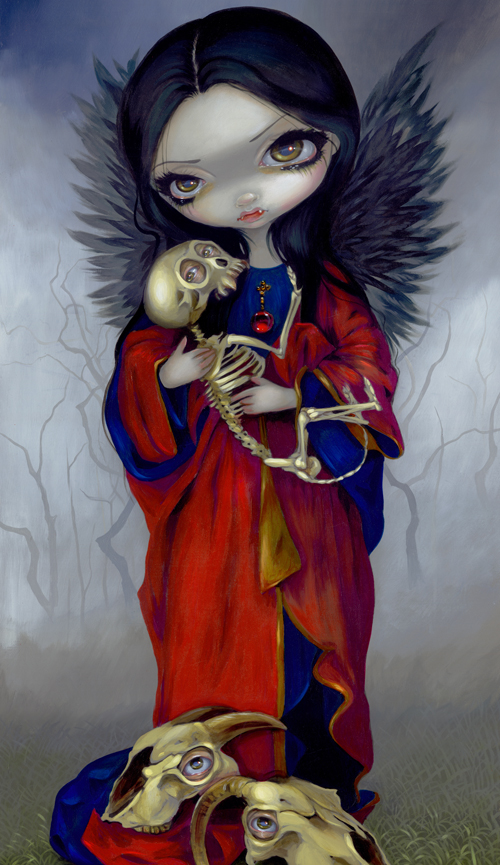 Links
All artworks are © Jasmine Becket-Griffith