Continuing in our look at some of the greatest jazz albums and musicians of all time we turn to the percussion section. Jo Jones has remained an icon of jazz drumming for decades and his influence can be seen in rock and roll and other genres of music too. Beginning with a short look at his life and his instrument, today we are looking at what makes The Jo Jones Special an essential for any jazz enthusiast or any one looking to learn a little more about the history of the genre.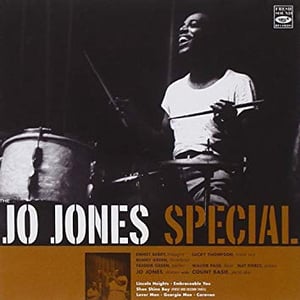 Papa Jo Jones
Born Jonathan David Samuel Jones (1911-85), Jones was a multi talented performer of the jazz age. Born in Chicago, Jones was surrounded by the magic of shows and circuses and it wasn't long before he became part of that world. Not only could he sing and dance but he was also proficient in the saxophone, the piano and the drums,. It was on the drums that Papa Jo Jones would make his lasting impression.
By age thirteen Jones was involved in the Vaudeville circuit and by the late 1920s he was playing in Walter Page's Blue Devils in Oklahoma City. The Blue Devils disbanded in the early thirties but one of its members picked up the pieces and formed a new group. The band's pianist, William "Count" Basie, had clearly seen the talent he was playing with and reformed the Blue Devils into what would become the Count Basie Orchestra. This would mark the start of his 50 year tenure as the band's leader and the creative hotbed that would see Jo Jones become so influential in the world of jazz percussion.
Jones didn't stay in Basie's orchestra forever and play with countless other greats throughout his career. In his later years, Jones led his own bands and also taught jazz music. It was at this time he gained the moniker "Papa Jo Jones". Not only did he have this new army of young students who were going off into to the world with his teachings but it also differentiated him from the younger jazz drummer, Philly Joe Jones. Jones was inducted into the Jazz Hall of Fame in 1979 and died in New York City in 1985 at the age of seventy-three.
You can learn more about the life and times of Jo Jones on Flame Tree Pro!
The Drums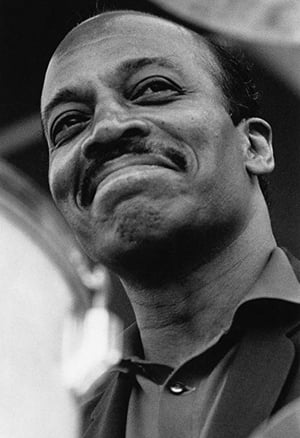 The story of Jo Jones and the drums is much less the history of how drum kits came to be and much more about how Jones thought the kit could be used. Where as most drummers before Jones focused on the bass drum to keep time and guide the track, he instead shifted this responsibility to the cymbals and hi-hats. This style shifted jazz drumming toward what we now consider jazz percussion to sound like today. By the end of the forties and moving into the fifties, jazz wasn't just big band music to dance to. There was a movement, pioneered by names like Charlie Parker, Miles Davis and Thelonius Monk, that was making jazz that you didn't dance to but instead was more of an art form for the listener. Jones' style of keeping rhythm with the different cymbals worked well with this idea and soon it was the defining sound of jazz percussion.
It might not sound as exciting as it once did but at the time this was quite revolutionary. Jones also wasn't pigeon holed by this style and was a fantastic percussionist across the board. When you see or hear him fully let loose on a kit (or other types of percussion) you know you are witnessing something quite magical.
You can learn more about the history and development of the drum kit on Flame Tree Pro!
Finding a Special Recording
The problem with choosing an album that represents both Jones' talent and revolutionary quality is that he is often not prominently featured as the central figure. There is a temptation to use The Original American Decca Recordings from Jones' time with the Count Basie Orchestra but as this is more of a compilation (and wasn't released until well after both Jones and Basie had died) it seems a little cheeky. It is worth listening to but doesn't quite fit in this list.
There was also an Art Blakey album that Jones featured on called Orgy in Rhythm. While incredibly interesting in terms of percussion and a very interesting take on the genre of jazz, it could hardly be called revolutionary and didn't fully represent any of the long lasting changes that Jones' himself brought to the genre. Definitely worth a listen, especially if you like a more experimental jazz but it is undeniably divisive so didn't seem quite right for our list.
We decided that a good representation of Jones' multi talented percussion skills and contribution to jazz as a genre could be found in his own album, The Jo Jones Special. Filled with great music and some amazing solos, this album really highlights Jones' ability to use his instrument as a way to better display the artistry of others while being present enough that you recognise his own talent. While unlikely to be on many lists of legendary albums, The Jo Jones Special is a great addition for any newcomers to the genre and certainly a worthy listen for jazz aficionados.
You can listen to The Jo Jones Special here.
Just to cover all the bases you should also check out these two videos of Jones on the drums. The ease with which he is able to switch from this controlled and demure figure to a crazed percussionist is akin to a theatre performance with the drum kit as his stage.
---

If you enjoyed this blog post then head over to Flame Tree Pro! It has thousands of articles about anything and everything music related all written by experts in the field.
---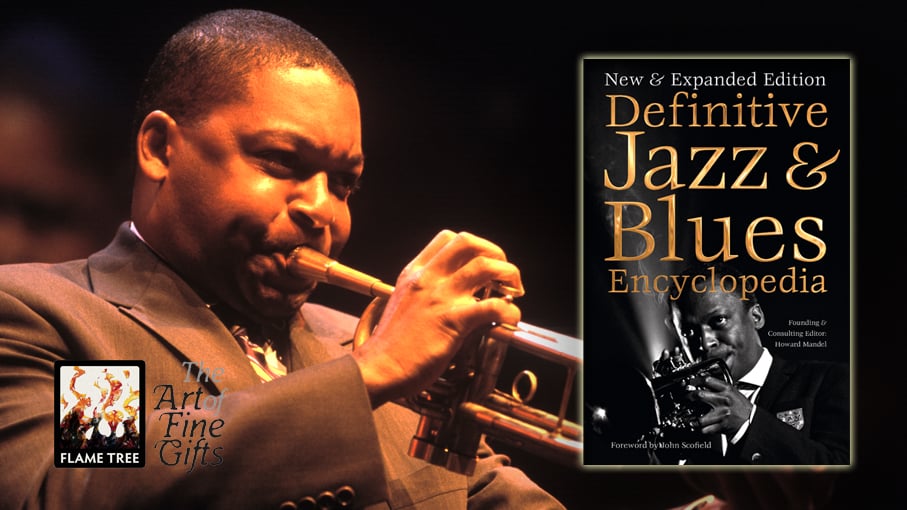 If your interested in the history of jazz then look out for our upcoming Definitive Jazz & Blues Encyclopedia! Covering everything from Ragtime to Bebop and Texas Blues to Rhythm & Blues, this invaluable encyclopaedia is comprehensive, easy to use and highly informative. You can find it on our website!
---
Check out all of our legendary jazz albums blog posts!