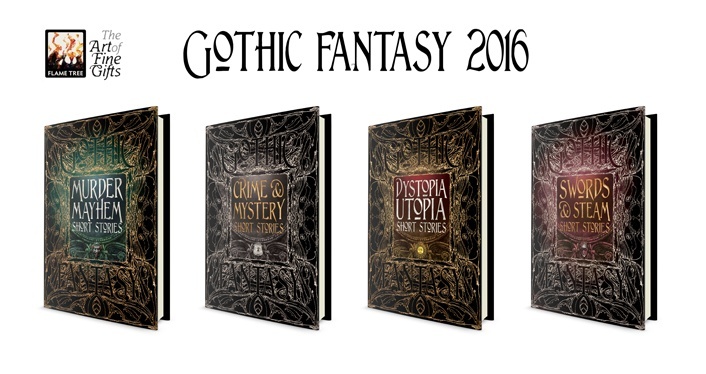 UPDATE: SUBMISSIONS are now CLOSED for Swords & Steam and Dystopia Utopia. Thanks to everyone who submitted.

Following the great success of last year's Gothic Fantasy, Deluxe edition short story compilations, Ghosts, Horror and Science Fiction, 2016 sees the publication of four new books. Submissions are now closed for the second two: Swords & Steam and Dystopia Utopia.
We need between twenty to thirty short stories by new writers to complement a selection of classic tales.
Submit by email to 2016@flametreepublishing.com
What's the difference between the books?
Swords & Steam covers any form of historical fantasy and steampunk flavoured mystery, horror, crime and sf. From Walter Scott to Dr Who, Legend to Prester John.
Dystopia Utopia focuses on stories which offer perfect worlds gone wrong, or imperfect worlds with perfect people, Somewhere between Sir Thomas More's Utopia, Mad Max and The Hunger Games gives you the taste and the breadth.
Accentuating the Printed Form
Last year's titles speak for themselves (see here). Still available they work because their unusual mix of modern and classic writing, combined with the tactile deluxe presentation, offers something beyond the sea of consumable digital fare. They're books you can be proud of, you can leave on anyone's table and guarantee they'll be picked up, and loved.
We make illustrated books, gorgeous notebooks and calendars with incredible fine and fantastic art, but we also devour fiction. The economics of publishing and selling new stories is pretty tough but we really enjoyed reading and selecting the stories last year, so settled on four new titles for 2016.
Call for Submissions
We are looking for new and recent short stories. We do not require exclusivity. You retain copyright. We don't mind if your story has been previously published online or in print (although we need to know publication and date). Simultaneous submissions are fine, but you must have the right to license your story in an anthology.
Word length is 2000-4000.
Submit by email to 2016@flametreepublishing.com
Fees, Copyright and Other Terms
We pay Science Fiction & Fantasy Writers of America (SFWA) rates of 6 cents per word. We would prefer to pay via PAYPAL because bank charges to the US and Canada are crippling.
Payment will be made within 30 days of the final advertised publication date (currently 16 September 2016), although we might choose to pay some early.
Submission does not imply the right to publication. Each story will be read and assessed by the selection panel.
Please submit in .doc or .rtf formats, double spaced, with your name and email address in the footer or header of each page.
We will read each story and confirm its status within 30 working days of the submission deadline.
The anthologies will be published worldwide, available online and to bookstores worldwide, in print and ebook formats.
Submit by email only to: 2016@flametreepublishing.com
You can submit more than one story, and to both collections.
Final submission date is 22 July.
Selection Panel
The selection will be made by our group of life-long, in-house enthusiasts: Nick Wells (Publisher), Laura Bulbeck (Senior Editor) and Josie Mitchell, Gillian Whitaker and Cat Taylor. If required, the final selection will be mediated by our series editors.

About the SFWA
We are delighted to announce that we are now an SFWA qualifying market!
About Flame Tree Publishing
Originally established in 1992 Flame Tree covers a wide range of art and culture titles, with a strong vein of highly-illustrated Gothic and Fantasy books, ebooks and art calendars. Our Gothic Dreams series includes Necronomicon, Steampunk, Dystopia, our large format books Gothic Art, Fantasy Art and Dragon Art are very popular, and we publish classic fiction by Mary Shelley, H.G. Wells, Jules Verne, and many more, in our Flame Tree 451 imprint.
Updates
Murder & Mayhem, Crime & Mystery: We have made our final selection and are now in the process of producing the books! We will start announcing the selected authors and publication date soon!
So, we're looking forward to hours, weeks of reading: we received over 400 submissions for the last pair! Don't forget the final submission date is 22nd July 2016. Any updates will be posted here.

Links
Submit by email to: 2016@flametreepublishing.com
From our website, here are the 2015 books:
SFWA website