2018 was an incredible year for us and we are so excited to now move toward our 2019 list. From award winners to first time writers, 2019 will see our mission of showcasing original voices and publishing FICTION WITHOUT FRONTIERS continue. We can't wait to share the list for the entire year with you, but for now we are focusing on our January, February, March and April titles. From science fiction and crime to horror and fantasy, the first 4 months of the year are full of books that bridge a variety of genres. Continue reading to see what we have in store for the first part of the year!

January Titles
Junction -

Daniel M. Bensen
When Japanese nature show host Daisuke Matsumori finds himself on an alien world, he hopes to rekindle his passion for his work. Traveling through a newly-discovered wormhole in the Papuan highlands, he joins biologist Anne Houlihan on Junction, a patchwork planet of competing alien ecosystems. When their exploratory party crashes in the alien wilderness, Daisuke and Anne try to lead bickering soldiers and civilians back to civilization alive. As they trek across one unearthly biome after another and members of the party continue to die, however, Daisuke wonders whether human politics might be more deadly than alien biology. One of his companions might be a murderer.
You can find Daniel M. Bensen at thekingdomsofevil.com
Savage Species -

Jonathan Janz
Jesse thinks he's caught a break when he, Emma (the girl of his dreams), and her friend are assigned by their newspaper to cover the opening weekend of a sprawling new state park. But the construction of the park has stirred an evil that has lain dormant for nearly a hundred years, and the three young people—as well as every man, woman, and child unlucky enough to be attending the Algonquin Falls grand opening—are about to encounter the most horrific creatures to ever walk the earth.
You can find Jonathan Janz at jonathanjanz.com
The Haunting of Henderson Close -

Catherine Cavendish
Ghosts have always walked there. Now they're not alone… In the depths of Edinburgh, an evil presence is released. Hannah and her colleagues are tour guides who lead their visitors along the spooky, derelict Henderson Close, thrilling them with tales of spectres and murder. For Hannah it is her dream job, but not for long. Who is the mysterious figure that disappears around a corner? What is happening in the old print shop? And who is the little girl with no face? The legends of Henderson Close are becoming all too real. The Auld De'il is out – and even the spirits are afraid.
You can find Catherine Cavendish at catherinecavendish.com
February Titles
The Playing Card Killer -
Russell James
Brian Sheridan may be losing his mind. Asleep, he's plagued by dreams of murder, women strangled with a red velvet rope then left with a playing card tucked in the corpse. While awake, he's hallucinating that he's being stalked by a man painted like a skeleton. It's getting hard to know what's real. He hopes all this is driven by his cold turkey withdrawal from a lifetime of anti-anxiety medications. But when one of his nightmare's victims shows up on the news, dead, Brian fears he himself may be the unwitting killer...
You can find Russell James at russellrjames.com
Black Wings -
Megan Hart
Briella Blake has always been wicked smart. When she's invited to attend a special school for gifted students, she finally has the chance to focus on a project that begins to consume her – the ability to recreate and save copies of a person's entire set of memories. Her friendship with a raven that's as smart as she is leads to conflict with her mother Marian, who is no longer able to deny that there's something wrong with her child.
You can find Megan Hart at meganhart.com
The Nightmare Girl -
Jonathan Janz
When family man Joe Crawford confronts a young mother abusing her toddler, he has no idea of the chain reaction he's setting in motion. How could he suspect the young mother is part of an ancient fire cult, a sinister group of killers that will destroy anyone who threatens one of its members? When the little boy is placed in a foster home, the fanatics begin their mission of terror. Soon the cult leaders will summon their deadliest hunters—and a ferocious supernatural evil—to make Joe pay for what he's done. They want Joe's blood and the blood of his family. And they want their child back.
You can find Jonathan Janz at jonathanjanz.com
March
Will Haunt You - Brian Kirk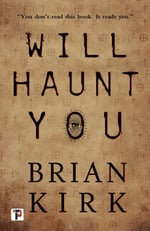 You don't read the book. It reads you. Rumors of a deadly book have been floating around the dark corners of the deep web. A disturbing tale about a mysterious figure who preys on those who read the book and subjects them to a world of personalized terror. Jesse Wheeler—former guitarist of the heavy metal group The Rising Dead—was quick to discount the ominous folklore associated with the book. It takes more than some urban legend to frighten him. Hell, reality is scary enough. Seven years ago his greatest responsibility was the nightly guitar solo. Then one night when Jesse was blackout drunk, he accidentally injured his son, leaving him permanently disabled. Dreams of being a rock star died when he destroyed his son's future. Now he cuts radio jingles and fights to stay clean. But Jesse is wrong. The legend is real—and tonight he will become the protagonist in an elaborate scheme specifically tailored to prey on his fears and resurrect the ghosts from his past. Jesse is not the only one in danger, however. By reading the book, you have volunteered to participate in the author's deadly game, with every page drawing you closer to your own personalized nightmare. The real horror doesn't begin until you reach the end. That's when the evil comes for you.
You can find Brian Kirk at briankirkblog.com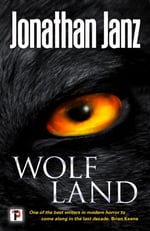 Wolf Land - Jonathan Janz
Aside from a quaint amusement park, the small town of Lakeview offers little excitement for Duane, Savannah, and their friends. They're about to endure their ten-year high school reunion when their lives are shattered by the arrival of an ancient, vengeful evil. The werewolf. The first attack leaves seven dead and four wounded. And though the beast remains on the loose and eager to spill more blood, the sleepy resort town is about to face an even greater terror. Because the four victims of the werewolf's fury are changing. They're experiencing unholy desires and unimaginable cravings. They'll prey on the innocent and the depraved. They'll settle old scores and act on their basest desires. Soon, they'll plunge the entire town into nightmare. Lakeview is about to become Wolf Land.
You can find Jonathan Janz at jonathanjanz.com
The Widening Gyre - Michael R. Johnston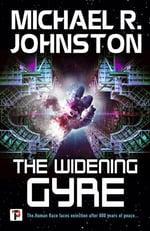 Eight hundred years ago, the Zhen Empire discovered a broken human colony ship drifting in the fringes of their space. The Zhen gave the humans a place to live and folded them into their Empire as a client state. But it hasn't been easy. Not all Zhen were eager to welcome another species into their Empire, and humans have faced persecution. For hundreds of years, human languages and history were outlawed subjects, as the Zhen tried to mold humans into their image. Earth and the cultures it nourished for millennia are forgotten, little more than legends. One of the first humans to be allowed to serve in the Zhen military, Tajen Hunt became a war hero at the Battle of Elkari, the only human to be named an official Hero of the Empire. He was given command of a task force, and sent to do the Empire's bidding in their war with the enigmatic Tabrans. But when he failed in a crucial mission, causing the deaths of millions of people, he resigned in disgrace and faded into life on the fringes as a lone independent pilot. When Tajen discovers his brother, Daav, has been killed by agents of the Empire, he, his niece, and their newly-hired crew set out to finish his brother's quest: to find Earth, the legendary homeworld of humanity. What they discover will shatter 800 years of peace in the Empire, and start a war that could be the end of the human race.
You can find Michael R. Johnston at mjohnstonbooks.com
April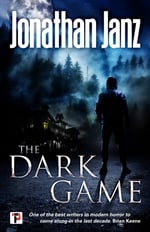 The Dark Game - Jonathan Janz
Ten writers are selected for a summer-long writing retreat with the most celebrated and reclusive author in the world. Their host is the legendary Roderick Wells. Handsome, enigmatic, and fiendishly talented, Wells promises to teach his pupils about writing, about magic, about the untapped potential that each of them possesses. Most of all, he plans to teach them about the darkness in their hearts. The writers think they are signing up for a chance at riches and literary prestige. But they are really entering the twisted imagination of a deranged genius, a lethal contest pitting them against one another in a struggle for their sanity and their lives. They have entered into Roderick Wells's most brilliant and horrible creation. The Dark Game.
You can find Jonathan Janz at jonathanjanz.com
Second Lives - P.D. Cacek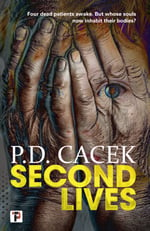 When four patients unexpectedly wake after being declared dead, their families are ecstatic and the word "miracle" begins to be whispered throughout the hospital. But the jubilation is short lived when the patients don't respond to their names and insist they are different people. It is suggested all four are suffering from fugue states until one of the doctors recognizes a name and verifies that he not only knew the girl but was there when she died in 1992. It soon becomes obvious that the bodies of the four patients are now inhabited by the souls of people long dead.
You can find P.D. Cacek at @PDCacek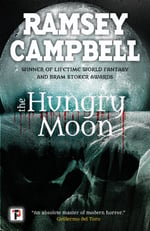 Hungry Moon - Ramsey Campbell
Isolated on the moors of northern England, the town of Moonwell has remained faithful to their Druid traditions and kept their old rituals alive. Right-wing evangelist Godwin Mann isn't about to let that continue, and his intolerant brand of fundamentalism has struck a chord with the residents. But Mann goes too far when he descends into the pit where the ancient being who's been worshipped by the Druids for centuries is said to dwell. What emerges is a demon in Mann's shape, and only the town's outcasts can see that something is horribly wrong. As the evil spreads, Moonwell becomes cut off from the rest of the world…
You can find Ramsey Campbell at ramseycampbell.com
Links
Checkout the full list of upcoming titles from Flame Tree Press here.
Hardbacks, Paperbacks Audiobooks and eBooks are all also available on amazon here.
For news, updates, offers and monthly flash fiction, join our new Flame Tree Fiction Newsletter.