We've had a stellar year for cosplay, with 2015's conventions bringing talented costume makers and models together from all over. Great photographs usually pop up from time to time, such as these mind-blowing Star Wars: Knights of the Old Republic cosplays and these downright incredible advanced combat suits (from a variety of influences). However today's blog takes a quick look back at some of the best events for this year for cosplayers, with a handful of our personal favourites (links on event names will take you to the most interesting photo collections we found for that event).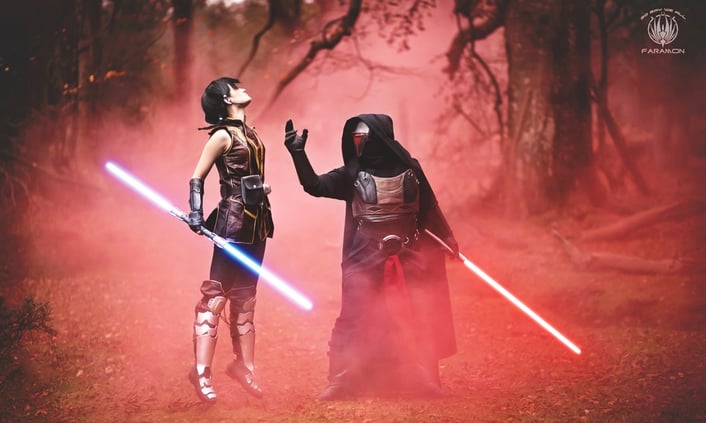 This month alone we've already seen three events which have brought cosplayer's out in their droves. Most recently we had Blizzcon, an event for those who love Blizzard Entertainment's hugely popular games. There was also Comikazee in Los Angeles, an event for those who love all things Stan Lee. November also had just enough space for the Biggest LAN Party in the World as well. The event in Sweden brought together over 25,000 PC gamers this year and featured two cosplay competitions. If this isn't your cosplay diary already, it probably should be.
If we just roll back the calendar a couple of months, we come to the Tokyo Game Show. This eastern convention in September brought together thousands of gamers and many of the attendees like to dress up as their favourite characters whilst they're at it. If you also want to see some of the games that were shown, you can click here.
As we rewind into summer we come to the real big players of the year, The New York Comic-Con and the San Diego Comic-Con. Unsurprisingly there's a huge range of amazing efforts from these events, cosplayers parading the entire gamut of comic, movie and gaming characters, including original mashups such as this Hello Kitty R2-D2.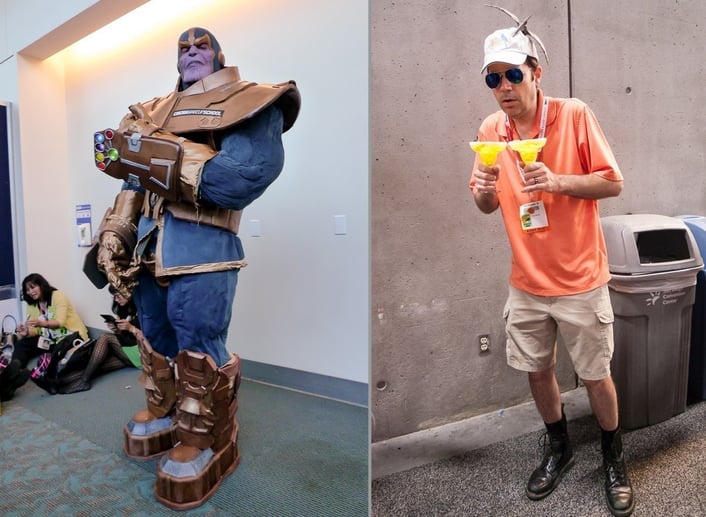 Comic-Con brings all kinds of cosplayers together, from an epic Thanos costume to the hilarious homage of Jurassic World's, Two Margaritas Guy. Images source.
Not to be outmatched by its (arguably) more famous cousin, San Diego's Comic-Con also attracted cosplayers in their droves. We had The Joker in drag and Deadpool playing pretend as Jafar. There was certainly some real creativity on show this year, to see it all with your own eyes, click here.
Scrolling back to March we stop off at Wondercon. Another favourite of cosplayers, there were many attendees out in full force at this year's event. From bright, arresting colours to exposed skin and lethal-looking props, you can get a great idea of the different offerings in this video by Shadenfreude Industries. They cover a lot of other great cosplay events and you can see even more of their content by clicking here.
Of course, we're sure there are many great stops in 2015 that we missed. What was your favourite event of the year? Was it where you saw the best cosplay, or was it simply where you witnessed the most variety? Let us know your thoughts in the comments below.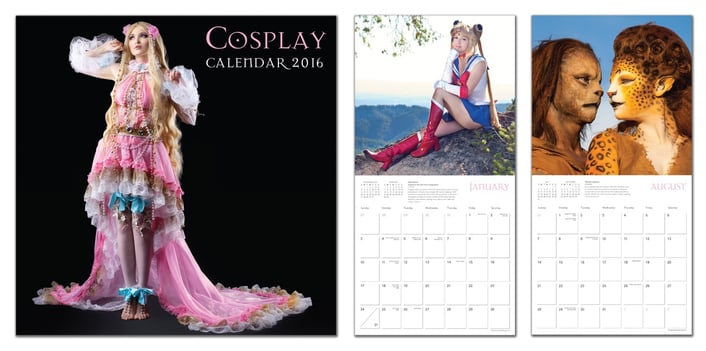 Here at Flame Tree, we appreciate creativity in all it's forms. We think cosplay is awesome because of the sheer range of outfits on offer, and the ability of costume makers to realise their often larger than life outfits. By constructing something based in fantasy, cosplayers show us than we can adopt any shape or form we wish – and look damn cool whilst we do it. For 2016 we've made an art calendar featuring twelve talented cosplayers to help see you through the year. If it's something you could see hanging on your wall, take a closer look at the product by clicking here.