Next week we commemorate the anniversary of Charles Dickens' death and to pay respects we've rounded up some of the best on-screen adaptations of his brilliant works (in our opinion!). So if you fancy a period piece to watch over the weekend these will give you some inspiration!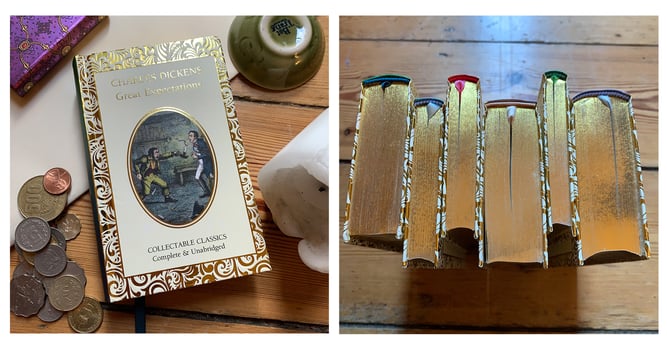 Dickens has created some of the most well-known fictional characters and is regarded as one of the greatest novelists of the Victorian era. From Oliver Twist to Ebenezer Scrooge, we've all heard of at least one of his brilliant protagonists. His iconic stories are still enjoyed by many to this day and will continue to be for years to come. He holds a distinct influence over proceeding works of fiction and has created a permanent mark upon the history of English Literature. In the 20th century many scholars and critics referred to him as a literary genius and with so many novels still being read, taught and adapted today, it's hard to disagree! So here's some of the best adaptations of the genius's work:
Scrooge/A Christmas Carol (1951)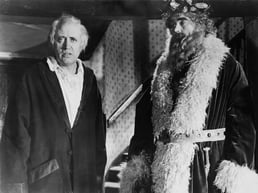 Without fail, every Christmas, Scrooge makes an appearance on our screens. He is the character who we all hate to love. Aside from the biblical origins of Christmas, A Christmas Carol remains one of the most adapted, relevant and longest running holiday tales to date. For over 170 years people have been uttering the classic quote "bah-humbug" to show their distaste in something - but thankfully not about Scrooge (in the end.) With so many adaptations of this novella throughout the years - too many to even count - it was hard choosing just one. From The Muppets (which is surprisingly on-script) to Mickey Mouse, the Jim Carrey version to Bill Murray, we've chosen the 1951 Scrooge (A Christmas Carol) as the number one adaptation.
Alastar Sim takes on the role of Ebenezer Scrooge for this dramatic, dynamic and downright spectacular rendition of the novella. With this being one of the slightly darker Scrooges we come across it really highlights some of the most important themes from the book: poverty, despair, greed, redemption and forgiveness. That being said, you can still find humour in every scene as Sim and his co-stars bring to life the most rewatchable version of Scrooge (seriously, re-watch it, we find something else to love about it every time!)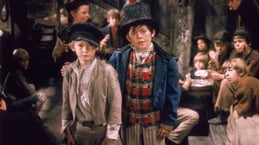 Oliver Twist (1968)
Oliver Twist is everybody's favourite fictional orphan boy and whether you've read the book or not, you'll have definitely seen an on-screen adaptation or a play. With this being Dickens' second ever novel, now over 183 years old, we're still seeing brand new renditions to this day. There've been several film adaptations throughout the years, a BBC drama series, a Disney spin-off and even a musical. With so many options to get your Twist twitch itched, we've chosen our favourite to include today which will get you hitting all those high notes.
The star of the show today is the 1968 British musical drama film Oliver!. Who'd have guessed a tale about child labour and domestic violence could become such a sing-along hit? I bet Dickens definitely didn't. Alas, maybe it's the light-hearted tunes that make this rendition the standout choice. As with many Dickens novels, there are some dark themes running throughout as mentioned above. But this film runs true to Dickens's satirical approach to the hypocrisies of his time, producing classic hits about "food glorious food", you won't be able to stop tapping your foot throughout the entire film.
Great Expectations (1946)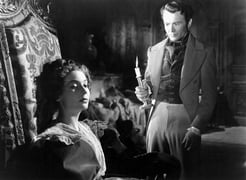 Who doesn't love a good rags to riches narrative? Great Expectations brought us one the most frustratingly wonderful tales we could have hoped for. Constantly rooting for Pip's success and happiness, he's a character who has our hearts forever. This was Dickens' thirteenth novel, fully narrated in first person to make us that much more connected to our dear Pip. There have been a lot of film adaptations for this novel including the 1998 abridged modernisation starring Ethan Hawke as Pip and Gwyneth Paltrow as Estella, brought to life in 1990s New York. However, there's only one stand out rendition for us: the 1946 British film Great Expectations.
Arguably the greatest Dickens film this adaptation was voted as the 5th top British film of all time by the British Film Institute, landing in their top 100 list. We wholeheartedly agree with this statement from Roger Ebert, praised for it doing 'what few movies based on great books can do: [create] pictures on the screen that do not clash with the images already existing in our minds'. This film encapsulates everything from the novel we wanted it to and more. It's not the oldest nor the most modern version but it's definitely the best, if you haven't watched it already, you should!
David Copperfield (2019)
We couldn't write about Dickens without giving an honourable mention to David Copperfield. This autobiographical novel which is an intricate entwinement of truth and invention was a real turning point in his works: being the bookmark of his novels of youth before and maturity after. Dickens himself claimed this was his favourite book that he wrote. It was first published as a serial but soon after as a book in 1850. There have been a few screen adaptations throughout the years, both film and TV series. Our choice might be a controversial one but for us the 2019 film The Personal History of David Copperfield is the best.
This comedy-drama film is a colourful and cheery retelling of the original novel that's an enjoyable watch for everyone. The wonderfully diverse casting of this role is colourblind which is where we all hail Dev Patel, the perfectly cast lead and so many other talented well-placed actors. It's a mad, light-hearted, lovingly brilliant cinematic exploration of the novel which we thoroughly enjoyed - and you will too.
Bleak House (2005)

Bleak House was first published as a 20-episode serial between 1852-53. There are many characters in this novel and several subplots but always a long-running legal case in the Court of Chancery. It's partly told by the novels heroine and partly by an omniscient narrator. This novel actually helped support a judicial reform movement which culminated in the enactment of legal reform in the 1970's, despite many in the legal profession criticising Dickens satire as exaggeration. With very few adaptations made of this novel, the BBC swooped in and gave us the fifteen-part series of Bleak House.
This all-star cast hit our screens in 2005 and drew much critical and popular praise. It covers most of the characters and storylines in the book with the exception of a few minor characters. It's a fresh and imaginative adaptation of the victorian drama and a brilliant period piece to watch.
With so many brilliant options to watch this weekend, which will you choose?
If you love Dickens as much as we do, check out our beautiful Collectable Classics range which includes; Great Expectations, Hard Times, Oliver Twist, The Pickwick Papers, David Copperfield, A Tale of Two Cities and A Christmas Carol. These make a gorgeous addition to any bookshelf and if you're looking to divulge deeper, find an extensive range of Dickens supernatural short stories in our foiled embossed gothic fantasy series Charles Dickens Supernatural Short Stories. You'll be sure to get your fix from the genius himself!
Image credits (in order):
© Britannica
© Letterboxd
© Britannica
© Variety
© BBC