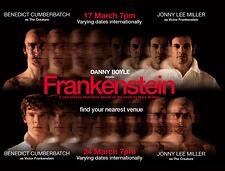 As part of the National Theatre's 50th anniversary celebrations, various cinemas screened a recording of the NT's live production of Frankenstein last month, based on Mary Shelley's gothic horror story. As I had not been lucky enough to get hold of one of the theatre tickets back in 2011 – they were like gold dust – I jumped at the chance to go see it at the cinema. The whole idea of opening up the theatre this way is fantastic, and although I do miss the atmosphere of a live performance, I undoubtedly had an enviable 'front-row' view thanks to the position of the cameras.
Braindead Zombie or Eloquent Monster?
The main stars of the cast were Benedict Cumberbatch and Jonny Lee Miller, both of whom have interestingly gone on to star as Sherlock Holmes in different TV series. Each night they would swap roles – one performing as Victor Frankenstein, and the other as the creature. The opening scene where the monster (Miller on this occasion) fist comes to consciousness – learning to walk, trying to talk – brings to mind zombie pictures; creatures staggering around, gruesome in their appearance. And yet as the play progresses, Frankenstein staggers further and further away from the zombie pictures we can imagine so vividly. This story it turns out, is all about life; it's about a monster with intelligence, and most of all with a voice.
It Lives!
From the opening moments where the creature is born, frustratedly attempting to work his limbs and his tongue, to his immediate abandonment by Frankenstein; from his joy at seeing his first ever sunrise to his cruel beating by the first humans who set eyes on him – this story by Nick Dear is one of a man who didn't choose to be born, but who is striving to live. He finds his only friend in a blind man who educates him and assures him that he is a good man. The creature quotes poetry, and uses it to describe the wonder of the world around him, he knows his classics and divines from them lessons about mankind. But no one is ever able to ignore the creature's hideous appearance and the constant rejection drives him to wreak revenge on those who treat him with hate.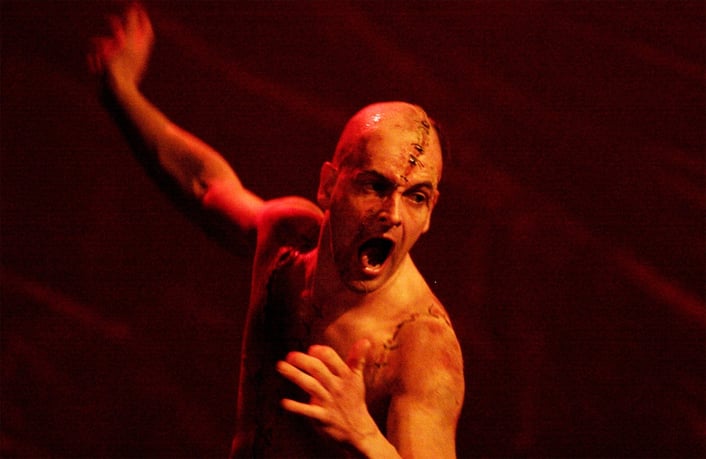 The Horror Intensifies
The creature's rage leads him to commit heinous acts, so ensuring that Frankenstein will never give him what he wants – the only thing he needs – someone to love. And therein the creature becomes human to us once more – everything he does, he does because he is alone in the world. In this way he is more human than the cold-hearted Frankenstein who persistently ignores the love offered to him by his family and his fiancée in pursuit of science. Frankenstein, initially intimidated and flattered into creating a bride for the monster, gets cold feet – and in a tension-filled scene, murders the creature's new wife in front of him.
So Frankenstein and his creation become locked in a cycle of hatred and revenge. And yet neither can escape the other, and when at the end Frankenstein appears to have died, the monster is devastated at being alone once again.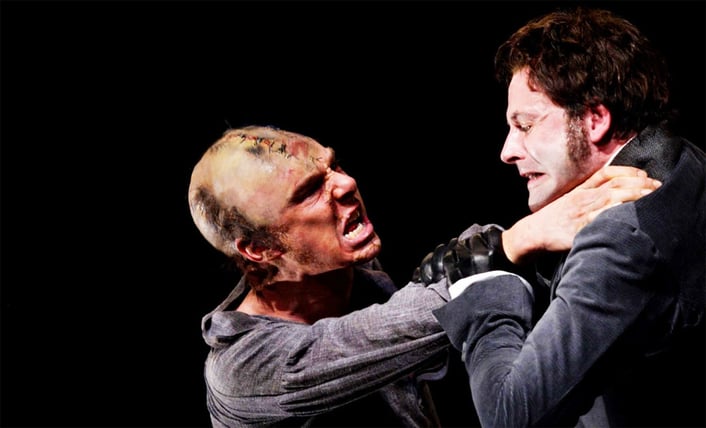 A Raging Success
The whole cast is superb, but Cumberbatch and Miller do a stunning job at complementing each other's performances. I would love to see their role reversal and see how they play off each other as opposite characters. This production is wonderfully faithful to Mary Shelley's gothic creation, and brought to life by director Danny Boyle with gripping success. If there is another opportunity to see this play, I would urge you to do so whole-heartedly.
In appearance alone, Frankenstein might be comparable to a zombie, but the similarities stop there. He is a patchwork figure of dead bodies, but a new creation. In contrast to the old movies, he has a voice – and the result is heartbreaking.
Links