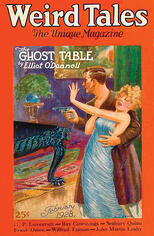 H.P. Lovecraft, the master of the weird and macabre, the ultimate writer of creepy stories, set a fantastical world in motion with the publication of this short story in the February 1928 issue of Weird Tales. He stood on the shoulders of horror giants Algernon Blackwood and Arthur Machen; and a generation of pulp writers, including the muscular genius of Robert E. Howard (with his ultimate creation, Conan of Cimmeria) claim Lovecraft as their inspiration.
Lovecraft's creation of Cthulhu and the elder gods started a genre of fiction and art that has recently begun to crawl from the murky depths of cultdom and now stands blinking on the fringes of a broader market. Come on Peter Jackson, you've done Lord of the Rings, how about Cthulhu!
Links
The full text is on our Creepy Stories site

here

.

If you like this story, here's a short fiction from Robert E. Howard, Worms of the Earth.

We've more short stories to come, so please keep an eye out and sign up for other offers.