Cris Ortega produces phenomenal and mesmerising gothic fantasy art and steampunk art on a variety of subjects, but in many cases depicting women, around whom an air of beauty, mystery, emotion and magic can be built. The Spanish-based digital artist has had her work featured widely in all sorts of publications, book covers and posters, as well as in video games.
Inspirations
Ortega maintains that she is inspired by a whole host of artists and writers, from great classics such as Goya and Caravaggio, Mary Shelley and Edgar Allan Poe to more recent creatives like Boris Vallejo or Neil Gaiman. It's not only books, movies and art that feed Ortega's own work – she carries a pen and notebook with her everywhere she goes because inspiration so often strikes her when she's simply walking around, it can be a person she sees or the way a landscape looks in the night.
Learning to Paint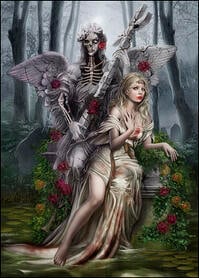 What began as simply a hobby has become a major focus of Ortega's life. After having some work published in magazines, Ortega went to the Art School of Valladolid and learnt more about her craft, developing her talents. She heavily objects to anyone who believes less skill is involved in digital painting than the more traditional media – digital techniques are similar to the way one paints with oil or acrylic – 'stroke by stroke, only the tools are different'. Ortega also sometimes still works with more traditional methods and her works often begin with sketches she does.
Gothic Dreams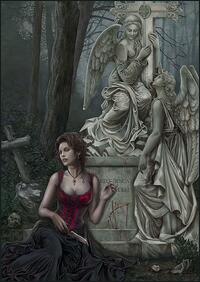 Gothic art has surged in popularity over recent years, fuelled by the a fascination of lonely vampires, eerie characters and landscapes, and now the emerging popularity of the steampunk genre with its romance of the past and technology of the future. Ortega is a hot new talent who manages to breathe life into these gothic themes. This is why we've chosen to feature her in three of our beautifully illustrated books so far and urge you to go take a look at her for yourself! Her powerfully atmospheric art has a true ethereal beauty.
All artworks are © Cris Ortega
Links
View more of Cris Ortega's amazing artworks on her website here

Intrigued by the top artwork, but still wondering 'What is steampunk?' It's all explained here

Cris Ortega's works have been featured in our Gothic Art book, Fantasy Art: Warriors and Heroes book, and both inside and on the cover of our Steampunk book, all available on Amazon.