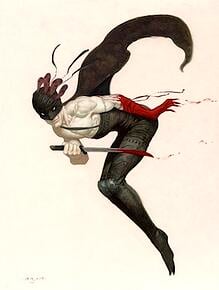 The world of Gothic Art: a mysterious realm of darkness, filled with infinite possibility; a realm in which beauty can be discovered in the most obscure, unpredictable places.
Though the world of Gothic Art, arguably bursting at the seams, may seem difficult to conquer, one artist has successfully done so, engaging audiences in the thrills and chills so often associated with the 'art of darkness'. American gothic fantasy artist and illustrator, Brom, has emerged into mainstream culture as one of the most innovative figures of modern fantasy and horror of all time.
Early Years and Inspiration
Gerald Brom, born in 1965 in Albany, Georgia, found himself constantly on the move throughout his childhood. His father's occupation as a US Army pilot allowed him to call a variety of places 'home', including Germany, Japan, Alabama and Hawaii. Because of his family's military background and his upbringing as a military dependent, the artist is simply referred to by last name: 'Brom'.
Though he found himself painting and drawing from the early years of his youth, Brom was never enrolled in formal art classes. His works stemmed from inspiration and emulation of a variety of artists' works including N.C. Wyeth, Frank Frazetta and, oddly enough, Norman Rockwell.
Making a Bold Statement in the Fantasy World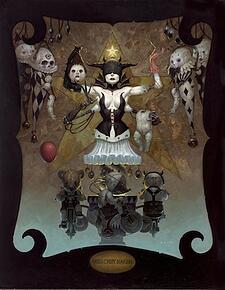 Shockingly, the master of the dark arts began work as a full-time commercial illustrator at age twenty, employed by corporate meccas such as Coca-Cola, CNN, IBM and Columbia Pictures. It wasn't until 1989 that his plunge into the world of fantasy took full flight. Employed by TSR, Inc., Brom made many artistic contributions to the company's vast array of book and game lines, most notably designing the artwork behind their 'Dark Sun' campaign. His unique sense of style set his work for the company in a different league than the games' 'more typical fantasy drawings'. Brom's paintings were also featured in collectable card games, including Last Unicorn Games' Heresy: Kingdom Come and Wizards of the Coast's Magic: The Gathering.
Brom's artistic extent is not limited to the world of fantasy role-playing games. In 1993, after re-entering the freelance market, Brom was commissioned to design the cover for Shane Lacy Hensley's initial release of the game Deadlands. He emerged in the world of book cover illustrations, featured on the face of books by Anne McCaffrey, Terry Brooks and Michael Moorcock.
Since his employment at TSR, Brom has worked as a movie concept artist for films including Van Helsing (2004), Scooby-Doo (2002), Sleepy Hollow (1999), and Galaxy Quest (1999). Much of Brom's artwork can be seen while flipping through the pages of DC, Chaos and Dark Horse comics, as well as in computer games by well-known companies including Sega, Activision and Blizzard.
Where is Brom Today?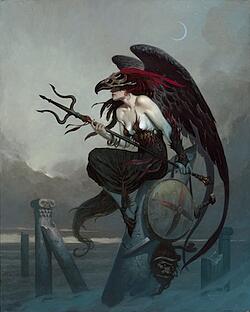 Today, Brom, at 48, continues to provide audiences with an artistic shock factor that they find themselves craving. He has become the writer and illustrator of a series of award winning horror novels: The Plucker, an adult children's book, The Devil's Rose, a modern western taking place in the depths of Hell, The Child Thief, a gruesome take on the legendary tale of Peter Pan, and Krampus, the Yule Lord, depicting a story of revenge between Santa and Krampus that takes place in the rural wastelands of West Virginia.
Brom's ability to blend intrigue, beauty, mysticism, and horror contributes to his lasting penetration into the mainstream world of Gothic Art. "I simply love monsters, love the macabre; it is my youth, it is who I am," he said in an interview with io9: "It makes me happy to play there; it is how I satiate my inner demons." Brom's ability to seek beauty in the darker side of things, as well as his successful portrayal of the romantic gothic side of evil, even in its most grotesque forms, set him apart from fellow Gothic Artists. Through Brom's art, we find ourselves strangely enjoying our placement face-to-face with the wicked, ungodly, and divine: it is a world in which we willingly indulge.
All artworks are © Brom.
Links