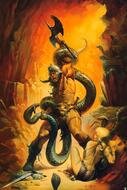 On a quest to experience the mythical, mystical, magical and macho all at once? Look no further than to the works of fantasy artist Ken Kelly. A work by Kelly is an invitation into the wonderful world of imagination, of warriors and dragon art, as he offers viewers a direct route into faraway places and primal battlefields that burst at the seams with vivacity.
The Journey Begins
Kelly began a quest of his own at the age of two, as he picked up pencils and began to draw, coating the entirety of his house (yes, even the living room walls) with works of art. At age nine, a fourth-grade Ken found inspiration in his art teacher, Mrs Valerious, who remained a crucial influence in his life throughout the nine years that followed.
Contradictory to what you might expect from an art teacher, Valerious encouraged Kelly to avoid art school all together after high school, convinced that it would taint the unique qualities of his artwork. Instead, Kelly found himself enrolled in the Marines, touring around the world, serving in both Vietnam and Guantanamo Bay. Though abroad, Kelly's time in the Marines failed to suppress his artistic talent, as he became responsible for the illustrations in US magazine, The Gitmo Gazette during his time stationed in Cuba.
Frazetta's Inescapable Influence
In 1968, after completing his four-year term in the Marines, Kelly returned home to New York where his fantasy art career began to take flight. Under the guidance of his uncle, Frank Frazetta, Ken learned how to bring his works to life. 'Though I have been drawing since I was two years old and would undoubtedly have chosen this path despite my detour in the Marines, it was Uncle Frank who helped open the door into the industry', Kelly remarked. He found himself dazzled by Frazetta's ability to lead audiences around his canvas, drawing their eyes in through his elaborate details, and leaving them overwhelmed with thrill and delight.
Lasting Legacy
As Kelly's career advanced with the help of Frazetta, he found himself engaged in both the magazine and book cover industries, as well as employed by many major toy-manufacturing giants. After working for magazines, published by firms such as Warren and Skywald, including Creepy, Eerie and Vampirella, Kelly began to gear his focus towards book covers. Some of his works have been used by the field's best-selling authors, appearing on the cover of Robert E. Howard's Red Nails and Robert Adams' Horseclans series. Kelly's most renowned artistic endeavors feature heroic variations of famous figures including Conan the Barbarian, Solomon Kane and Tarzan, to name just a few.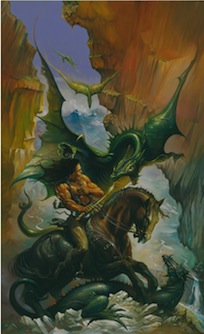 Over the years, Kelly has been responsible for numerous projects in the mainstream music industry. His work appears on the album cover of Coheed and Cambria's Good Apollo, I'm Burning Star IV, Volume Two: No World for Tomorrow as well as on Alabama Thunderpussy's 2007 Open Fire. In 2012, Electric Magma used yet another of Ken's works for the cover of their 12" vinyl release: Canadian Samurai II. Ken's work has even become associated with the legendary rock group, KISS, who asked him to design two of their most notorious album covers. In return, Kelly was rewarded with two 'gold albums' and invited to KISS' Monster Mini Golf Course in Las Vegas to sign copies of the album.
Kelly's works are exotic and enchanting, inviting us to live vicariously through the fantastic world created by his visionary genius. For Kelly, fantasy art is freedom; a realm in which there are no rules. He claims that warriors and heroes are our alter-egos, 'All of us have our alter ego – what we wish we were, what we dream we could be'. Through his work, Kelly possesses a precious ability, an ability that he refers to as, 'the unique opportunity to show the world their warrior dreams'. Through the works of Ken Kelly, we drop our bags at the gate between fantasy and reality, becoming one with an eccentric world of fantasy art and surrendering ourselves to our own imaginations.
Links
Visit Kelly's official website here.

Want to know more about the man behind Kelly's inspiration? Check out some of Frazetta's art techniques in this video.

Take a peak at some of the covers done by Kelly here.