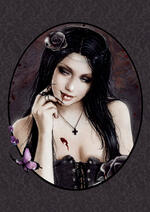 The danger, mystery and beauty of vampires means they have an eternal allure a world apart from zombies or other horrors, and as well as reading about them or watching them on screen, gothic fantasy art affords a whole world of imaginative vampiric visions created by talented artists.
Here are just a few you should check out:
Some of alternative model and artist Anna Marine's work is cute and kitsch, but she also creates darker fantasy pieces where vamps are wreathed in shadows and bats, glaring from dark eyes into the distance. Dressed in burlesque gear, indie and Goth fashion or good old fashioned punk outfits, she gives us vampire ladies with serious attitude, sensual and a little scary at the same time.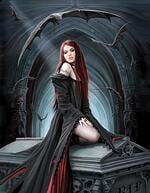 Already discussed in a separate post, this popular gothic artist is acclaimed internationally. Anne has created artwork for the publishing, music and games industries and now licenses her art for all manner of products including T-shirts, posters, book covers, calendars, jigsaws, tarot cards, sculptures, CCG sleeves, mugs, jewellery and greetings cards (!). Her seductive femmes fatales and dark angel-vampires inhabit a classic, gloomy, cloistered gothic world.
Mistress of the macabre Avelina conjures wickedly theatrical vamp visions through her art. Sometimes licked by hellfire, other times hellishly sexy or spattered with blood, she does horror in style – gorgeous vamp guys and girls in decadent Gothic clothing, fangs bared and thirsty. But it's not gruesome: there's always a cheeky flicker of humour in her work that makes it even more fun.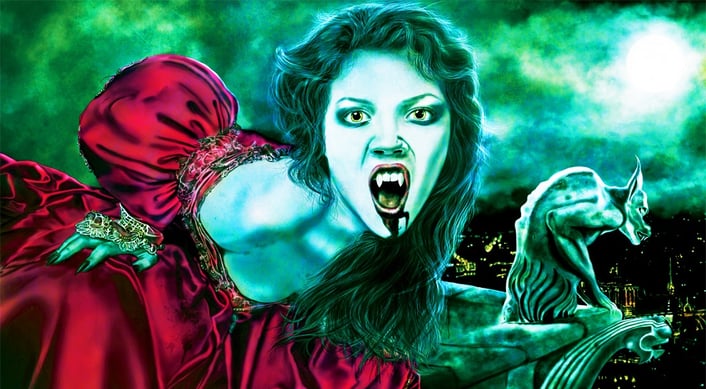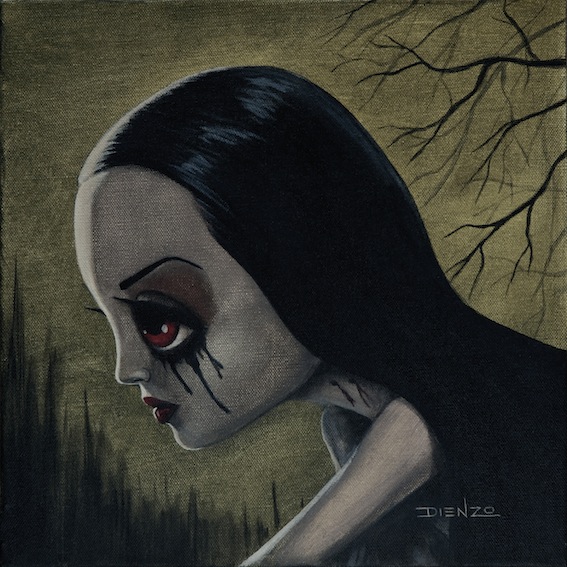 Dienzo's art works on the same level as that of Jasmine Becket-Griffith (see below) – i.e. the juxtaposition of cute and cuddly characters (influenced by his work for Disney, Mattel and Cartoon Network) with dark and subversive themes. He too works in the traditonal medium of acrylic, which also elevates the cartoony nature of his subjects. His collection of vampire paintings – 'Vampyrically Speaking' – brings together a group of mostly female gothic characters with blood-red eyes and sultry stares.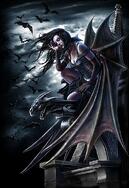 There's something very intense about the vamps and fantasy creations that Norwegian artist Henning brings to life in his work. They seem to peer out of the frame and look right into you, like a handshake from Aro or glance from Edward would. Henning has worked with some of the biggest names in the world of fantasy and sci-fi and his website has lots of great examples of this as well as some great tutorials for any budding artists out there.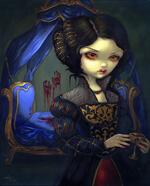 Jasmine's vampires are distinctive in their stylized gothic cuteness – their heart-shaped faces and huge eyes belie the dark heart and often cynical or layered meaning to her art. The unique series of 'I Vampiri' (Italian for 'The Vampires') portrays vampire beauties inspired by Italian Baroque and Renaissance themes and aesthetics. Her paintings, executed in acrylic paint, frequently include symbolic objects and paintings within paintings – for example, I Vampiri: Lucrezia Borgia includes a meticulous copy of a portrait of Cesare Borgia by Altobello Melone.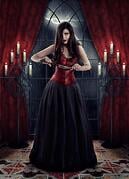 Larina uses photomanipulation to create her ethereal visions of vampires. They're painterly but also somehow hyper-real – whether you see them striding out of a crumbling ruin or sinking into dark water, her vamps look almost like you could touch them but seem out of this world as well. They're tragic but beautiful, wicked but lovely – just like the real thing, perhaps...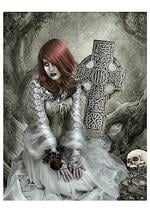 The brooding, cruel-but-irresistible vamps of Patricia's mind are created with digital trickery, with the result that her night walkers are eerily real but fantastically impossible as well. Sometimes beckoning and attractive, sometimes forbidding, sometimes lonely, these are complicated souls with a taste for elegant outfits. You'll even spot a Volturi or two amongst her portfolio...
Based on an expanded extract from Vampires, by Russ Thorne, Flame Tree Publishing. All artworks are © the respective artist.
More Links