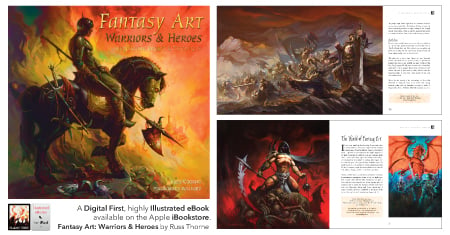 We've just released a gorgeous digital edition of a brand-new book: Fantasy Art: Warriors & Heroes. 192pp pages of artwork, showcasing amazing paintings from fabulous contemporary artists. It's available on the Apple iBookstore and is designed for the iPad Retina display which shows off the detailed and glorious art. We're very excited to see what you think!
About the eBook
This is an incredible illustrated ebook in the Fantasy Art series, ideal for iPad. Warriors & Heroes, by Russ Thorne, with foreword by legendary artist Ken Kelly, is a stunning display of incredible, contemporary fantasy artwork, a complement to its bestselling predecessor, Dragon Art. The first section covers 'Masters & Origins' and introduces some of the writers, characters and artists who helped to shape the fantasy world as we know it today – including James Allen St John, Roy G. Krenkel, the Hildebrandt Brothers and of course Frank Frazetta. A fascinating discussion of warriors and fantasy art follows on, running throughout the book, accompanied by a large selection of works by the best of the current crop of fantasy artists, such as Brom, Martin C. Hayes, Alex Horley, Jason Juta, Alan Lathwell, Jason Engle, Lucas Graciano, Adele Lorienne and many more. The majority of the recent work that features in the book was created in digital media, reflecting the use of the most up-to-date methods. Warriors & Heroes is also interspersed with features on artists' works-in-progress, providing invaluable insight on techniques and tools. It is a feast of visual imagination and a must for all fans of fantasy art. Best viewed on an iPad with a retina display: it's a large book but it's worth it!
The Artists
One of the main reasons for this post is to feature links to the excellent contributing artists, as a small thank you for becoming part of this project. So, here they are:
Adele Lorienne: www.meadowhaven.net
Alan Lathwell: www.alanlathwell.cgsociety.org
Alex Horley: www.alexhorleyart.com
Bob Kehls: www.bobkehl.blogspot.com
Brom: www.bromart.com
Bryan Syme: www.bryansyme.com
Chris Kuhlmann: www.kuhlart.com
Cris Ortega: www.crisortega.com
Daren Bader: www.darenbader.blogspot.co.uk
Dan Scott: www.danscottart.com
Daren Bader: www.darenbader.com
Daren Horley: www.darenhorley.carbonmade.com
Daryl Mandryk: www.mandrykart.com
Del Borovic: www.delborovic.com
Derrick Song Weng Foong: www.derricksong.deviantart.com
Dusan Marcovic: www.markovicdusan.com
Frank Hong: www.artbyfrankhong.com
George Rushing: www.georgerushing.com
Glen Orbik: www.orbikart.com
Greg and Tim Hildebrandt: www.spiderwebart.com
Herckeim: www.herckeim.deviantart.com
Igor Ivanovic: www.igorivart.blogspot.com
Jason Engle: www.jaestudio.com
Jason Juta: www.jasonjuta.com
Ji Zhang: www.zj1984.cghub.com
Jonas De Ro: www.jonasdero.be
Kajsa Flinkfeldt: www.facebook.com/Flingeling
Ken Kelly: www.kenkellyfantasyart.com
Kirsi Salonen: www.kirsisalonen.com
Larbesta: www.larbesta.deviantart.com
Leslie J. Lee: www.lesliejlee.com
Long Ouyang: cargocollective.com/long0800
Lucas Graciano: www.lucasgraciano.com
Magnozz: www.magnozz.blogspot.com
Matthew Stewart: www.matthew-stewart.com
Michael C. Hayes: www.artofmike.com
Mikaël Léger: www.ConceptArtist.eu
Mike Penn: www.MichaelJPenn.com
Ming Fan: www.blog.sina.com.cn/fanming2008
Nacho Molina: www.nachomolinablog.blogspot.com
Nick Deligaris: www.deligaris.com
Pablo Ciomei: www.behance.net/pablociomei
Paul Alexandrescu: www.Lexpaul.com
Pete Thompson: www.atomhawk.com
Remton: www.remton.deviantart.com
Rob Shields: www.robshields.net
Sarel Theron: www.sareltheron.com
Sutat Palama: www.ninejear.deviantart.com/gallery
Tiago da Silva: www.tiagodasilva.com
Wang Lin Fang: www.fangwangllin.deviantart.com
Xue Duan: www.xueduan.cghub.com
Yu Cheng Hong: www.yuchenghong.com
Yu-Han Chen: www.yu-han.cghub.com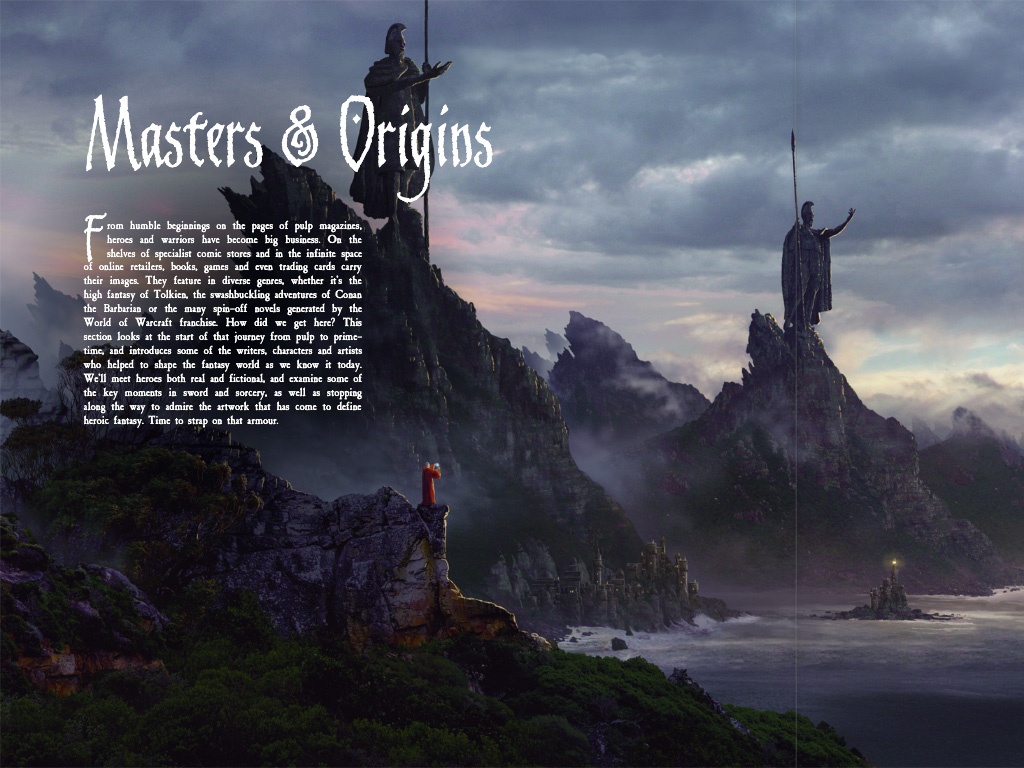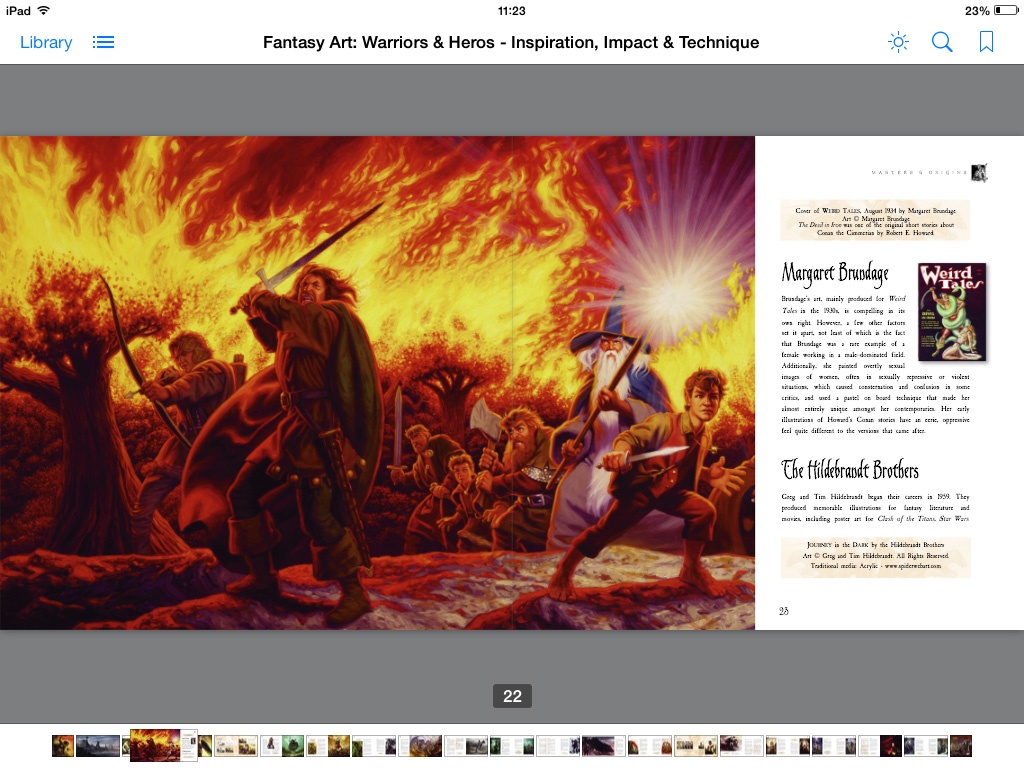 Foreword by Ken Kelly
Ken Kelly is a long-established and successful fantasy artist. He's been drawing since he was knee-high and hasn't stopped since, getting his break into the industry after showing his work to his Uncle Frank (Frazetta), who got him in touch with Warren Publishing for his first assignment. The power and dynamism of Frank's style can be felt in Kelly's work, which covers a wide range of warriors and heroes, including Conan the Barbarian and Tarzan, as well as many album covers for rock bands such as KISS.
Links