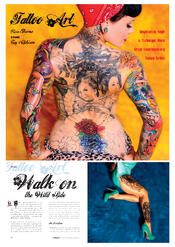 We've just released a gorgeous new digital edition of our unrivalled book: Tattoo Art by Russ Thorne. 192pp pages of colour photographs, revealing brilliant tattoo designs from fabulous contemporary tattoo artists, photographed in style by the best photographers. It's available on the Apple iBookstore and is designed for the iPad Retina display which shows off the detailed and glorious art. We're very excited about it!
About the eBook
Tattoo Art is a stunning survey of some of the most amazing tattoo work being done today. Over 140 photographs full of character, colour and attitude showcase the many styles and images with which people are marking their bodies, while a fascinating discussion of tattooing as cultural phenomenon and art form, as well as what some tattoos mean and what to think about before getting one yourself, runs alongside. In addition, throughout the book you will find feature spreads dedicated to some of the most talented and innovative tattoo artists working around the world, with photographs showing the progression of pieces from design or outline to finished tattoo. Rounded off with a foreword by foremost tattoo artist Guy Aitchison, the book is a real treat. Whether you are a tattoo fiend, thinking about braving the needle or simply appreciate eye-boggling artwork, look on in awe.
Great Reviews
We're very proud that the print version of the book has received great reviews, here's one from Amazon which gave the book five out of five stars (thank you International Citizen):
"I had some reservations when I purchased this book because it was my first tattoo coffee table book. Thankfully it was worth the money; in fact I thought it should have been more. Wonderful artwork and designs, vibrant colours, great commentary and a huge book. I've taken inspiration for some of my own tattoo collections from this book. [A] great gift or buy for someone who wants to get a tattoo or who can appreciate the art form that it is. Not at all a tacky book but one of substance. A must buy for art lovers, tattoo enthusiasts, body artists or anyone who wants to learn more."
The Artists and Photographers
One of the reasons for this post is to highlight the contributing artists and photographers, as a small thank you for becoming part of this project. Each artist has their own distinct style and each photographer has their own way of best portraying these works of art on skin. So, here they are, with links to their own websites:
Tattoo Artists
Guy Aitchison: hyperspacestudios.com
John Anderton: nemesistattoo.co.uk
Mark Bode: markbode.com
Pat Fish: luckyfish.com
Dave Fox: davefoxtattoos.com
Ivana: facebook.com/spunkytattoo
Jondix: holytrauma.com
Boff Konkerz: bigtattooplanet.com/boffkonkerz
NOON: noontattooart.blogspot.co.uk
Michele Wortman: hyperspacestudios.com
Yoni Zilber: yoniztattoo.com
Photographers
Saviltri Bastiani: bastiani.ca
Bernard Clark: bernardclark.com
Brian Cummings: briancummings.com
Olga Ekaterincheva: pepperbox.ru
Wayne Hoecherl: wahpix.com
Justice Howard: justicehoward.com
Mark V: markvclassics.com
Sita Mae: sitamae.com
Aura McKay: auramckay.com
Pooya Nabei: pooyanabei.com
Corwin Prescott: corwinprescott.com
Jane Queen: dangerouslydolly.com
Adam Radosavljevic: adamradosavljevic.com
Keith Riley: keithriley.co.uk
Eduard Stelmakh: stelmakh.com
Ron Sumners: sumnersgraphics.com
Jeff Thrower: jeffthrower.com


The Foreword Writer
Guy Aitchison began tattooing in 1988 after falling in love with the art form as a teenager. This was a time when the new wave of innovative young tattooists was just starting to emerge from the subcultural woodwork of the punk rock scene, an opportunity that Guy embraced with all the energy he could. He apprenticed with Chicago's Bob Oslon, and through his work he was lucky enough to be able to travel, meet other artists and try new things. Within his first year on the job, he had already scored his first article in Tattoo Magazine, and he continues to publish regularly. He now works steadily on his regular clientele in a studio he shares with his wife, tattooist Michele Wortman.
Guy is best known for his abstract biomechanical tattoo work, a style that is loosely inspired by the work of Swiss surrealist H.R. Giger, but which Guy has taken in his own personalized direction. Aiming for a maximum visual impact, his style incorporates every trick in the book to imbue his work with depth, luminosity, texture, flow and realism. Although he continues to work regularly in more illustrative styles, his abstract work is the place where he can be most experimental and innovative, reducing the complex graphic equation of a tattoo down to its elemental parts. It is a realm of exploration that continues to bear fruit to this day.
Guy has taught seminars to other tattooists for the bulk of his career, and has also published a number of educational books, the most significant being his massive educational package Reinventing The Tattoo, which can be seen on his website.
Links