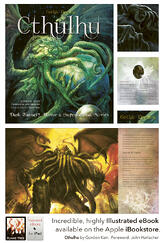 The stars have aligned, oceans have parted; and now Cthulhu no longer dreaming lies dreaming in the depths, but is here. We're incredibly proud of our amazing illustrated title, now available in hardback print and also digitally via the iBookstore. The powerful and terrifying images of Cthulhu look astonishing on the iPad, each colour popping because of the device's high-res screen. These illustrations also look incredible in our print book; we've used high-quality, glossy paper, so that each image stands centre stage in all its glory.
About the Book
The monstrous sea god Cthulhu was born from the mind of H.P. Lovecraft, considered the master of creepy stories and weird horror fiction. First brought to life as part of his short story 'The Call of Cthulhu', published in the magazine Weird Tales, and later featuring in several of Lovecraft's works, Cthulhu is an iconic figure that has inspired imagination and terrified generations. It's name has come to define the whole mythos built up around Lovecraft's strange worlds and pantheon of monsters that inspire many writers to this day. Our book delves into how this monster from the deep has inspired not only fiction, but also movies, games and of course fantasy art.
Cthulhu Artists
As a book like this really succeeds because of the quality of its images, we're proud to represent a range of artists who have contributed to this title. Despite differences in style and the way they work, it's easy to see how the minds of these talented artists have been ensnared by the idea of the ancient and malevolent power that is Cthulhu. See below a full list of the artists featured in Cthulhu and a link to their respective portfolios.
A special thanks to the artists who contributed their amazing artwork to the book.
Barret Chapman mrbchaps.blogspot.co.uk
David Hartman www.sideshowmonkey.com
Claire Beard www.clairebeardart.com
Eddie Sharam www.eddiesharam.co.uk
Dino Tomic www.atomiccircus-tattoo.com
Kostja Schleger odinoir.deviantart.com
Bryan Reagan fineartamerica.com/profiles/1-bryan-reagan.html
Rafal Badan obrotowy.deviantart.com
Cloud Quinot nocturnalcloud.daportfolio.com
Gwabryel gwabryel.blogspot.co.uk
RJ Palmer rj-palmer.com
Alex Ruiz www.conceptmonster.net
John Dotegoweski johndotegowski.deviantart.com
Manthos Lappas mlappas.deviantart.com
Justin Fairfield methuselah3000.deviantart.com
Peter Siedl www.petersiedl.com
Steve Hamilton balance-sheet.deviantart.com
Borja Pindado borjapindado.daportfolio.com
Cyril van der Haegen www.cyrilvdh.com
Arco den Haan arcosart.deviantart.com
Carrie Hanscom www.elfwood.com/~carrie
Keith Talbot ktalbot.deviantart.com
Sady M. Izé samize.blogspot.co.uk
Maria Sweeney society6.com/MariaSweeney
Mitchell Nolte mitchellnolte.deviantart.com
Kari Christensen karichristensen.com
Diego Simone www.diegosimone.com.ar/index.html
Sareena von Shinnok sareenavonshinnok.deviantart.com
Douglas Sirois www.dougsirois.com
Abigail Larson www.abigaillarson.com
Alvaro Nebot blewzenart.blogspot.co.uk
Łukasz Pakuła sammael89.deviantart.com
Jason Juta www.jasonjuta.com
Dave Oliver dloliver.deviantart.com
Eric Ridgeway emortal982.deviantart.com
Ellena Korth www.ellustrations.de
Misael Barbosa www.misaelbarbosa.com
Daniel Kamarudin thedurrrrian.deviantart.com
Dan Harding www.danhardingart.com
Wes Jones hwango.deviantart.com
Rick Sardinha ricksardinha.com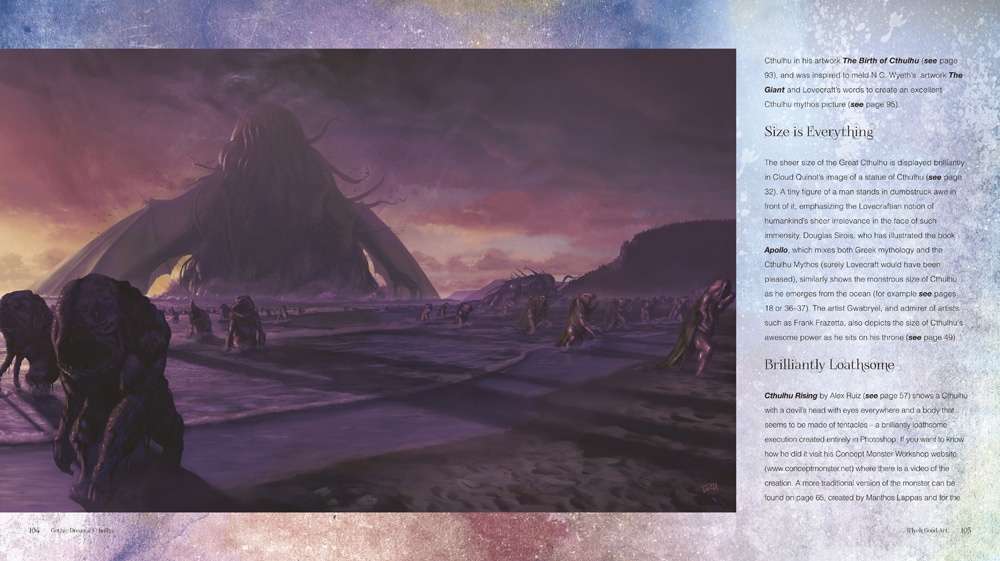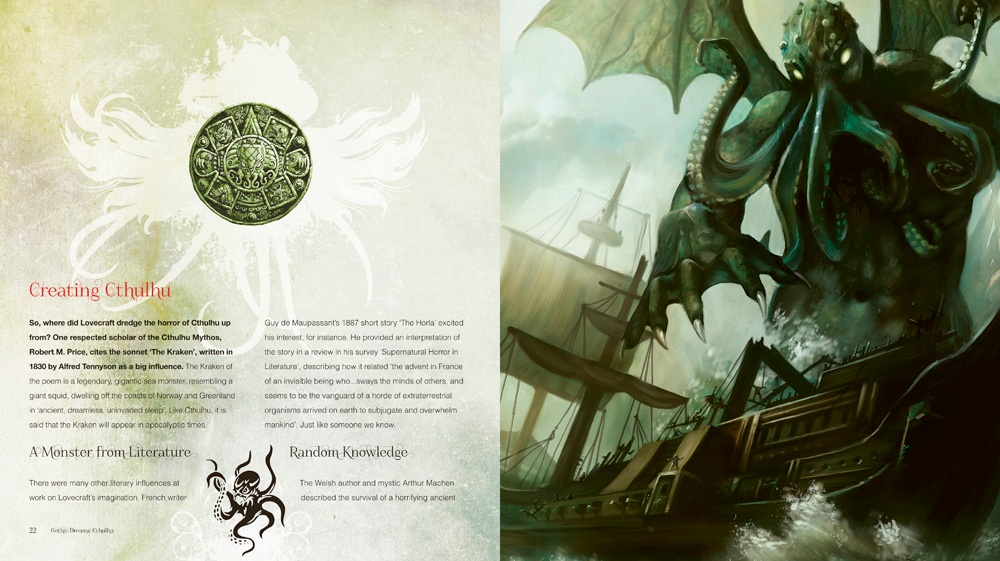 Foreword by John Harlacher
John Harlacher is the publisher and creative director of Weird Tales magazine, the world's oldest magazine of dark and strange fantasy. Founded in 1923, Weird Tales introduced the world to writers like H.P. Lovecraft (Cthulhu), and Robert E. Howard (Conan the Barbarian), and artists like Virgil Finlay and Margaret Brundage (The queen of gothic fetishism).
You can have a look at the book on Amazon by clicking here, or on the iBook store by clicking here.
Links
Cracked actually have a very comprehensive guide to all things Cthulhu. Check it out here.

Kit yourself out with a wide selection of Cthulhu based paraphernalia here.

Learn about the real-world cults inspired by Cthulhu here.