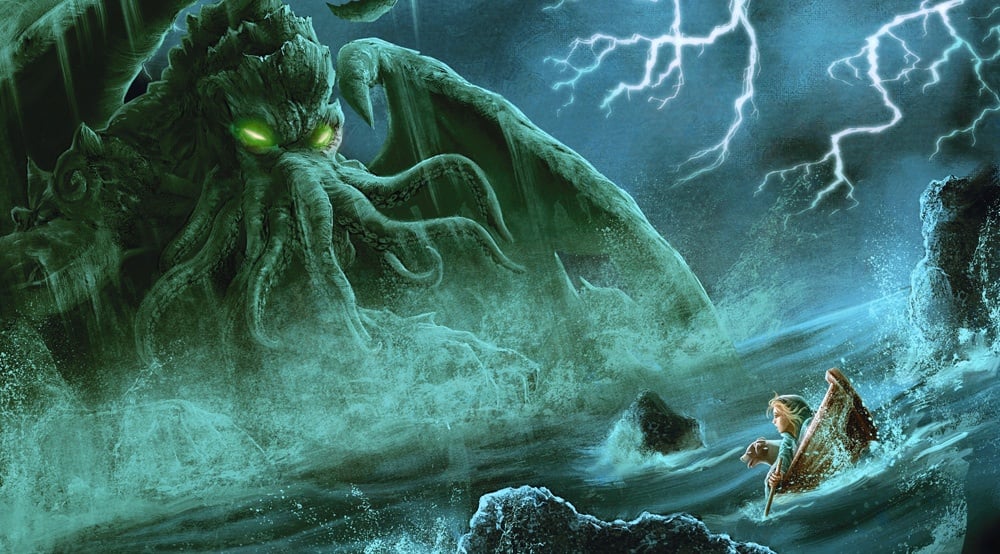 Take weird horror storyteller H.P. Lovecraft's terrifying and malevolent creation Cthulhu, and mix with the fantastical scope of Greek mythology; and what do you get? A uniquely-imagined epic adventure, with vivid storytelling and powerfully atmospheric artworks. I'm talking about the graphic novel Apollo, written by Erik von Wodtke and illustrated by Douglas A. Sirois.
Dark Tales
As someone who has a particular love of ancient history and classical myths, as well as having a penchant for horror fiction and fantasy art – this novel brought everything together for me. And these elements all fit perfectly together. Other graphic novels such as Frank Miller's 300 have proved that ancient Greek tales, which feature dark themes, wrathful gods and monsters, heroes and warriors and clashes against the supernatural, fit perfectly into this genre. Lovecraft himself would surely have been pleased with this book – he was fascinated by the fantastic adventures of gods and men in Greek mythology. His prodigious literary skills were already on show at the age of seven when he paraphrased the Odyssey in the 88 lines of 'The Poem of Ulysses', his earliest surviving literary effort.
The Story
Apollo takes the story of Artemis and Apollo, twins born from the woman Leto and fathered by King of the Gods, Zeus. Zeus' wife Hera is enraged by her husband's infidelity and in her jealousy tries to prevent Leto from giving birth safely. It all flows with the natural canon of classical mythology as we might know it. But the new twist on this tale is that Hera sends a gigantic, octopus-headed monster after Leto in her spite: enter our favourite and instantly recognisable monster from Lovecraft-lore, Cthulhu. H.P. Lovecraft's creation has inspired many writers and artists the world over, and in fact the term 'Cthulhu mythos' has come to encompass the stories and pantheon of gods that have been inspired by Lovecraft. Apollo is continuing in the tradition of the 'Cthulhu mythos' tales, and is something any fan of dark terror and fantasy art will enjoy.
Other iconic elements recognisable from ancient tales are also brought into play. Apollo and Artemis must face a chimera (a fire-breathing hybrid of a lion, a goat and a snake), a giant (who is sentenced to have his liver eaten daily, just like Prometheus), and they travel via a winged chariot pulled by flying horses. The heroes also face terrifying consequences from an object they acquire – The Book of the Dead. This is presumably a reference to the Necronomicon, another object famously from the 'Cthulhu mythos'.
The Art
This is no mere fantasy fiction book however – part of what makes the book so gripping are the full page artworks, examples of which can be seen throughout this blog. A bloody battle in the ice is evocative of scenes set behind The Wall in A Game of Thrones; while the depictions of Cthulhu, with his menacing eyes and tentacles dripping from his face, are particularly ominous, bringing to life the monstrous size of the ancient god. These depictions are especially dark and foreboding. The graphic novel style really adds to the pacing of the story – it's all about action as the story flies from one supernatural battle to another. It's clear that the artist had enormous amounts of fun in pushing the boundaries of imagination. We love the artworks so much we included four of them in our own book Cthulhu discussing the fiction, art, movies and games influenced by this ancient creature of the deep.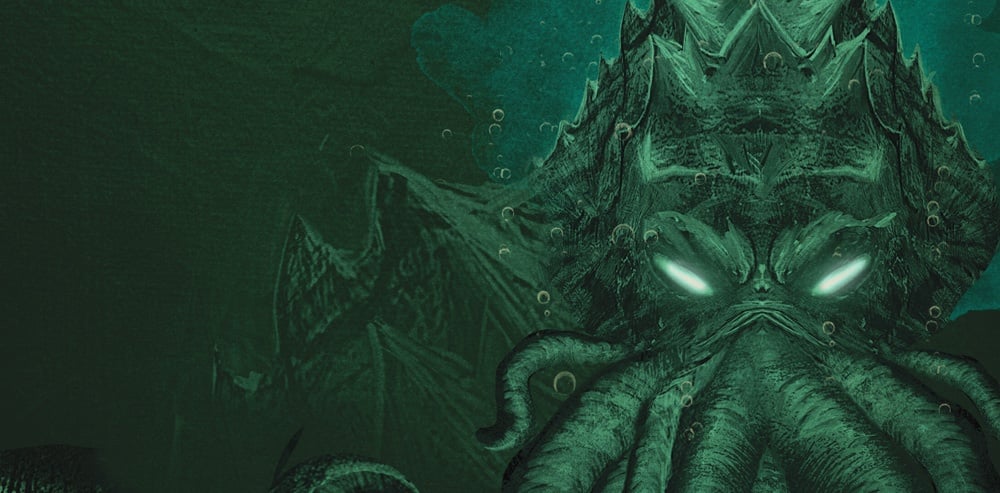 The Creative Team
Erik von Wodtke (writer) is an award winning screenwriter and artist who works as a development producer on a wide range of film and television productions across the global entertainment industry. He has also worked for many years in professional design and integration of renewable energy and sustainable green architecture.
Douglas A. Sirois (artist) is an internationally known award winning illustrator, educator, husband and father to two boys. He has illustrated and designed for many facets of the entertainment industry including graphic novels, theatrical movie posters and development art for film and animation.
The images (from top to bottom) are: The Chase, Submerge, Descent and Awakening by Douglas A. Sirois. All images are © 2013 Erik von Wodtke, Douglas A. Sirois and Markosia Enterprises, Ltd. Used in Apollo by Erik von Wodtke, Douglas A. Sirois. Published by Markosia Enterprises Ltd 2013.
Links