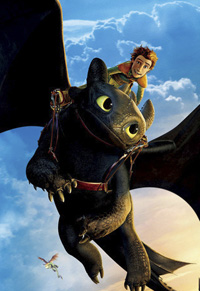 Dragons have become ever popular in recent years, fuelled earlier this month by the release of How To Train Your Dragon 2, which was prompted by the massive success its predecessor. Earlier this year there was a lot of excitement over Benedict Cumberbatch's incredible portrayal of Smaug in the second Hobbit film, The Desolation of Smaug. It was agreed by everyone that Cumberbatch's Smaug was impressive, with a fiery presence that really made the film what it was. Which isn't surprising, given that Cumberbatch writhed around on set while saying his lines, to really get into the Smaug spirit. So it's a great time for fantasy fans, and in particular those who love dragons! Here are some of our favourite fantasy dragons in film, T.V. and art today.
How To Train Your Dragon 2
Both critics and fans have adored How To Train Your Dragon 2, saying that it lives up to, and even exceeds, the expectations created by the previous film. Hiccup, the protagonist of that film, is now grown up and on a mission to prove himself to his family and friends. His dragon, Toothless, is still in tow. But this time they accidentally discover a new land where dragons are used for a whole new purpose and this leads the film in a darker, more sinister and exciting direction than before. It is a truly epic fantasy adventure.
Game Of Thrones
Another gripping fantasy series, which has taken over our lives, is Game of Thrones – both on TV with the HBO series and on our bookshelves, with George R.R. Martin's epically long novels. Daenerys Targary, Mother of Dragons, is the one to watch, as she receives three petrified dragon eggs that hatch as she attempts to sacrifice herself in fire. They become the at first small but powerful Drogon, Rhaegal and Viserion. Emilia Clarke, the actress who plays Daenerys, received an Emmy for Outstanding Supporting Actress and there is no doubt that her and her dragons are the blaze that keeps this show going. Unsurprisingly, there is some outstanding art of Daenerys with her dragons. In particular Michael Komarck really brings her to life with his piece 'The Unburnt'.

The Lord Of The Rings
Peter Jackson's The Lord Of The Rings film trilogy came out at the beginning of this decade. Legendary fantasy artist John Howe found himself as the person in charge of the visual tone of the movie as the concept artist. His beautiful watercolour illustrations for both the films and other J.R.R. Tolkien titles, calendars and games are outstanding. He has written and contributed to endless fantasy books and sets the standard for fantasy illustrations, particularly on book covers. He takes his work very seriously and researches everything in great detail to make sure everything is accurate. He is not adverse to putting on a suit of armour or brandishing a sword to get inside a character! If anyone would be able to pin down exactly what fantasy art is it would be Howe, but there is still much excitable discussion surrounding fantasy art and dragons…
Eragon
When the eponymous farm boy hatches a mysterious 'stone', he is confronted by a dragon that he names Saphira. This popular series of books was written by Christopher Paolini, who started when he was only 15 years old. After initially self-publishing before scoring a deal with Alfred A. Knopf, the series has become astoundingly popular, leading to a film adaptation in 2006. However, what we like most is the beautiful illustration on the front cover that helps inform our imaginations just enough to help bring Saphira to life.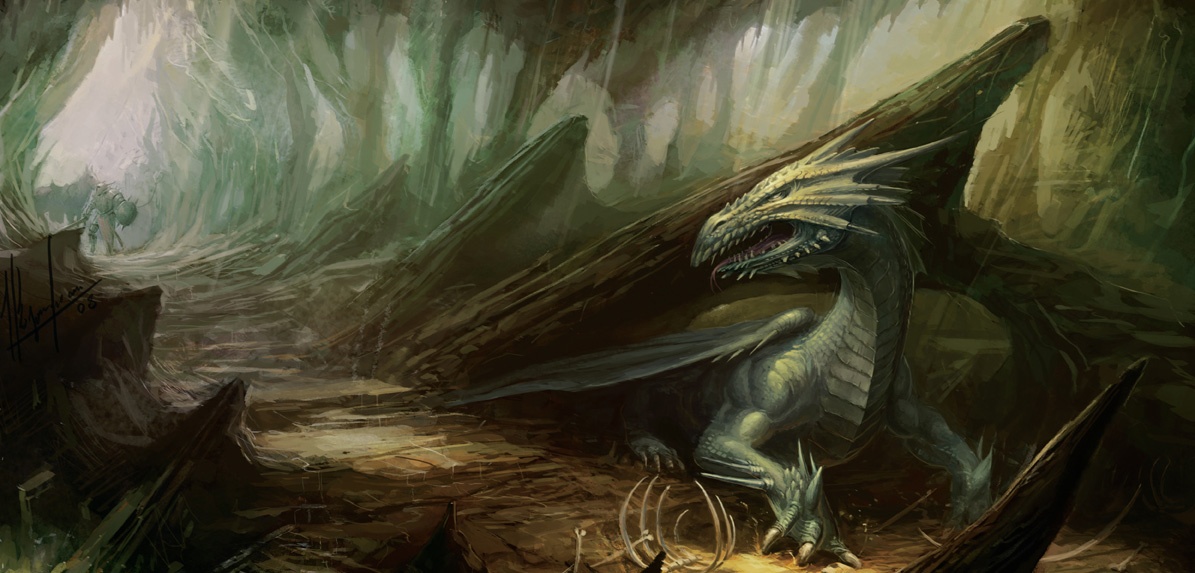 Undefinable Fantasy Art
It is very hard to say that fantasy is one definable thing. Artist Bob Eggleton describes it as an other worldliness, beyond the rules of science fiction. He's right, fantasy definitely doesn't need any rules, as it relies purely on imagination and magic, much as dragons do. But at its best, fantasy has elements of the plausible – you can almost convince yourself that dragons really did exist in the past, flying across the sky above large lizards and dinosaurs. And even if you can't quite imagine that, they certainly exist for all of us now!
What do you think of our selections, did we miss anything out? Let us know in the comment section what your favourite depiction of these amazing winged beasts are.
For more incredible Dragon art check out our book, Dragon Art by Graeme Aymer (ISBN: 9781847863003). Featuring an amazing collection of contemporary dragon artwork, including work by fantasy legends John Howe, Don Maitz and Bob Eggleton, it's also packed with fascinating discussion of dragons and fantasy art. Take a look at the book on Amazon here.