With the new movie, Avengers: Age of Ultron about to hit cinemas tomorrow, we thought we'd take a look at the epic might of superhero movie sequels, reboots and their general appeal to the public.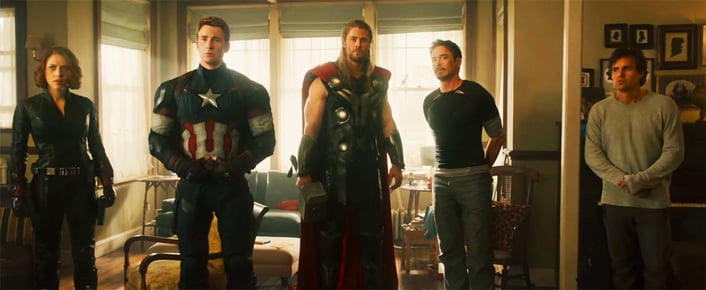 Avengers: Age of Ultron has been generally received well. Rotten Tomatoes gives it 85%, an excellent rating, especially for a sequel. Critics are saying the new movie is exciting, witty, eye-catching, and generally darker than its predecessor. One critic, Helen O'Hara, says 'Age Of Ultron makes its triumphant, giddily enjoyable predecessor look like a secondary school production of Our Town.'
With overall good reviews, Age of Ultron promises to excite and satisfy fans with excellent character development, explosive fight scenes, and the witty banter we have all come to love. So many superhero movies coming out now and in the near future, and it is hard to keep the stories fresh and the fans interested. It seems as though Age of Ultron has done this well, and we at Flametree look forward to watching it ourselves! Not every sequel or reboot is met with such good reviews, however.
Amazing Spiderman II
After receiving mixed reviews, with some critics saying the film was fine whilst others said it 'pales in comparison to its predecessor' (Todd Jorgenson), the Amazing Spiderman II did not live up to the success of the previous Amazing Spiderman movie. It certainly did not stand up next to Sam Raimi's original trilogy either, and that's including the awful third act (read, Emo Spiderman).
With time consuming background exposition out of the way, this movie had more room for character development and time to explore more of the Spiderman mythos. Instead, 'AS2' seemed to wasted this opportunity. The same critic, Jorgenson, said the movie 'emphasizes spectacle more than story,' an accusation that has been levelled at superhero movies in the past.
Andrew Garfield's web slinger fell just short of his predecessor, with fans arguing over who played Peter Parker better- Toby Maguire or Garfield. A sequel can often struggle to live up to the original and when you're rebooting a franchise that was spectacular to start with, well, you have you're work cut out!
The Fantastic Four: Rise of the Silver Surfer
The first Fantastic Four was a fantastic flop when it first came out in 2005. Unfortunately the Fantastic Four: Rise of the Silver Surfer (2007) fared little better. Critics called it juvenile, simplistic and substance-less. One critic for Entertainment, sighed 'if you swept the cosmic dust of the superhero boom into a flimsy dustpan, you'd have the Fantastic Four franchise.'
Sadly, the two movies did nothing to help the Fantastic Four franchise become something worth talking about. With the upcoming reboot, we can only hope for a more fantastic story we can really sink our teeth into.
Teenage Mutant Ninja Turtles
Some movies have poorly reviewed originals and are rebooted in the hopes of creating a franchise worthy of the heroes that star in them.
The ever loved TMNT franchise is packed with good material to turn into a blockbuster feature film. Though turtles have hit the silver screen many times before, they have never succeeded in making it big. Unfortunately the most recent reboot was also unable to break this trend.
'Those poor old Teenage Ninja Turtles should have been left in hibernation' - Geoffrey macnab
The movie is little more than a thinly veiled marketing tactic to sell merchandise and lazily relies on fans enthusiasm for the Ninja Turtles to carry it through.
Blade: Trinity
'A trainwreck set to a booming soundtrack, turning vampire hunting into a screen chore while it almost intentionally torches the macabre groundwork laid down by the first two features' - Brian Orndorf
A sad ending to an enjoyable trilogy, Blade: Trinity was met with universally poor reviews. With only a 26% rating on Rotten Tomatoes, Blade: Trinity has been dubbed, dull, bloodless, and rusty. The vampire-hunting hero was lost in the sadly done conclusion, ending the series on a sour note.
Avengers: Age of Ultron is not the final movie in the Avengers series. Marvel has been building up an intense story line in an epic superhero movie marathon. Fans are eager to line up for the next Marvel release: Ant-Man. With such good reviews Avengers: Age of Ultron will surely not disappoint!
All of these movies and many more are featured in our upcoming book Superheros: A Chronicle of Movie Posters (ISBN: 9781783615933)! If you are a fan of movie posters and superheros, pre order it on amazon here.
Links
The highly anticipated Batman V Superman movie is around the corner! Watch the trailer here!