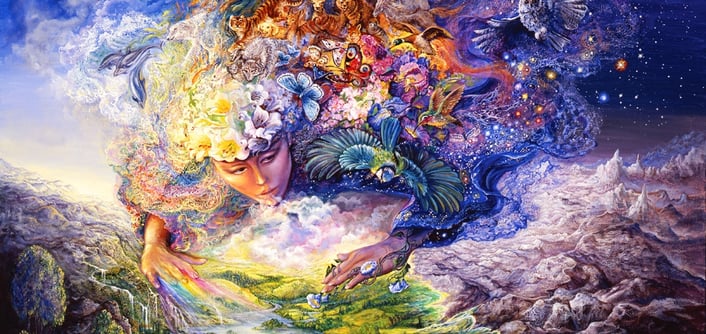 Dreams can transport us to entirely new worlds and universes. Waking up from dreams can sometimes be the most disappointing part of one's day, especially if it was a vivid fantasy on a peaceful, romantic land – away from the polluted air, the irritable, fluxed traffic and the overbearing paperwork on your desk. On the other hand, a good dream can turn around one's day completely. Unfortunately, as it stands we are subject to the whims of our subconscious and never fully in control of which turns our dreams will take. It's amazing to think that technology can do just about anything besides place us where we really want to be – though that may be about to change. For now perhaps the closest we can get to reliving our night time fantasies is through our relationship with art, and this is where Josephine Wall and her our new Gothic Dreams book Celestial Art comes into play.
Without any effort at all, one just has to glance at a painting by Josephine Wall to be expeditiously sprung into a celestial, magical, fantastical universe. The peace, colour, and tranquillity engulf you. Her wonderful paintings range across all kinds of dazzling worlds, depicting surreal takes on nature, enchanting fairies and mermaids, intimidating goddesses, as well as environments filled with adventure and action.
The worlds she paints over-exceed the expectations where any one individual would want to be. I know for me as soon as I fully looked at one of her paintings in the book, my heart fluttered as if it were made of trillions of little butterflies. Fairies come, kiss me on the cheek, and guide me through a land of mystery and bliss. I haven't felt pure and at utter peace and happiness since my innocent, naïve childhood. Everything one can imagine is included and presently painted out in Josephine Wall's book. Each page is loaded with fantastical, celestial artwork that will take you beyond your wildest, fantastical, everyday dreams.
'Colour, form, and any kind of creativity' is something that Josephine Wall has obsessed over since she began working. Her acrylic paintings explode out of the canvas, steered by these three concepts she so faithfully lives by. Her free spirit and energy drives this new book, Celestial Art. As she states in her foreword, most of her paintings 'contain a message or story to stimulate the viewer's own imagination'.
After one seemingly innocuous look into the book you may find yourself hooked on her fantasies, flipping through each and every page in one sitting. Don't believe me? Well, one of Wall's biggest fans is Britney Spears: she has purchased several limited-edition artwork pieces and personally requested original paintings for her website and album artwork. Can you blame her? Who wouldn't want to use her paintings to promote an album? They instantly grab attention, inspiring adventure after adventure, bliss after bliss, and smile after smile.
Depicting the most desirable ends to our imagination, fantasy can often take precedent over our minds. In today's empirical world it is refreshing to escape to a land of elves, talking animals and plants, angels and spirits, unicorns, fairies, and faraway environments with mythic creatures. These fantasies and worlds Wall transports us to transform realities, recreate exhilarating magic, and test that human desire to live to the fullest. This new book is something every individual will want to keep with them at all times for a burst of energy and peace. Josephine Wall is more than a visual artist and storyteller; she is a pioneer of the desirable imagination.

Take a closer look at our book Celestial Art on our website here, or click here for Amazon.