It's fair to say that among all the movie announcements and trailers revealed at last weekends Comic Con 2015, it was superhero movies that really stole the show. Yesterday we analysed the amazing second trailer for Superman v Batman: Dawn of Justice, you can click here to read it.
Today we're going to focus on the other big superhero movies: Suicide Squad; Deadpool; X-Men: Apocalypse; and Fantastic Four.
We're going to cover information and speculations based on the leaked trailers too, so be warned:
*** Spoilers ahead ***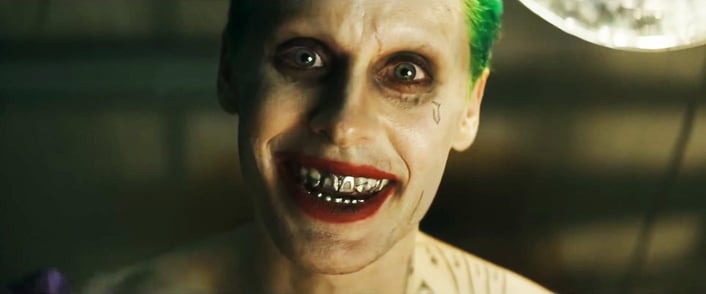 Suicide Squad
Good and bad news here. Sadly for the film's producers, Suicide Squad's trailer was filmed on a mobile and leaked almost immediately. Rather than have a blurry trailer watched by millions the decision was made to release it in HD ahead of schedule.
So, whilst you should definitely NOT illegally share unreleased content, this leak has meant we get a sneak-peek before we were meant to, which is actually pretty exciting.
There's a lot of groundwork laid in the three and half minute trailer. We start with Viola Davis' character explaining that a group of incarcerated crims could actually do some good. Harley Quinn (played by Margot Robbie) is first to be revealed, then we see the rest of the crew: Will Smith as Deadshot; Cara Delevinge's Enchantress; the fearsome Killer Croc; team-leader Rick Flag; rope-expert (whatever that means) Slipknot; the katana wielding… Katana; fire starter El Diablo; and the loser of the name-game, Captain Boomerang.
This makes up the meat of the squad, but just before the trailer ends we see a sneak peek of Jared Leto's Joker. Be warned: it's a fair departure from Heath Ledger's turn in The Dark Knight.
Deadpool
Possibly the fan-favourite of all Comic Con's trailers. As with the other movies announced, the producers are trying to suffocate a leak - but information always seems finds a way. Here's what we've heard so far:
It's no secret that Deadpool will be an R-rated movie, which Reynolds gushed about during the movies panel. The trailer reminds the audience of this, with tonnes of gory action including, so we hear, a brutal triple headshot.
All of this action is delivered alongside an ongoing commentary by Deadpool, who's irreverent, a scatter-brain humour comes thick and fast throughout the trailer.
Another key trait of the 'merc-with-a-mouth' is that he always breaks the fourth wall. In print he somehow knows he's in a comic, and so the same applies to this movie. He talks to the audience and addresses the cameos of Deadpool creator Rob Liefeld and Marvel legend Stan Lee. It's weird. But a good weird.
X-Men: Apocalypse
The tone is a bit more sombre for this one. On the back of two successful movies since the franchise's reboot, Apocalypse sees Oscar Isaac playing the eponymous baddie. We're also introduced to Sophie 'Stansa Stark' Turner, who plays Xavier's protege, Jean Grey.
Image via Bryan Singer's Instagram
A bit like the Superman v Batman plot, it seems the X-Men will doing battle with a god. Apocalypse claims to have been known as Rah and Yahweh, which are pretty huge claims to fame. It's not all doom and gloom however, there's a bit of humour to be found via Michael Fassbenders Magneto in the trailer. After the villan's grand entrance Fassbender looks over his shoulder casually and asks:
'Who the f*ck are you?'
During the panel Hugh Jackman confirmed he only had one more Wolverine outing and was rewarded with a 'best-bit's compilation from his time with the series. We also saw Stan Lee pop up for a chat, as well as Channing Tatum who, if you didn't know, is set to play Gambit sometime next year. The jury's out on that one...
Fantastic Four
Lastly we come to one of the weaker superhero movies. It's not a huge surprise when the competition is so fierce, but after going from the Superman v Batman or the Suicide Squad trailer, to Fantastic Four's… well, it just doesn't even compare.
The movie has not had the kindest treatment in the press during its campaign and this latest (and last) trailer does little to convince us that the final product will really amount to much. We're shown Doctor Doom (who has never really interested me much as a villain anyway) and a bit more of the quartet's powers. But otherwise we seem to in for another origins story that doesn't do much to shake up an overly familiar formula. Things aren't helped by the previous two Fantastic Four movie's legacy, but we can only hope that these films have served to propel this new movie to be of a higher standard, even if the trailers are not.

We love superhero movies here at Flame Tree. So much so that we've compiled all of the most awesome movie posters ever made into one incredible book. With plenty of information on the history of superheros in cinema, the rest of the title is packed with jaw-dropping images of superheroes doing their thing. Take a closer look at the book here.