Adapted from an earlier play by Dyson and Nyman, Ghost Stories focuses on the tale of Professor Goodman (played by Nyman himself). Goodman works as an investigator and as an exposer of fake and fraudulent psychics. The film begins its main plotline when Goodman receives a mysterious package from a famed psychic investigator who is looking for closure about three cases he cannot explain.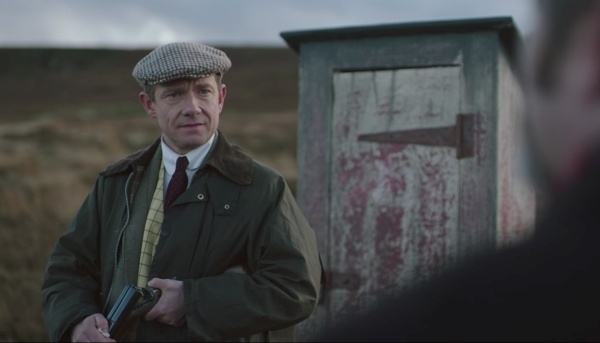 Believing them to be just as simple as any other cases, Goodman takes them and begins his work. We meet a scarred night-watchman (Paul Whitehouse), a frantic teen (Alex Lawther) and a poltergeist plagued stock broker (Martin Freeman). All three are fantastic in their roles and allow the directors to tell three very different stories. Not only does the content vary across the three but the style and direction also changes. The central story, with Lawther's tale of a late night drive, is probably the most gripping and I think much of this is down to Lawther's performance. He manages to play between truly creepy and scared to death in a manner that is unsettling and will leave you unsure if you are sorry for him or scared of him.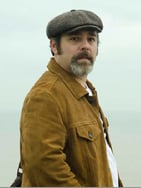 What I feel Ghost Stories is so successful at is the way in which it plays with classic tropes of horror. It makes you feel that you are watching a classic for the first time and you want to go back and search for clues that you missed. It is full of devices like jump-scares but pairs these with slow building tension too and a central narrative that does leave you feeling engaged. Sometimes you feel as though you know where it's going and sometimes you're right and much of this serves it well in being a love letter to classic horror. I think you can feel that Dyson and Nyman enjoy the genre for both its successful thrill rides and campy missteps, and that they want to feature as much of the genre as they can in under a hundred minutes.

If you are interested in ghost stories then you'll love our collection Chilling Ghost Stories!
Links
You can pick up Chilling Ghost Stories, part of out Gothic Fantasy series here.
click here for an interview with Dyson and Nyman about the making of the film.
For a look at 15 of the scariest ghost films of all time, click here.