In this month's author Q&As we have Glenn Rolfe, author of August's Eyes. Find out more about the novel, what influenced the story and what he's working on now!

What is the book about?
A social worker's strange dreams are leaking into his real life. Survivors guilt from an incident from his past long forgotten comes on strong as he faces unimaginable foes in a fight for his family and his salvation.

What are the underlying themes?
It's a story about forgiveness and redemption, and strange nightmares that come true.



Did you base your characters on anyone you knew?
I always put a bit of myself in probably each character. This antagonist in this one has influences from some of America's worst serial killers.



Who influenced you most in the writing of the book?
My wife and some friends that work or have worked in the social services industry. Podcasts like My Favorite Murder, and movies by John Carpenter and Wes Craven.



Is there any advice you can give someone starting to write?
Write the kind of books and stories that YOU want to read. Stay true to who you are, and trust in your talent.



Where did you write the book?
I wrote this book at home, sitting at my desk in the middle of the night while my family slept.



Did you write in silence, or to any particular music?
Mostly silence, but when I needed a creepy scene, I tend to listen to movie soundtrack scores. Jaws, Close Encounters of the Third Kind, A Cure for Welllness, and anything by John Carpenter.



Did you find it hard to write? Or harder to edit your own work?
Editing is always hard, that's why I like to have others do it for me. This particular novel was a challenge for me. Bringing two worlds together and making it believable was a fun and interesting puzzle. I've never attempted this type of novel before and I'm very happy with how it turned out.



What was it like to be edited by someone else?
I love it. ALL writers need good editors. They make us look great.



What are you writing now?
I'm currently working on a novel about the satanic panic of the late 80s and early 90s. I'm aiming for a bit of a darker feel, a Silence of the Lambs vibe.


Thank you!
---
Thank you to Glenn for taking the time to talk today about August's Eyes. You can pick up his book from the 17th August. It will be available in paperback, hardback and ebook. Check out our website for details.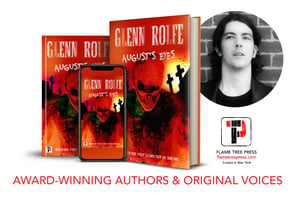 Glenn Rolfe is an author/singer/songwriter from the haunted woods of New England. He has studied Creative Writing at Southern New Hampshire University, and continues his education in the world of horror by devouring the novels of Stephen King, Ronald Malfi, Jack Ketchum, and many others. He and his wife, Meghan, have three children, Ruby, Ramona, and Axl. He is grateful to be loved despite his weirdness.

He is a Splatterpunk Award nominee and the author of The Window, Becoming, Blood and Rain, The Haunted Halls, Chasing Ghosts, Abram's Bridge, Things We Fear, Boom Town, and the collections, Slush. and Land of Bones.

He is hard at work on many more. Stay tuned!