Next up for our August author Q&As we have Jason Parent, author of The Apocalypse Strain. He discusses some of the themes in the novel, whether he listens to music whilst writing and advice for new writers! Be sure to check in tomorrow for more writing inspiration!


What is the book about?

The story is above. Essentially, it is a sci-fi/horror thriller. Without sounding pretentious (I hope), I guess it is somewhat a cautionary tale concerning scientists playing with things they don't really understand and the (perhaps overstated) dangers of doing so. But it is likely that scientists will find other pandoraviruses that could be harmful or even deadly to humans if not handled with every precaution.

What are the underlying themes?

Dangers of scientific advancement; global terrorism; bigotry based on race or national origin.

Who influenced you most in the writing of the book?

John Carpenter movies and fast-paced horror books like Savage Species by Jonathan Janz.

Is there any advice you can give someone starting to write?

Read extensively in your genre. Write often. Edit even more often and consult unbiased editors and beta-readers for impartial critiques.

Where did you write?

I write in a quiet, unadorned room. I let my mind imagine the scene as I write it and get lost in the story.

Did you write in silence, or to any particular music?

I need silence. I am easily distracted. I can write with light background noise, like in a coffee shop with indistinct chatter.

Did you find it hard to write? Or harder to edit your own work?

Editing is harder. It's easier to see the mistakes of others than your own. So I go through each work several times, then send it out to editors.

What was it like to be edited by someone else?

I enjoy being edited. I learn so much from a good editor, and those I have used in the past have definitely advanced my craft. Someone once said, "A writer is only as good as his editor." I believe that whole-heartedly.

What are you writing now?

I am writing a couple of different pieces. I just finished up several short stories. The primary wok on my plate is a sort of crime-legal-light-supernatural thriller.



Thank you!
---
Thank you to Jason for taking the time to talk today about The Apocalypse Strain. You can pick up this book, along with the other August releases now. It will be available in paperback, hardback and ebook. Check out our website for details.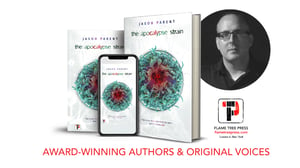 In his head, Jason Parent lives in many places, but in the real world, he calls New England his home. The region offers an abundance of settings for his writing and many wonderful places in which to write them. He currently resides in Rhode Island.

In a prior life, Jason spent most of his time in front of a judge... as a civil litigator. When he wanted a change, he traded in his cheap suits for flip flops and designer stubble. The flops got repossessed the next day, and he's back in the legal field...sorta. But that's another story.

When he's not working, Jason likes to kayak, catch a movie, and travel any place that will let him enter. And read and write, of course - he does that too sometimes.

Please visit the author on Facebook, on Twitter, or at his website, for information regarding upcoming events or releases, or if you have any questions or comments for him.

---
Make sure you check back in with the blog for more Q&As with the authors of our August releases!


FLAME TREE PRESS | August Releases | 1 | JG Faherty Q&A
FLAME TREE PRESS | August Releases | 2 | Jason Parent Q&A
FLAME TREE PRESS | August Releases | 3 | Steven Hopstaken and Melissa Prusi Q&A
FLAME TREE PRESS | August Releases | 4 | Vintage Crime Q&A
FLAME TREE PRESS | September Releases | 5 | Upcoming Titles