Next up for our August author Q&As we have Steven Hopstaken and Melissa Prusi, authors of Stoker's Wilde West. They have some advice for new writers, share who influenced them in writing the book and the difference between writing the sequel and the original Stoker's Wilde! Be sure to check in later for more writing inspiration!



What is the book about?

It's a story set in American West where Bram Stoker, the author of Dracula, teams up with Oscar Wilde to stop a mysterious Prophet and a powerful mining tycoon from trying to open the gates of Hell.

What are the underlying themes?

The first novel explores the corruption of unrealistic Victorian morals as it entered the modern age, and the personal price one pays for coming into contact with evil. This one examines cultures destroying one another. The West as they knew it was coming to end, civilization is transforming the wilderness, but at the horrible cost of genocide and the destruction of indigenous cultures. Everyone was moving ever westward hoping to find the promised land, but they have reached the end and have not found it.

Did you base your characters on anyone you knew?

Bram Stoker and Oscar Wilde did know each other in real life. They were both originally from Dublin, and Oscar's brother went to school with Bram. Bram actually wooed away Oscar's fiancée and eloped with her to London. The two men were forced to move in the same circles when Wilde became a playwright and Stoker became the manager of the most famous theatre in London. And, they both did tour America around the same time.

Who influenced you most in the writing of the book?

The original novel of Dracula was our biggest influence. As an homage, we wrote it in the same style: Like Dracula, Stoker's Wilde West is an epistolary novel told in journal entries, letters and news clippings. The last one was a Victorian penny dreadful and this one is a Western dime store novel. The Western is truly an original American art form and we thought it would be fun to play cowboys and vampires.

We've always liked the mix of horror and humor in Buffy the Vampire Slayer. There are little Easter eggs throughout the first novel pointing to the Buffy-verse that eagle-eyed readers may spot, and they'll find more in Stoker's Wilde West.

What is it like writing together?

We'd worked on screenplays together before – that's a much more common medium to find writing teams. We didn't find it all that different to co-write a novel. If you put egos aside for the good of the story it often can be easier to split the work. Having another person depending on you can also help keep you motivated and on track. We would usually outline together then go off and each write the chapters we were interested in writing, then the other person would rewrite that chapter. Eventually, through numerous rewrites, it starts to feel seamless. By the end of that process, it's hard to remember who originally wrote what.

What's different about writing the sequel vs. the original book?

A deadline! But oddly, that's actually making it easier rather than harder. Knowing that someone is waiting for it is incredibly motivating. Also, for the last couple years before Stoker's Wilde came out, we were doing more editing and tweaking than actual writing, so getting back into the swing of drafting brand-new content is energizing. And we know the characters so well by this point that it feels like reconnecting with old friends.

How did you tackle trying to capture Stoker and Wilde's quite distinctive voices?

We found a book of Oscar Wilde's letters and used that to capture how he sounded conversing with friends, which was different than his writing persona, though we drew on his published works as well, since that's the voice most people know.

Less is known about Bram personally, but he had written non-fiction books about his life in the theatre where he wrote as himself and that helped us get his voice right.


What was it like to be edited by someone else?

Enlightening! Fresh eyes see the flaws you can't. We've rarely had a rewrite make a story worse.

What are you writing now?

We are plotting out the third in the series, Stoker's Wilde World where Bram Stoker and Oscar Wilde finally enter the Realm on an expedition. This one will pay homage to Arthur Conan Doyle's "Lost World."

Is there any advice you can give someone starting to write?

Create a detailed outline, so you don't get lost. If dealing with historical characters, do your research first. You'll be surprised at what you uncover and how it can help propel your story. Keep your mind open to new ideas and how they can deepen your story.



Thank you!
---
Thank you to Steven and Melissa for taking the time to talk today about Stoker's Wilde West. You can pick up their book, along with the other August releases now. It will be available in paperback, hardback and ebook. Check out our website for details.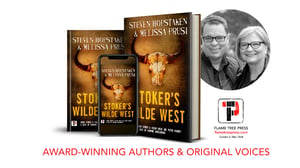 Steven Hopstaken was born in Michigan, where he spent his formative years watching and reading science fiction and horror. He spends his free time traveling; writing screenplays, short stories and novels; and practicing photography.

Melissa Prusi was born and raised in the Upper Peninsula of Michigan, often mistaken for Canada. She's been a video editor, a semi-professional film reviewer, a three-time champion on the quiz show Jeopardy!, and a Guinness world record holder (1990 edition, for directing the longest live television show).

Their first novel, Stoker's Wilde, was hailed by Booklist as "creepy and atmospheric. But also, really fun," which also describes the process of writing it.

They currently live in Minneapolis, Minnesota, where they love the arts scene but dread the winters. While they both currently make a living as website content managers, they have sold two screenplays, which have been lost to development hell. If they're not writing, you can usually find them at a movie, local theater production, improv show or pub quiz.

---
---
Make sure you check back in with the blog for more Q&As with the authors of our August releases!
FLAME TREE PRESS | August Releases | 1 | JG Faherty Q&A
FLAME TREE PRESS | August Releases | 2 | Jason Parent Q&A
FLAME TREE PRESS | August Releases | 3 | Steven Hopstaken and Melissa Prusi Q&A
FLAME TREE PRESS | August Releases | 4 | Vintage Crime Q&A
FLAME TREE PRESS | September Releases | 5 | Upcoming Titles