In this February's author Q&A we have Beth Overmyer, author of the second book in The Goblets Immortal series, Holes in the Veil. Hear all about what it was like to write a sequel, where the idea for the book came from and what she's working on now!

What is the book about?
Holes in the Veil picks up almost exactly where The Goblets Immortal left off. After finding his parents' remains, Aidan knows for certain that the mage who promised his family's safe return needs to be destroyed—before she can destroy him and all magic-kind. The best way to go forward is to seek the Questing Goblet, a magical vessel that grants those who imbibe from it complete success. It's a race to find it before the mage does. But Aidan is not the only one hunting, and allies may not be quite what they seem.

What are the underlying themes?
The need for home, to belong and be accepted. Aidan's lost his place in the world. Will he find it again?

What was it like, writing a sequel?
Having never done this before, it was quite mad. There's the need to keep facts straight (were his eyes brown or black? Did I name the ice blade in book one, or does that come later? And so forth and so on), obviously. I've relied a lot on having info strewn across many notebooks (and computer documents), but I've also been putting together a handwritten series bible, which I'm rather proud of.

How long did it take you to write a first draft?
This has been the fastest I've ever written anything this long: it took me less than seven months. I wrote a wee bit of draft one in 2018, but the majority of it was written from February 2019 until sometime in June or early July 2019.

Where did the idea for this book come from?
The series was born of two words that popped into my head: warring goblet. I had no idea what they meant, but I hung onto those words and let them simmer. Then I began to feed the idea and ask questions (are there other goblets? What do they do?) and then I sat down and wrote.

Where did you write the book?
The same as the first book: I wrote in my small Ohio home in my small Ohio office/room and in a small café in the next town over.

Do you believe in writer's block? If so, how do you combat it?
I do believe in the dreaded writer's block. It has different causes: burn-out, self-doubt, poor time management, anxiety, etc. Sometimes, it's best to just walk away for a while and do something else entirely or pick at a back-burner project. The worst thing you can do is berate yourself and heap on the guilt.

Did you find it hard to write? Or harder to edit your own work?
This time around, it's a close call. On the one hand, this was my first time writing to a deadline that wasn't just self-imposed: other people were depending on me to finish on schedule. On the other hand, I can be such a perfectionist that calling the manuscript a "final" draft and sending it into Flame Tree was terrifying. What if I got it wrong? I think editing before sending my final draft in wins as the hardest thing this time.

What was it like to be edited by someone else?
It's humbling. You have to put your pride aside and really be willing to shred (and let others shred) your "baby." But the editors have all been great, and they're open to discussion. Whatever's best for the book.

What are you writing now?
Right now I'm writing book three in The Goblets Immortal series, and I've been pecking away (on and off again) at a historical fantasy novel, a paranormal mystery, and some good ol' urban fantasy.
Thank you!
---
Thank you to Beth for taking the time to talk today about Holes in the Veil. You can pick up his book from the 16th February. It will be available in paperback, hardback and ebook. Check out our website for details.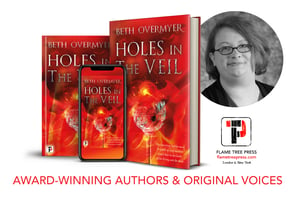 Beth has authored several books—In a Pickle, a middle grade novella, and Circus in a Shot Glass, a women's fiction novel, being among them. She's in love with the fantasy genre, mysteries—especially when there's tea and/or a quirky sleuth involved—, and wouldn't say no to reading and writing in every genre but hardcore horror and erotica. Influencers to her writing include J.R.R. Tolkien and Brandon Sanderson, though Douglas Adams may be lurking in there somewhere.

Love of writing and reading has led to her leading a creative writing group at her local public library, where she once was a pupil. But she doesn't see herself as a teacher: she's more of a facilitator and encourager when needed. Every other week during the school year, they meet and perform various writing exercises, which each individual's encouraged to then share.

When she's not writing, reading, editing, drinking tea, or facilitating creative writing meetings, Beth enjoys hanging out with her writing pals for fellowship, brainstorming, and great company. You can visit Beth's website at http://bethovermyer.com.

---
Make sure you check back in with the blog for more Q&As with the authors of our October releases!


FLAME TREE PRESS |February Releases | 1 | Beth Overmyer Q&A
FLAME TREE PRESS |February Releases | 2 | Ramsey Campbell Q&A
FLAME TREE PRESS |March Releases | 5 | Upcoming Titles