In the first of this month's Q&As with our February authors, we have Catherine Cavendish. She talks about the biggest influence on her writing, advice to aspiring writers and gives us a sneak peek into what she is working on at the moment! Be sure to check in tomorrow for more writing inspiration!

What is the book about?
In 1893, sisters Evelyn and Claire Wainwright leave their home in a prosperous Yorkshire mill town for life in a rural retreat on their beloved moors. They are both devotees of the Brontë – and Claire is quite besotted with the notorious and ultimately tragic Branwell Brontë. She believes she sees him; that he visits her in her room. But he has been dead for over forty years.
A strange toy – The Garden of Bewitchment - mysteriously appears and a chain of increasingly terrifying events is unleashed. Neighbour Matthew Dixon has had personal experience of the deadly object and says it must be destroyed, but can he be trusted? Events begin to take hold. Fantasy and reality become blurred and Evelyn no longer knows who or what to believe. Something is threatening the lives and sanity of the women. It all centres on the evil toy. And time is running out.
Did you base your characters on anyone you knew?
Not personally no. I wouldn't want to be sued!
Who influenced you most in the writing of the book?
My influences come from decades of reading – not just horror, but many genres, and not all of them fictional. I think M.R. James was probably looking over my shoulder at times, along with Susan Hill and even a little Oscar Wilde (think The Picture of Dorian Gray).
Is there any advice you can give someone starting to write?
Firstly, develop the hide of a rhinoceros – you'll need it. Never argue online – especially with someone who has given you a less than flattering review. You never win those battles and I have seen some writers' reputations permanently ruined. The main thing though is to produce the best work of which you are capable. The words 'that'll do' should be eliminated from your vocabulary. Be prepared to be ruthless with your own work. If that paragraph doesn't move the story on or serve some other useful purpose, out it goes. Finally, never, ever give up.
Where do you write?
Since we moved home recently, I have achieved my dream of having a dedicated library/study. I write there, surrounded by groaning bookcases. Heaven!
Did you write in silence, or to any particular music?
I need peace and quiet, and music would be a distraction. I need to fully enter the world I am creating so that, when the shocks come, I can be scared too
Why do you write?
I have always written – even before I could properly form words. It is something I have a passion for and a need to do. I couldn't imagine ever not writing.
What do you do when you need additional inspiration or ideas?
I read, watch films or simply go for a walk. Strangely though some of my best ideas occur when I'm in the shower. Then it's a mad dash to get out, get dried and dressed and get the ideas down before I forget them. It's a shame I can't take a pen and paper in with me!
Do you finish everything you start? If a piece isn't working, at what point do you cut your losses and abandon it?
I mostly finish everything I start but I did have one occasion where I realised I simply couldn't stand the protagonist and didn't want to spend any more time with her. That was one manuscript that ended up in the shredder.
What are you writing now?
I am currently working on a story set in London during World War 2, with its basis in the Mass Observation project, where ordinary men and women recorded their daily lives - in the form of diaries and reports - for posterity. As you might imagine, my story involves reports and diary entries submitted on some pretty strange events and some sinister characters. I can't say too much more as it is early days yet, but, suffice it to say, we are talking dark deeds in Blitz- ravaged Britain, and people who are not what they appear to be…
Thank you!
---
Thank you to Catherine for taking the time to talk today about The Garden of Bewitchment. You can pick up this book, along with the other February releases now. It will be available in paperback, hardback and ebook. Check out our website for details.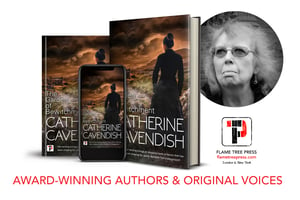 Catherine Cavendish first started writing when someone thrust a pencil into her hand. Unfortunately as she could neither read nor write properly at the time, none of her stories actually made much sense. However as she grew up, they gradually began to take form and, at the tender age of nine or ten, she sold her dolls' house, and various other toys to buy her first typewriter – an Empire Smith Corona. She hasn't stopped bashing away at the keys ever since, although her keyboard of choice now belongs to her laptop.

The need to earn a living led to a varied career in sales, advertising and career guidance but Cat is now the full-time author of a number of supernatural, ghostly, haunted house and Gothic horror novels and novellas, including The Haunting of Henderson Close, the Nemesis of the Gods trilogy –Wrath of the Ancients, Waking the Ancients, Damned by the Ancients - The Devil's Serenade, Dark Avenging Angel, The Pendle Curse, Saving Grace Devine and Linden Manor. Her short story, 'Miss Emmeline's Mirror', recently appeared in the anthology Haunted Are These Houses.

She lives north of Liverpool with her longsuffering husband and black cat (who remembers that her species used to be worshipped in ancient Egypt and sees no reason why that practice should not continue).

When not slaving over a hot computer, Cat enjoys rambling around stately homes, circles of standing stones and travelling to favourite haunts such as Vienna and Orkney.
---
Make sure you check back in with the blog for more Q&As with the authors of our February releases!