In the last of this month's Q&As with our February authors, we have Beth Overmyer. She talks about the themes of her book, The Goblets Immortal, her writing methods and gives some advice for new writers!

What is the book about?
The Goblets Immortal is about a wanted enchanter forced on an adventure to either find six magical vessels and bring them to an evil mage or risk losing his family all over again…and his life.

What are the underlying themes?
Loss and the strength that comes from enduring hard times are the two main themes. Will your pain make you or break you?

Did you base your characters on anyone you knew?
My characters were inspired by things I've seen in other people, fictional and real, but there is an essence of myself in each person on the page.

Who influenced you most in the writing of the book?
J.R.R. Tolkien's The Hobbit is what started me down the road that leads to writing fantasy. That book has been a big influence, Brandon Sanderson's books have been an influence, and I would say every book I've ever read have been an influence in one way or another.

Is there any advice you can give someone starting to write?
Don't quit. If you keep at it, learning more of your craft, practicing what you learn, and receiving constructive criticism on your work, you'll be surprised by what you can achieve.

Where did you write?
I mostly write in my home office/bedroom. Though I can be found writing at coffee shops occasionally.

Did you write in silence, or to any particular music?
When I'm writing, I love listening to music. My playlist includes mostly pop rock, soft rock, indie rock, and one country song. When I'm editing, I usually need silence.

Did you find it hard to write? Or harder to edit your own work?
The hardest part for me is resisting the urge to edit while I'm writing the first draft. But to answer the question, writing was harder than editing this time around.

What was it like to be edited by someone else?
As of the writing of this, I haven't been through the editing process with Flame Tree yet, but I have been through edits with other publishers. It's a different experience each time, but I've grown in confidence and have worked with some very talented people.

What are you writing now?
I'm writing a sequel to The Goblets Immortal as well as a paranormal mystery.
Thank you!
---
Thank you to Beth for taking the time to talk today about The Goblets Immortal. You can pick up this book, along with the other February releases now. It will be available in paperback, hardback and ebook. Check out our website for details.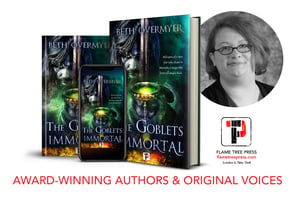 Beth Overmyer has authored several books—In a Pickle, a middle grade novella, and Circus in a Shot Glass, a women's fiction novel, being among them. She's in love with the fantasy genre, mysteries—especially when there's tea and/or a quirky sleuth involved—, and wouldn't say no to reading and writing in every genre but hardcore horror and erotica. Influencers to her writing include J.R.R. Tolkien and Brandon Sanderson, though Douglas Adams may be lurking in there somewhere. Her hobbies do not include the following: hating cats, turning her nose up at tea, playing board games, and crocheting. Love of writing and reading has led to her leading a creative writing group at her local public library, where she once was a pupil. But she doesn't see herself as a teacher: she's more of a facilitator and encourager when needed. Every other week during the school year, they meet and perform various writing exercises, which each individual's encouraged to then share. When she's not writing, reading, editing, drinking tea, or facilitating creative writing meetings, Beth enjoys hanging out with her writing pals for fellowship, brainstorming, and great company. Though writing is great, the best and most challenging job in the whole entire world is being an aunt to nephew and niece S. and B. B. in particular inspires Beth to come up with stories off the top of her head and on demand (don't forget the salad dressing on the walls, B.!) You can visit Beth's website at http://bethovermyer.com.
---
Make sure you check back in with the blog for more Q&As with the authors of our February releases!